In business at the airport? Advertise here!

Your company's logo and links directly to your website and email- click on the winged man to learn more...


The Black & White Picture Place
Old Photographs & Drawings of Liverpool
Speke Airport (now Liverpool John Lennon Airport)

On to parts 2 | 3 | 4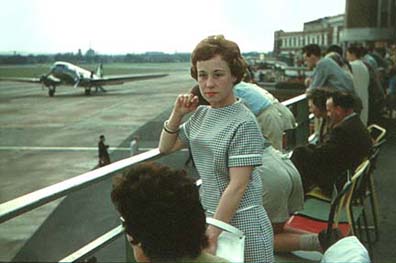 Left and below: a couple of photographs taken at Speke Airport in Liverpool by the author's grandfather sometime during the early 1960s.

As this picture of the author's mother (and grandmother, in the immediate foreground) shows, the airport at this time was popular among Liverpool families as a venue for a 'day out'- especially on a Sunday when the pubs were shut and there was "bugger all else to do". I certainly loved it- that's my back end behind my mother, the rest of me hanging eagerly over the rail and watching a DC3 arriving at

Below we see a Lockheed Super Constellation, also known as a 'Connie', being refuelled with the River Mersey behind. I wish I still had my 'Dinky Toy' versions of these vehicles- they've be worth a bit by now!

Reader Hamish West has kindly sent us this link to an interesting website about these aircraft and tells us that the Super Constellation was- and is-"a very distinctive and beautiful aeroplane, it meets the test of 'If it looks right, it usually is right'... according to my father, an RAF and airline pilot, it was one of the nicest aeroplanes he had ever flown".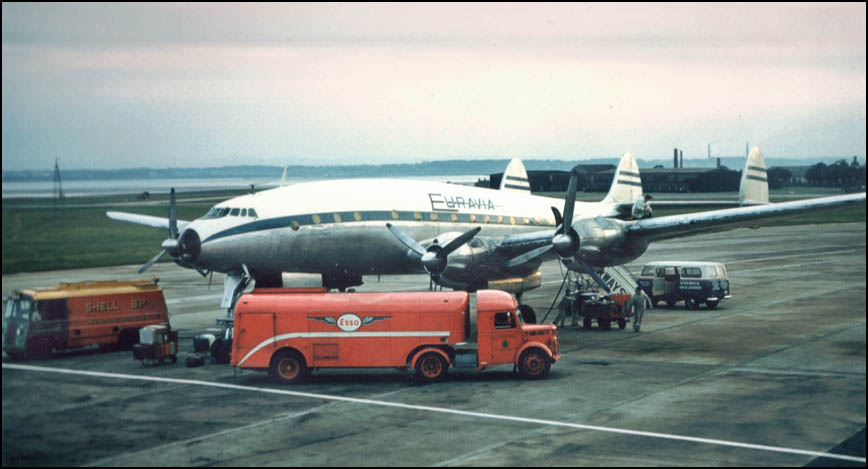 Reader David Manning however, wrote the following,

"Just a minor point, but the aircraft labelled a 'Super Constellation' is in fact a 'Constellation'. It is a type that you either loved or loathed. I was resident at Luton at the time they were operated by Euravia as in the photo, and I loathed the things. The Bristol Britannias which replaced them- Euravia becoming Britannia Airways at the same time- were much nicer aircraft.

In itself , the photo is interesting in that I do not recall a reference to Euravia operating from Speke. I wonder if it was a SkyTours flight?

The Dakota on the photo above, with you hanging over the railings, looks remarkably line a British Midland Airways one. Again I believe fairly unusual at Speke. My first flight was in one of these, and it put me off for life. Luckily I still love aircraft and avaitation."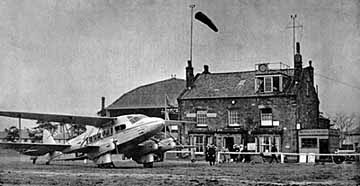 Liverpool is one of the UK's oldest operational airports, first thought of as an idea in 1928 with scheduled flights commencing in 1930 and an 'official' opening ceremony some 3 years later on 1st July 1933.

In the early 1930s, the airport had operated from a converted farmhouse (illustrated here) which acted both as terminal building and- with the assistance of an improvised superstructure added to an attic window- as control tower. More pictures of it may be seen on our next page.

The aircraft in the photograph is a De Haviland DH86A belonging to British Continental Airways of Croydon.

Major changes took place in the late 1930s following the growth in passenger traffic through Liverpool, particularly on flights across the Irish Sea, when the handsome dedicated passenger terminal and new aircraft hangars were built.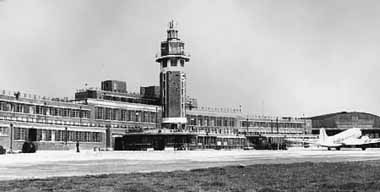 A further, longer, runway was added in 1966. A new modern passenger terminal was opened in 1986 and the 1930's building (illustrated right) was renovated and expanded to become first the Marriott Liverpool South Hotel and now the Crowne Plaza Liverpool John Lennon Airport Hotel, whilst the original hangars were converted into a leisure centre. A new terminal building and control tower were added in 2002 and further expansion continues to the present day.

In 2002, Speke Airport was renamed and 'rebranded' Liverpool John Lennon Airport. The new logo included the famous self portrait drawing by John Lennon and a quote from Imagine, "above us only sky".

Yoko Ono came to the airport in March 2002 to unveil a 7ft bronze statue of John Lennon by local sculptor Tom Murphy. The imposing monument is sited on the main passenger walkway overlooking the check-in hall and is clearly visible to all airport users. A life-sized model of the 'Yellow Submarine' may also be seen in front of the terminal.

Around 3.2 million people passed through Liverpool Airport in 2003. Learn much more of the history of the airport here or go on to see some remarkable images of of Speke Airport which were generously donated by Mr Peter McReady, mostly taken during the King's Cup Air Race around 1934- or even more images of the airport and its aircraft in the 1940s to (as I remember it) the 1960s...
• New photographs of this splendid building and its surroundings, taken by the author in February 2011, may be seen here...