From the National Trust's website: Trust opens up photographer's house and studio, Liverpool, Merseyside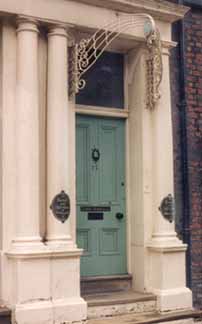 2004 sees the opening of 59, Rodney Street, Liverpool, formerly home to the city's leading portrait photographer of the mid-twentieth century- Edward Chambré Hardman.

Chambré Hardman lived in Rodney Street from 1948 until his death in 1988, working in a photographic tradition known as pictorialism. His massive archive of 140,000 photographic images forms an extraordinary record of the people of Liverpool, and the distinguished visitors to the city from the 1920s to the 1960s. Hardman's portraiture has been compared to the best of London's fashionable portraitists of the period.

Hardman's house and studio is the only known photographic practice of the twentieth century where the photographer's entire output has been preserved intact together with his studio, home, personal and business papers. In addition, Hardman and his wife seem never to have thrown anything away and it is intriguing to open drawers and cupboards to find cartons of sugar, tins of food, boxes of silk stockings and writing paper in the condition in which they were bought fifty years ago.

Visitors will be given a unique opportunity to glimpse the life of an extraordinary man and his equally extraordinary work as well as a social vision of Liverpool during the mid-twentieth century, when going to a studio for a portrait photograph was a much more important part of people's lives than it is today.

The house and its contents were donated to the National Trust by the Chambré Hardman Trust in 2002. With investment from the National Trust and a substantial grant from the HLF, restoration and conservation is underway enabling 59 Rodney Street to open to the public from Wednesday 15 September 2004.


The Ark Royal's launching by an anonymous photographer.


Edward Chambré Hardman on Wikipedia | The Hardmans House | The Hardmans House History

Next Picture | Gallery Introduction | B&W Picture Place | Site Front Door | Contact us