A Virtual Stroll Along the Mickle Trafford-Shotton Railway
The Mickle Trafford to Deeside Railway:
What the people really think- part 11
The only true, unedited and freely available forum of public opinion about the busway available anywhere!
Planning permission may have been granted for the Busway at the end of January 2002, but the seemingly-endless
flow of letters to these pages and the Chester press in opposition to it continues unabated...
Pages 1 | 2 | 3 | 4 | 5 | 6 | 7 | 8 | 9 | 10 | 12 | 13 | 14 | 15 | 16 | 17 | 18 | 19 and Letters in favour of the Busway parts 1 | 2 | 3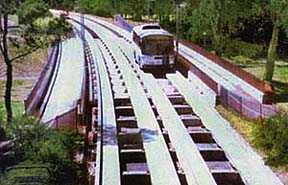 1.2.02 The CDTS busway project has been passed subject to conditions and modifications. However, will the councils feel it prudent to go ahead after revising the true cost of this very expensive scheme? We already have one of the highest local tax rates in the country. They will not wish to burden us all with a massive increase to pay for the construction, interest on loans, plus maintenance and running costs of CDTS.
The government is only putting forward a fraction of CDTS costs. Many members of our councils will be very uneasy about both this and the idea of going against public opinion on this unprecedented scale. It will be remembered public opinion has been ignored previously and councils have much regretted it.
Chester in Partnership (the, until recently, nameless body) cannot convince the public or councillors 76 is a bigger majority than 1,400 petition and 1,104 individual letters of objection.
The massive undertaking would cause great harm to the environment, quality of life and the efforts of many in public office to persuade the population to cycle and walk. Once again residents would be expected to pay and sacrifice green tranquil areas to cater for car using visitors. It is becoming obvious to the most environmentally aware that reduction not encouragement of car use is the way forward. If we do not take on board the pollution humans are causing a quarter of animal species will become extinct in 25 years. Humans will be suffering the ill effects dramatically too.
We must all grasp the nettle now and that includes planners and councillors who have a duty to us all to rethink their position on both cost and environment damage. We see underused Park & Ride buses and car parks all around or city. How can it be essential for yet another scheme?
How long will Chester be historic when some members of our council are willing to clad our historic relics under cement and yet more buildings? How can this be good for our city? Things do not add up. Who is running the councils these days? How many more 'partnerships' are steering us down a road to calamity? Do councillors know? Have they been given the facts?
Audrey Hodgkinson

7/2/02 Chester had another bumper Christmas without the CDTS busway project, thus proving we do not need to sacrifice an immense amount of money, causing yet a further leap in local tax, wildlife habitat, and our tranquil cycle/walkway. It is also hoped unprecedented public objection towards a scheme is not ignored. Such costly and unwanted projects as the Dome would have been abandoned, for instance. Authorities do make mistakes but they also learn from them.
Most people view CDTS as a wasteful, very costly short-journeyed busway scheme with little or no benefit to anyone. We need to reduce car use from journey source to relieve all Cheshire of pollution and rat runs. Cleaner air for everyone is surely the aim not just for city centres? County and city councillors now have the deciding vote- let us hope, since they have had more time to reflect, even more will realise there are more pressing needs than CDTS busway.
Anti-Busway campaigner

8/2/02 Lead editorial in the Chester Chronicle's motoring supplement, Your Car, by Ian Johnson: Has city's integrated transport system plan missed the bus?
"As a true Cestrian- born within the City Walls- I should be rejoicing at the government approval of the Chester-Deeside Traffic System.
But I cannot help thinking that this guided shuttle idea has really missed the bus.
First of all, CDTS is something of a misnomer. It originally involved Flintshire which pulled out of the scheme leaving in the doldrums what was going to be an impressive light railway link with Deeside that would keep a vast number of cars well away from the city. The whole scheme was watered down into a glorified park-and-ride at Hoole at an enormous cost of £11.5 million.
Granted, the Government is paying half of the cost of the scheme which involves a guided bus route on a former rail line. but council tax payers will have to find the rest- which is a big burden for residents
Not that l am against park and rides- my family use them and find them extremely efficient. But I cannot help thinking that the finger-pointing over pollution in the city, which is a major argument for the implementation of CDTS is sometimes being aimed in the wrong direction.
It is certainly true that there are too many cars in the city environs, but there is a big problem in Chester that is constantly ignored. Massive articulated goods vehicles are still using totally unsuitable routes such as the Inner Ring Road, Boughton, and Lower Watergate Street and belching out vile fumes. Recently there was a fatal accident involving a female cyclist at Lower Watergate Street when a large artic was making the tricky turn off the Ring Road. This tragic incident underlined the problem.
The CDTS lobby seems to have forgotten that car engines are becoming extremely clean- they have to be due to new tax laws for th vast number of company cars in circulation. Althougt the number af cars is increasing, their engines are highly efficient, especially the LPG runners and new generation diesels which are now ultra low on Co2 and particulates emissions. It is older cars and heavy vehicles that are the big pollution menace.
CDTS has aroused deep emotions with residents living near to the green route it would take and Friends of the Earth have even hinted at civil disobedience. But CDTS does have its merits because it will will take a proportion of traffic off the busy Hoole Road approach. But do we really need a guided busway that brings 180 journeys a day to a precious bit of greenery in the city?
The bottom line is we have to reduce traffic volume and pollution. But let's not hit the poor car driver every time. I can only take it all seriously when I see HCVs out of the city altogether and City Transport buses running on electricity.
Common sense says that to take the car away from the city completely will dilute the vibrancy of the place. Finding the right balance is essential. But I keep coming back to the view that CDTS is too expensive, too little and too late.
I have hardly any faith in the traffic planning around Chester after the ridiculous treatment of Wrexham Road. A massive, but much-needed park-and-ride at the busy junction with the Outer Ring Road was compounded with countless cars from the business park PLUS commuter traffic from the city all going into one roundabout at once. It is a total botch.
The 1,200-place CDTS park at Hoole Village will take the car out of Chester all right but will only move the problem a couple of miles up the road with vehicles stacking dangerously off the ring road to gain access to points such as the A51 roundabout.
I accept that something has to be done, but would not the money be better spent on a normal park-and-ride plus investment in cheaper and better parking for those who have to bring their cars into the city to work and are financially caned for it?"

14/2/02 Open letter to Cllr Paul Findlow (Leader, Cheshire County Council):
Since the government has rubber stamped the decision to go ahead with the CDTS, you are now presented with your Millennium Dome moment.
Do you go ahead with the project and take on all of the risks and responsibilities and maybe later face all of the blame and consequences? Or do you take the view that even though time and money has been invested in the project already, it is time to call a halt to it and spend money, time and effort on better value public services that people really want?
After all, the truth of the matter is that the CDTS would have no significant impact on the volume of trafffic down Hoole Road.
Please bear in mind that local people do not want to see any reduction in services to pay for the CDTS and nor do they want to see any increase in community charge to pay for it. So I hope if you do go ahead that you have all of the money you need to cover the project including any extra money required for unforeseen overs~spends that may result.
If not, let's hope that local people will never again vote you into any position of power.
Sue Thompson, 29 Shavington Avenue, Hoole, Chester
14/2/02 I am mystified about the so-called benefits of CDTS. Lord Falconer states: "It will make the city more accessible". I would have thought supplying state-of-the-art buses on existing roads from the county would do that, with the added benefit of keeping our local tax from shooting up spectacularly. County council leader Paul Findlow says: "We will be looking carefully at every aspect of the Inspector's report and then completely reassessing the updated financial and environmental position". Thank goodness for that!
It is to be hoped this most sensible approach to CDTS is the way the majority of councillors think, rather than the blanket joy and complete disregard of the consequences and inevitable rises in local taxation, some have shown.
Concerned City Dweller

14/2/02 I am absolutely-astounded that the city council has approved the go-ahead for the CDTS. Does the council honestly believe that this will decrease the amount of traffic passing through our beautiful city? Take a walk down Foregate/Eastgate Street on a Monday morning for instance when it is completely blocked by delivery vehicles, cars, buses and rubbish collection. In their wisdom do they really believe that we have a pedestrian only area? Will CDTS eliminate this? CDTS and under-utilised park and rides only benefit the visitors to Chester, not the residents.
Could not the money be better spent on the long awaited completion of the Deva Link to the south of the city? Much expense has been expended on Sealand Road to accoromodate the B&Q Warehouse, another DIY store. Why not finish the job by building the Dee crossing from Bumpers Lane, following the same route as the proposed CDTS, ending up at the Park and Ride on Wrexham Road. This would enable pantechnicons and juggernauts access to the A55. Then a by-law brought in, forbidding them from travelling up and down Crane Bank and Lower Watergate Street, endangering pedestrians, cyclists and, not least, our historical buildings.
Mrs M. Robinson, 3 Barony Way Chester

14/2/02 So the Inspector and Government Department have passed the CDTS- Chester and District Transport Scheme. This means guided busway and cycle tracks in very unwanted and inconvenient places. Most affected in the city centre area are Newtown and Northgate Village. The latter will lose its privacy and some of its green area, not a lot there but the little is valuable to those who live there. It matters.
The only ones who will benefit from CDTS are the developers who must be laughing all the way to the banks at the expense of our dotty councillors and the highways department officials who promoted the scheme. We have a good bus service ahd those who run them complain that they are not well supported except twice a day when folk go to work and come home, likewise small children. So that being the case how do they hope to make the CDTS pay? The decision is in the teeth of the citizen's wishes who want the buses as they are, but more frequent.
Dora Taylor, Chester Community Ratepayers Party, 60 St Oswalds, Newtown

14/2/02 Copy of a letter to Christine Russell MP...
You are quoted as saying "I am delighted that the guided busway has been given the seal of approval after a rigorous public inquiry" (Chester Standard: 7th February 2002).
I have read the 127-page report by the planning inspector. The report does conclude that, If another park and ride was to be built on the east of Chester, the scheme involving the former railway line is the best option.
However, the report also says that the project has been opposed by the people of Chester at every stage of its planning, and that the county council has only been able to achieve a bare majority in favour by includirig responses from outside the Chester district (Section 8.3.16, page 40). The data shows that opposition does not just come from those living within 200 metres of the route but also from the whole Chester urban area.
You were elected to represent the interests of the people of Chester. The overwhelming evidence, from the county council's own surveys, from the anti-CDTS group's survey, and from 1104 valid letters of objection is that your constituents oppose it (Section 8.3.15, p~p 40). What right do you have to work against us by supporting the scheme?
Should you not rather have said: "The public inquiry has established the best possible option for a new park and ride. If the county council wish to construct it, they must seek a mandate to do so and not bulldoze it through against the wishes of Chester people".
Trevor Stephenson, 105 Woodlands Drive, Chester

14/2/02 CDTS would be an immensely costly undertaking for a few minutes journey on state-of-the-art-buses. These buses could be used in outlying districts to make a real difference in reducing congestion, pollution and accidents on existing roads.
Council funds are stretched now and it must weigh heavily upon councillors that traffic calming is not being implemented for lack of funding, knowing more children under 14 die from road accidents than from anything else. There will be many other such priorities delayed if CDTS goes ahead. It is no wonder there is local unrest.
Local taxpayers are already struggling with the ever-higher increases in local tax without the enormous burden they would face if CDTS were implemented.
You could write to your local councillors to let them know how you feel- your views will help them to make a judgement when the re-assessment of CDTS costs and other considerations are made. They alone have full responsibility for their decision. They have the choice.
It should be of major concern that Runcorn busways and their buses are subjected to vandal attacks, also dumped rubbish.
W.R. Hodgkinson, Chester
15/2/02 As we await the fast escalating local tax bills we have the nightmare prospect of the vastly expensive CDTS project hitting us with greater force if it is passed, after re-assessment, by local councillors.
The CDTS busway plan became the Chronicle motoring section, Your Car, last week. The article by Ian Johnson, 'has city's integrated transport system missed the bus?') describes CDTS (Chester Deeside Transport System} in terms not seen in any newspaper article previously.
It roundly criticises the project. I quote: "CDTS is too expensive, too little, too late." Another quote: "Do we really need a guided busway that brings 180 journeys a day to a precious bit of greenery in the city?".
This was followed by: "I have hardly any faith in the traffic planning around Chester after the ridiculous treatment of Wrexham Road". Then: "CDTS is something of a misnomer", explaining that Flintshire council pulled out of the scheme ages ago.
Have you read this in any council or government documents? There is much more the article of great interest to all concerned with CDTS.
I do hope councillors will read/have read this article and the latest findings by Dr Graham Parkhurst of London University (one of the country's leading Park-and-Ride specialists), also the paper by environrmental specialist Dr jeremy Richardson. Both warn of overprovision of Park & Ride sites.
Councillors alone (not their party or anyone else) hold the fate of Chester, its residents, and this wildlife habitat in their hands. Let us hope they make the right decision for their sake as well as ours.
Audrey Hodginson, Secretary, Anti-CDTS Campaign Groups, Hoole
20/2/02 A letter sent to the editors of local newspapers throughout Cheshire:
Sir, Those of your readers frustrated by the shortage of funding in their part of Cheshire for road maintainance, traffic calming measures, Safe Routes to School initiatives, public transport- let alone major schemes such as much-needed by-passes- may be more than concerned to learn that our County Council have long been pushing for a 'revolutionary' transport project here in the City of Chester which will cost all of Cheshire's taxpayers many millions of pounds in the years ahead- and yet at the same time, has been vigorously objected to by a significant proportion of the city's people!
A scheme which, despite this opposition and a lengthy and expensive Public Inquiry, was granted planning permission in early February 2002.
I refer, of course, to Phase I of CDTS, the so-called 'Chester Deeside Transport System'- our City and County Council's madcap plan to build a massive new Park-and-Ride site in the greenbelt near the M56 junction at Hoole and connect it to the city centre, just a couple of miles away, by a two-lane concrete 'guided busway' running along the course of the former Mickle Trafford to Shotton railway line.
A route, unfortunately, already occupied by a delightful cycleway and footpath built less than two years ago by the sustainable transport charity SUSTRANS, and which now forms part of the National Cycle Network.
There are already 4,000 car spaces in the existing Chester Park & Rides and these are only full at peak holiday times (ie Christmas)- and then the overspill site at the Zoo comes into play. The city has little need of another.
It was planned for Phases 2 and 3 of CDTS to eventually extend this guided busway all the way to Deeside in North Wales. Until, that is, Flintshire County Council- with money problems of their own, and having been assured by the Welsh Assembly that a transport system designed primarily for the commercial benefit of the City of Chester would be most unlikely to receive funding- wisely ran a mile from the scheme.
However, a report, Chester's Way Ahead, published in late 2001 by Chester in Partnership- an alliance of local government and business leaders with a shared interest in local economic development- nontheless declared that all three phases will indeed be built. The potential cost to the people of Cheshire and North Wales? A staggering £50 million plus.
Waste, inefficiency and inappropriate priorities are things the community would want a council leader to attack. Remarkably, Cheshire County Council leader Paul Findlow has been doing just that; he recently asked the people of the county to let him know where we want council spending cuts to be made.
Many Chester residents wrote to him to suggest that the CDTS busway project was by no means a cost-effective plan and as such would be a money waster of unprecedented magnitude- a prime candidate for the chop, in other words.
Dumping the busway would indeed save millions; a figure of £13 million for Phase 1 alone has been bandied about for at least two years- Lord knows what the cost would be today- and that would just be the tip of the iceberg. Surely by far the most expensive stretch of road ever to be contructed in our fair county or elsewhere!
A proportion of government money could, we're told, be allocated for construction but local taxpayers would be left with the rest plus interest on borrowed money, plus maintenance and running costs- plus operating losses- for Chester's Park-and-Rides do not make money.
But don't just take my word for it. In his letter to the Chester Chronicle, 15th February, County Councilor Peter Byrne- a leading proponent of the busway- assured the city's people concerning the astronomical sums involved: "For that is something else that is often overlooked- the cost will be borne by the people of Cheshire, not just Chester". You heard it here.
If your readers are concerned to learn that so much money is apparently available for a 'state of the art' system to whisk shoppers into Chester city centre and would instead prefer to see some of the busway millions being utilised to tackle some of the dire transport problems in their area, or would like to help the council leader decide where to make his essential cuts in council spending, I would ask that they please take the trouble- it only needs to be a line- to write to:
Council leader Paul Findlow, County Hall, Chester CH1 1SF, or e-mail him: findlowjp@cheshire.gov.uk.
A word in the ear of their local councillor and Member of Parliament may also do some good!
In closing, we invite those of you with internet access to take a 'virtual stroll' along what, for the moment at least, remains a beautiful and peaceful linear park, cycle and walkway- our pride and joy- and learn much more about the planned busway: www.bwpics.co.uk/railstroll/railindex.html
Steven Howe, Lime Grove, Hoole, Chester
21/2/02 County council leader Paul Findlow stated: "There is much to be considered before we make up our minds on this scheme. We will be looking very carefully at every aspect..." However, in marked contrast, city council leader John Price said: "I am absolutely delighted with the decision".
What a difference in the two approaches to the CDTS scheme- I will ieave you to decide which approach serves the people of Chester and district better!
That a project has had approval from government and its advisors is not proof of a good plan. The Dome was heralded as good for the country and we all know how 'good' that was. What a pity public opinion was ignored then and millions of taxpayers' money went down the drain.
The Anti-CDTS committee asks all objectors to CDTS to stay calm. It is recommended you help your local councillors to decide if backing the costly CDTS is worth the tremendous cost to local taxpayers. Let them know your fears of even higher tax rises and whatever else is worrying you about the CDTS busway.
They, and they alone, will carry the responsibility. They will face the consequences of their action, blaming their party etc will not wash this time around. Are they prepared to ignore public opinion now they have more information about the CDTS and now they know Flintshire council and the Welsh Assembly pulled out ages ago?
To make people use the CDTS, 'complimentary measures' would be implemented. When are residents amd businesses in Hoole going to be enlightened as to what 'complimentary measures' actually mean regarding Hoole Road?
These will affect us more than anyone. Are the plans so drastic we are not to be enlightened afier two years of requesting the amswer?
A. Hodgkinson, Secretary, Anti-CDTS Campaign Groups, Hoole, Chester
22/2/02 I refer to Pete Byrne's letter regarding the CDTS scheme.
I think I must be under a misunderstanding regarding the local government system in the UK. I believed that we elected councillors to carry out the wishes of the people, not the wishes of the councillors themselves.
The amount of opposition to the scheme is considerable and the planning inspector made reference to it in his report.
For this opposition to be Ignored and even ridiculed, as Peter Byrne does In his letter, is very discouraging.
The results, published in August 2001, of a county council survey of users of the Millenium Way, which includes part of the CDTS line, showed that some 7,500 people use it, on cycle or on foot, on a daily basis.
If CDTS is developed this use would inevitably be changed, as not only would the nature of the greenway be altered, but at its narrowest points (eg bridges over existing roads) there is not adequate width for buses and the cycle/walkway.
I wonder what those users think about the changes. Perhaps we could ask them.
Annie Bellinger, Ivy Mews, Hoole, Chester

22/2/02 In May the local elections are to take place. If the anti-CDTS campaigners put forward candidates for each of the seats due for re-election, standing as independents and vowing to put forward names for the county council elections, it may frighten those whose seats they are.
Having relied on central government, with them putting forward their best man Lord Falconer (he made such a wonderful Job of the Dome) on the job, it was obvious CDTS would get the go-ahead.
You, the people, should now start to attack the seats of all those councillors who do not listen to us, the voters.
Go out into the constituencies of the county councillors in Crewe, Nantwich, Malpas, Congleton and elsewhere and meet with the voters.
Ask if they will join the fight for lower taxes, because it will affect them Just as much as us, yet they may not know why they will be paying. Tell them.
'If it's green and growing, chop it down and lay concrete over it' seems the order of the day.
I believe a good seat to start with would be Cllr Sandra Rudd (Chester City Council, College Ward) who is very friendly with Chester MP Christine Russell, and is due for re-election in May.
If this green corridor had been profitable, why did the trains stop running? Have a Park-and-Ride, yes, but make the 'ride' consist of bicycles and a horse and carriage. They are both very green modes of transport- have them for hire at a reduced rate.
Finally, I believe Blacon Meadows will be next for development. Lately it has been the target for vandals and arsonists, and if it continues they will build on it as the only answer.
So wait for the houses and the cars and congestion.
Anti-Politician, Name and address supplied

22/2/02 Cllr Byrne's letter on the CDTS controversy was a disappointment.
We were promised 'one or two facts' to counter the mish-mash of half truths and untruths given out by opponents to the scheme.
Cllr Byrne tells us that the cost will be "about £10 million (not a firm figure but a working guestimate)". Is such a guestimate a reliable basis for this costly scheme?
Next, he explains that half of this cost will be covered by government grant, and the rest by permission to borrow. So we have to find £5m.
He tells us that the SSA will take account of "most of the borrowing costs" and that the impact on the county budget will be "quite small".
Once again we seem to be in the world of guestimate. How much is 'most of'? How small is 'quite small'? What he does make clear is that there will be an impact on the county budget- but Chester taxpayers may take comfort from the fact that county taxpayers will be paying as well!
It is worth remembering that the inspectors at the Structure Plan Inquiry (1998) expressed their concern at the "sharp escalation of cost of CDTS" and whether the scheme "did in fact represent value for money" (EIP Report 1998 page 115).
Of course, the £5m is only our contribution to the capital cost of the scheme. To this must be added the year-on-year costs of maintenance for the large car park, the double concrete track, the landscaping, and the cost of running yet another Park & Ride bus service.
In conclusion, Cllr Byrne mentions those who will benefit from the scheme- Chester's visitors, shoppers and tourists. One group however is missing- Chester's residents, who are the taxpayers and voters.
W V Jones, Daleside, Upton Heath, Chester

22/2/02 People will draw their own conclusions regarding the contents of the letter by Cllr Byrne.
I see little point in discussing costs in detail when they are not available yet and shall not bother commenting further.
I hope the councillor managed to read the other letters on the same page and also the article by lan Johnson in the Your Car section of the Chester Chronicle, February 8.
How is it planned to make people use the CDTS since provision for more city centre parking is on the cards?
'Complimentary measures' on Hoole Road? Are we ever to be enlightened what these entail? It is time we knew what could be in store, for people wishing to use Hoole Road, or is it so dreadful we are not to be told?
Interestingly, Deeside (Phase 3) is still being put as a priority in the Chester in Partnership booklet issued very recently. How, when Fiintshire County Council have backed away from it? After ovor two years, I think it is time someone gave us some answers.
As for economic prosperity, Chester had another excellent Christmas without the CDTS and despite Foot and Mouth. Chester attracts blg business and these are expanding without CDTS. House prices are going up in Chester without the CDTS. Local tax is jumping ever higher without CDTS.
In all, 1,104 people wrote individual letters objecting to CDTS. Many others have joined in condemnation of a scheme that is so expensive and environmentally destructive.
We are not impressed that the Government and its advisers backed this scheme; they backed the Dome too.
Audrey Hodgkinson, Secretary, Anti-CDTS Campaign Groups, Hoole, Chester

22/2/02 So Whitehall has approved of the idea of the Chester Guided Busway- but apparently with as little conviction as to its value as its opponents.
Indeed, the Secretary of State has all but ignored the whole point of the inquiry- ie will such a busway reduce traffic on Hoole Road?
On page 79, paras 12.9.1 and 12.9.2, this crucial and central point is just about given prominence. In his own words, the Secretary of State says "the reduction in traffic on Hoole Road would not be great".
This, amongst other comments equally suggestive of little benefits regarding traffic, effectively shoots down the whole case for the busway's existence.
Surely now there is no point in going ahead with it.
So much for the fruitless idea itself- but what about the considerable, and so far remarkably ignored, engineering problems this idea presents?
With a trackbed embankment of only 30ft, narrowing to 24ft at bridges, the space available for two bus lanes, a hedge, pathway, cycleway and fence is limited to say the least.
At the 'takeoff' point at the Northgate Village park, just how big is the proposed embankment going to be to tackle the large gradient existing there? I suspect it will overwhelm a large part of this pleasant and much valued green oasis.
May I suggest that the councils involved now publish in full true scale drawings- not the artist's or computer impressions so far available. And can we please have them published in The Chronicle, not in some remote council office. In this way everyone can see just what this scheme will involve.
If ever there has been a proposed development for Chester that has virtually nothing to offer the public yet will be most destructive recreationally, this is it.
From end to end, its protagonists have clutched at straws in the form of imaginative benefits, utterly theoretical 'facts' and figures and utterly misleading pictures.
We have this gloriously wild pathway, one of the finest recreational facilities ever offered to Newton, yet the self-same council that brilliantly thought it up now wants to all but kill it.
Please, ladies and gentlemen, think again.
M H O Hoddinott, Dickson's Drive, Chester CH2 2BN
23/2/02 Cheshire local tax-payers may not be aware they would be contributing towards Chester City's luxury guided busway scheme, a councillor says for the next 30 years, the cost for all phases is not known yet but suggested at £30million a few years ago.
Chester Deeside Transport Scheme (CDTS) involves 3 phases. Phase 1 of this scheme (in the words of an expert in transport town planning Donald Wignall) - "a very costly way of providing a bus journey of 2.6km" (just over one and a half miles) to the city centre, fed by a massive Park & Ride planned in the greenbelt.
It would involve complex engineering, which would bump the cost up tremendously. Part 2 & 3 would follow as a priority (see 'Chester's Way Ahead' - page 13- recently published). Though Flintshire (Deeside) dropped the scheme ages ago. We can only assume our councils would pick up the tab for all 3 phases on our behalf! A percentage of construction costs would be paid by government, however most would be borne by County and City local tax-payers. Additional costs; interest on loans, running and maintenance costs, and subsidies, Park & Rides in Chester do not pay their own way. A very rough estimate for phase 1 alone seems to be £13million based on prices 2 years ago.
Chester people have battled against CDTS since the inception of this scheme. CPRE put forward papers from experts; Dr. G. Parkhurst, University of London, a leading expert: "Dangers of over provision of Park & Ride facilities" and Dr J. Richardson (Environmental specialist).
Chester has 4 Park & Ride sites already (4,000 spaces) with an overflow provision. We campaigners have long suggested the 4 luxury state-of-art buses should be allocated for country areas at present without adequate services. Do inform your local councillor and MP of your opinion.
With many Cheshire roads requiring urgent attention still awaiting funds it seems likely Cheshire people would not wish their money to be put towards the 'priority' CDTS. In the words of the Secretary of State "the reduction in traffic on Hoole Road would not be great".
Experts state more car parks = more cars throughout the country. The busway would run along the route of a well used and much enjoyed tranquil linear park walk/cycleway, already encouraging less use of cars to access countryside tranquil areas, a small blessing to county lanes and villages suffering from rat runs, pollution and congestion.
For more information access; www.bwpics.co.uk/railstroll/railindex.html. Well worth a look as Steve Howe won the prestigious award and the Chester site on Encyc. Britannica's CD-ROM.
Your readers will be interested to know County Council Leader Paul Findlow said "We will be looking carefully at every aspect" adding "we need to consider all the implications". The change of leadership at County Hall means a more prudent, and a listening County Leader, he asks for suggestions with regard to council spending cuts. Many have written suggesting cutting CDTS busway. Your readers may wish to add their suggestions. County Leader P. Findlow, County Hall, Chester CH1 1SF. Email address findlowjp@cheshire.gov.uk
Audrey Hodgkinson, Sefton Rd, Chester, Secretary Anti-CDTS Campaign Groups.
28/2/02 Could one the 'joyful' promoters of CDTS please let us all know where locals come into the picture as plans are drawn up, or don't they come into it until the tax levy? Consultations are a sham.
Chester has a bus exchange most dread using as there are buses coming from all angles. The bus station at George Street is an utter disgrace. The council has had years to put the bus stations right, yet here they are pushing for a luxury busway for car users. Where is the logic in this? How about using the money to improve our public transport areas, this would do more for Chester's image, pride and environment, and bring in many more people than a luxury busway with less cost and environmental damage.
The city council has forgotten Chester needs heart and soul not just cash registers. People are the most important commodity.
Chester is not a modern town and should not be disfigured by such items as banner masts, concrete busways and the like; it does not rely just on commerce. It has a history and should not become just a modern shopping centre with the same boring shops.
Many interesting, individual family and small businesses have been forced out by very high local taxes and are sadly missed by the people living here. Residents should be cherished, they shop all year around, they are not your foes.
Some have the right approach to public opinion. When Browns of Chester were taken over they listened to public opinion and kept the much loved name. Please do not let our city become just a shopping centre- that would be folly. Your 'joy' could be very short lived, do heed public opinion- it has a good habit of being right.
Ever hopeful, Chester

28/2/02 Re: Seal of approval by government for CDTS.
I Have absolutely no faith in the government's judgement, and it must expect none after 'passing' the Dome as being good for the country.
How dare these privileged people tell us we will still have the walkway. They have no idea what this little piece of heaven gave to us, those without wheels, money for public transport or holidays. Those of us who found a little independence by using our wheelchairs on this tranquil route, while they have expensive cars, holidays or country houses.
However, I still believe in miracles, not even the government can take them away.
Old faithful

28/2/02 Please, councillors, don't increase our council tax to pay for that guided busway scheme which will be very expensive to build, costly to run and which will hardly benefit anybody.
The natural habitiat along the old railway line will be ruined and the adjacent environment will be polluted bt fumes and noise. Cyclists and walkers please note.
Better to have priority bus lanes down Hoole Road linked to existing Park and Ride sites. Also, the former station at Beeston near Tarporley could be re-opened. These are environmentally friendly and cost effective alternatives.
Consider carefully all aspects. Will Chester really benefit, or will it be a millstone around the taxpayer's necks for years to come?
John Whittingham, Hoole Chester
28/2/02 I have thought of an excellent way in which Chester City Council and Cheshire County Council could save enormous sums of money: they could drop all public consultations whatsoever. Nobody in authority takes the slightest notice of the opinions.
Take this CDTS: people have explained over and over again that they don't Iike its expense, its spoiling of a beautiful environment; they doubt its usefulness. And all the political parties plus the MP get together to say how marvellous the new fashionable stunt is going to be.
Exactly the same thing is going to happen when London and Amsterdam set about destroying our library, our nearly new Forum, our bus station and most of our market- all for the purpose of unwanted new shops. All we can do is put up with it, so why bother asking?
Meg Pendlebury, 292 Hoole Lane, Chester
1/3/02 I was totally incensed by Cllr Byrne's letter.
He accused objectors to CDTS of untruths and half truths. Hard words, Mr Byrne. It is everyone's democratic right to have an opinion and share it with others through the media, and to object to what people in Chester believe is an expensive and unwarranted scheme.
He claims he would set out some 'facts on the cost of this project'. In his first paragraph he 'guestimates' the cost at £10 million; the definition of 'guestimate' is to say without knowledge.
He then says there will be an impact on the rates. He can't put a figure on it, but refers to some other areas, including Handforth near Wilmslow, but does not say how much these are costing.
Then, to end his 'facts', he thinks that 500,000 passengers might use it. 'Facts', Mr Byrne, are something known or held to be accurate.
The 'facts' are, Mr Byrne, I have received mail from two Manchester solicitors offering to take my case if my property is devalued through the installation of the CDTS scheme.
Having worked for over 50 years to provide my family with a home the value of my property is very important to me and should not be a target for people to dismiss as he does.
He talks about how it will be fast and efficient and environmentally friendly. They said that about the buses which were introduced some years ago on the Park & Ride scheme. There were huge pictures in the local press, with councillors standing around claiming this was the way forward, with clean, environmentally friendly, gas-fuelled buses.
How many of these buses are on the Park & Ride today? Three, I believe.
A few weeks ago there were headlines in the local press highlighting a development that would include a multi-storey car park in the station area. How are these cars going to get there without improvements to the approach roads into the city? (CDTS won't help.)
He ends by saying Chester needs to continue to be healthy and cater for its visitors and shoppers. When you have a minute, Mr Byrne, take a look around Hunter Street, the bus station shambles, Nicholas Street opposite the Old Infirmary, Princess Street, buildings boarded up, rubbish piling up.
You would be right in thinking we were back to the war days. You would be better spending this CDTS money in and around this area. What I have written is fact and not like your 'guestimate facts'. I hope you will be man enough to apologise and then resign as you have no right whatsoever to suggest that I write mish-mash just because I question or disagree with the council. I have voted Labour all my voting life but if the Tories on the council reverse this decision on the CDTS they would have my vote.
T Whitehouse, Hoole, Chester
8/3/02 The CDTS controversy continues with no compromise.
On the one hand people fear the loss of a much valued amenity, on the other officials see this as an opportunity to extend the successful Park & Ride scheme to further its economic benefit to Chester.
A possible compromise is already successfully operating in Caernarfon. Here the recently restored Welsh Highland Railway (WHR) shares an old trackbed with the obviously well used Lon Eifion long distance path for the first three miles.
As the WHR is narrow gauge, there is room for the path, the railway and a considerable amount of vegetation along the route.
A narrow gauge tramway would take up a fraction of the space needed for the CDTS scheme.
It would therefore be a means of serving the transport need while preserving much of the existing amenity.
The trams could be powered by low pollution gas or electricity as seen fit. Unlike the WHR, it would not be a tourist line, but there would be some potential here.
We are not used to the concept of a narrow gauge tramway in the UK but they perform an essential transport function on the continent.
Unfortunately it seems that the CDTS scheme has been obtained 'off the shelf' from Whitehall, but there are other options that could be more related to local requirements, and so achieve compromise.
Regrettably the only tramlines Iaid are likely to be those in people's minds.
Phil Clark, Bryn Tegla, Llandegla, Wrexham
8/3/02 I have every sympathy with Mrs McDermott and her two young grandchildren with asthma.
Scientists have shown that pollution and car fumes both cause and make asthma worse.
And removing trees and green spaces removes the planet's lungs by taking away the mechanism to reoxygenate the air.
These are among the reasons that the environmentalists and cyclists are still fighting against CDTS and would prefer the money (£10.9m for phase 1 at 1999 prices) to be spent on improvements to public transport and better conditions for cyclists and pedestrians.
Please don't think, Mrs McDermott, that CDTS will improve traffic on Hoole Road. The council's own figures show that it would reduce traffic on Hoole Road by less than 3% in the short term and reduce the journey time of a driver continuing to drive down Hoole Road at peak time by six seconds
The city already provides 4,000 Park & Ride spaces and a council report in September 2000 stated that 'the Park & Ride market appears to be maturing and the increases enjoyed in previous years have now eased off'.
The Anti-CDTS groups are still fighting the plans and ask you to please write one more letter of objection.
The new leader of the county council appears to be less convinced of the benefits of the scheme than many others and seems to be genuinely asking for the taxpayers' views on this matter. He has said 'we need to consider all the implications, including the many letters we have had from objectors pointing out the financial implications on our budget'.
Catherine M Green, Vice-chairman, Anti-CDTS Campaign Groups, Brook Lane, Chester

8/3/02 A letter last week expressed concern about the damage to health from pollution due to the traffic on Hoole Road.
The writer hoped that the proposed guided busway (CDTS) would solve the problem. Would the busway in fact reduce traffic along Hoole Road?
Hoole Road is one of the main access routes into the city; it is also the spine for the network of minor roads serving the communities of Hoole and Newton.
As an access route it carries vans and lorries delivering goods both to Hoole and the city centre. It also carries buses, taxis, travellers bound for the railway station, and workers in the city who have car parking at their place of work.
These include councillors and officers who park at the Castle and Princess Street, and judges and lawyers who park at the amphitheatre court house. Would any of this traffic be transferred to the busway?
Improved bus services using buses with clean technology and better train services would bring more people into Chester without increasing car use or the need for the expensive busway.
Finally, anyone approaching Chester from the M53 or A55 already has the option of using Park & Ride. There is only the slight intellectual challenge of deciding whether to turn left at the Hoole Roundabout to the Boughton Heath site (750 spaces), or right, to the Upton/Zoo site (460 spaces).
W V Jones, Daleside, Upton Heath, Chester
12/3/02 Whilst I am all in favour of 'green' transport I think the whole idea of the guided busway is ridiculous. As someone who used to live in Chatsworth Drive which backs onto the line I have strong views on the subject.
Although I now live in Great Sutton (near Ellesmere Port) I use the cycleway a great deal and feel that the peace and tranquillity of the line would be ruined by speeding buses going up and down it.
If the line is to be used for another purpose, and I really am not in favour of another use, it could be used for a tramway, which although expensive
would be a much greener alternative to the bus.
The buses will drive cyclists away from what is now a peaceful, tranquil and pleasant escape from the hustle and bustle of traffic in Chester.
Tim Rogers
15/3/02 You have published copious correspondence in recent weeks about the proposed busway. I see no words of sympathy for those who visit Chester on the omnibuses.
Because of traffic congestion, service buses do not run according to the timetables.
The county does not intend to allow omnibus passengers to use the busway. The Park & Ride scheme is for the benefit of car users. It will encourage further car use, and so will be detrimental to bus users.
Of course, the 'Great and the Good', including those who plan and decide these matters, never use the buses, do they?
Donald Cochran, Kelsborrow Way, Kelsall
15/3/02 As yet another guided busway project bites the dust- Essen, Germany, has now dropped its busway scheme- it might be a good time to ask councillors:
• Is a business using part of the Wrexham Road Park & Ride site as an overflow car park? Do they have a small Arriva bus taking them from the contract area to the door of their workplace?
• Does that make any sense as local taxpayers are being told a further huge Park & Ride site and busway is needed?
• Did a council official at the public inquiry state the busway Park & Ride scheme was to reduce cars entering the city?
• Did a council official explain that multi-storey car parks were not an option as they were too expensive? Why are three planned in the city centre now?
• Was it also stated that car park spaces would be reduced in the city centre? Are they planning to reduce them now? Could their evidence be thought of as a mishmash of half-truths, and untruths?
Anti-CDTS Campaign Groups argued that Park & Ride sites encourage car use and that providing four luxury buses plus a dedicated two-track concrete busway for car users would actually encourage car users to go that little bit further to the luxury service.
Providing state-of-the-art gas buses on all routes in Cheshire would be a wiser and more forward looking plan. This is also the opinion of objectors who have studied the documents, attended the public inquiry and read papers by experts.
• Is it true Sustrans are not doing as much for this walk/cycleway as in other areas as the council agreement for the path can be revoked at any time for public transport use?
According to those with knowledge of all the Millennium routes our linear park walk/cyclepath is one of the best with much less dumping. We often see Sustrans' white van in the area maintaining the route.
If you live in an area about to have an election, ask candidates if they are for or against the Chester guided busway (CDTS) and vote accordingly.
It is believed all Labour candidates are for this project but give them a chance- ask them.
To join Anti-CDTS Campaign Groups write to chairman G Bromley, 30 Knowsley Road, Hoole, Chester. Telephone 01244 320207.
Audrey Hodginson, Secretary, Anti-CDTS Campaign Groups
14/3/02 So, MBNA is bringing nearly 3,000 jobs into Chester. Sounds good news to most people, but how will this affect many thousands of people like me who | are trying in vain to join the already overpriced housing market in Chester?
Having lived here all my life and being the first to admit that, as a postman, I'm not the brighest light on the Christmas tree, but how depressing when after seeing the building society and having being asked If I would still | have a job in two years, I could then only look at property in Flint (no disrespect).
I hope I'm not being pessimistic, but I can see the cycle path being extended to Flint with a tram being sent to Chester from North Wales full of postmen and litter pickers to do so-called dead end jobs none of our cosmopolitian friends from MBNA would do in their biggest nightmares. How I wish I'd done my homework!
Gary Barnes, Rented Accommodation, Elton
15/3/02 Maybe I can shed a little light on the letter from R F McConnell last week in which he asks: Why Chester city's concern regarding Deeside?
It possibly be that some members of Chester City Council thought this huge development on agricultural land, a wildlife area of great benefit to many birds and other creatures, would further their cause in trying to push for the CDTS busway plan to continue into Flintshire?
After the lukewarm approval of the Secretary of State given to phase one of the guided busway, followed by the news that Essen, Germany is abandoning their guided busway project, it seems highly likely they had hoped to throw CDTS a life jacket by trying to link it to this development.
W R Hodginson, Address supplied
14/3/02 I cannot understand why anyone should be overjoyed by the CDTS busway. Developers will be the only ones who will gain from this busway raking in millions at the expense of Chester people. We lose a green cycle/walkway and may have to pay extra council tax for people coming from other areas.
If the council goes ahead with the busway it should give a signed undertaking that residents will not have to pay one penny for the scheme.
The disused railway line shuld be kept solely as the Sustrans cycle/walkway.
Chester Resident
15/3/02 I hope all mums had a great day last Sunday, I did. It started early with a breezy but fun walk along the walk/cycleway not far from our house.
The rain came down every now and again but it did not matter. It was especially enjoyable meeting people sheltering under bridges, at one a group of ruddy faced joggers who had come to Chester by train especially to use the traffic free Linear Park path they had been told about by others.
They were completely amazed and crestfallen when we told them what could befall our delightful asset.
We arrived home just in time to welcome our family living close by and to receive our daughter's telephone call. My granddaughter has asthma (in the early stages) and did not look too well, they set off down the pathway as the fresher air along it comes off the hills and helps her. They live close to the bypass and motorway which is not good, so her parents make sure she gets plenty of fresh air by taking both children along the Linear Park either cycling or walking as often as possible.
Now, some figures- from a reliable source: according to Chester City Council's own calculations, this is the value of Park & Ride income that the city council anticipates it will lose: £381,000 the first year and £350,000 per annum thereafter on the Park & Ride alone.
This could cost the council taxpayers of Chester and diskict about 4% extra on their council tax. ln addition are costs of constructing CDTS phase One add the other expenses involved.
Audrey Hodginson
14/3/02 What does sustainability mean? A simple question I asked at the CDTS public inquiry two years ago, no one could give me answer, not even the council. Yet this is mucb used in many of the council's policies that CDTS has put under the spotlight. Perhaps the lack of an answer to such a basic question explains why Chester residents face an increasingly bleak future.
Is a future of such high council taxes and poor services sustainable? I have a friend who lives about 40 miles from London in a six-bedroomed farmhouse, several acres of land with stables, yet they pay comparable rates to that of a two-bedroomed house in Chester, and have far better iocal services. Their area does not have the large number of visitors that Chester does either. They, unlike Cheshire residents, are not being asked to pay towards such projects as a £10 car park scheme.
At the inquiry an expert witness for the council described the developments around Chester as "a sea of sheds". Allowing our green belt to be covered by such developments and their associated car parks at the behest of developers and big business is unsustainable, the resulting traffic congestion causing both economic and health problems. Such diseases as asthma are increasing alarmingly as recent reports have shown. Such developments as CDTS will increase overall car usage, as was admitted by the council during the inquiry, the MBNA extension will create more such problems to local residents.
Many other cities would give their right hand to have just some of Chester's resources. These resources are being mismanaged and indeed destroyed.
The local strength of feeling regarding CDTS is very well documented, as is the county council's guarantee made by Cllr Byrne that house prices will not be affected by the busway. I do not see how one person can influence local house prices.
P Hobbs, Boughton Chester