Photographer, author, historian and tour guide Steve Howe was born in Liverpool in 1953 and raised there, in homes in Tuebrook, Bootle and Crosby. He was educated at the Forefield Lane Infants & Junior Schools, Crosby and the long-defunct Waterloo Grammar School. After working at a number of jobs, including in a timberyard and as an apprentice TV engineer, in 1971 he won a place at Southport College of Art, studying Graphic Design and leaving there in 1974.
He soon after discovered the delights of the Liverpool 8 and 17 districts of Liverpool and resided in the vicinity of Princes and Sefton Parks for many years. He has long been engaged in all manner of community and arts projects, in the early days making his living mostly by the production of handmade leather goods at such as the Open Mind Arts Centre in Manesty's Lane and Curiouser & Curiouser in Lark Lane, something he continues to do to this day, under the banner GoodHiding Leather Products & Repairs.

In the early 1980s, Steve undertook a series of courses in photography at the Open Eye Gallery in Whitechapel, Liverpool and has been an enthusiastic practitioner of the art to this day.

Steve later spent a number of years in London, variously working in bars, running the B&W department of a busy city centre photography company, teaching photography to young people as part of the Community Programmes scheme and art in evening classes. He met his wife Philippa there in 1989 and they soon decided to leave the capital and settle in her childhood home, the ancient and beautiful City of Chester. They raised their two daughters, Eve and Cleo in the city. Steve also has two older daughters, Kama, resident in the USA and Io, in Somerset. He has five grandchildren!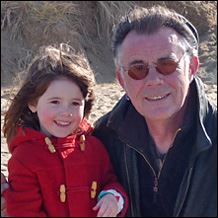 In 1990, Steve and Philippa opened 'The Black & White Picture Place' in the newly-built Rufus Court off Northgate Street in Chester City Centre. This was the city's first and, to date, only, specialist photography gallery and also undertook commercial printing, portrature, weddings etc. as well as offering an expert photographic restoration & repair service, website design and much more. Since then, the gallery is no more, Philippa has become a teacher and, sadly, they are no longer together. But the services continue- we invite you to visit the B&W Picture Place's website to learn more..
Right: Steve and his granddaughter Aurora in 2014

Having soon become fascinated by the history and architecture of Chester, but noticing that quality online material about the place was somewhat thin on the ground, around 1995, Steve started to compile his internet guide, Chester: a Virtual Stroll Around the Walls and the site has been growing ever since, has won a crop of awards and enjoys a regular readership of thousands from all around the world. The site contains much material about his birth city of Liverpool too.

Once the site went online, people soon started to enquire if its author would be able to show them around for real when they visited the UK and Steve's Chester & Liverpool Guided Walks have become a great success over the last twenty years!

In his leisure time, Steve drinks real ale, plays the mandolin and the darbuka and tongue drums, endeavours to create the perfect curry and get his head around the astounding Urantia Book.

Contact Steve: 0775 1521 600


Steve Howe on Facebook | The Chester Virtual Stroll on Facebook | Email Steve | Return to Chester Virtual Stroll website