T
he Black & White Picture Place
Memories of the Royalty Theatre On to parts 2 | 3 | 4

Updated October 2016


he Chester Royalty Theatre in City Road first opened its doors in 1882. It was built on the site of an earlier, wooden building that was used as a makeshift theatre. This apparently started life as a sort of canteen where workmen building the great General Railway Station down the road would be fed and watered. Perhaps they even slept there. It was used to put on plays and circus shows of little artistic merit by groups such as Madame Beatrice's Frou Frou Company. Originally called, for unknown reasons, The Oxford Music Hall, it soon changed its name to The Prince of Wales.

Eventually, the wooden structure was replaced with a purpose built brick, 2,000-seat building called The New Royalty Theatre which was built by Bleakley and Son of Birkenhead. City Road itself, linking the new railway station with Foregate Street, had itself only been laid out just over 20 years earlier. The new theatre's street adress, incidentally, was 20-24 City Road.

For a century, the Royalty became a favourite place of family entertainment and must hold many happy memories for generations of Cestrians, let alone those who regularly travelled to be entertained here from further afield.
The first show to be given on the 27-foot stage was a version of Aladdin written by the first stage manager, John Bannister. The pantomime was advertised to open on December 23rd but the building was not ready- it finally opened to the public on Boxing Day, December 26th 1882. See the local press advertisment for the event here.

The opening night audience was treated to the following prologue, recited by John Bannister and written by one John Boddington, who was a member of staff at the Chester Chronicle. (The prologue was included in an article 'Opening of the New Royalty Theatre' published by the Chron on 30th December 1882)...


"Halloa ! What's this? Why, here's an alteration.
Is this the theatre by the General Station
Where Sheridan so bravely fought of old
To shield the Drama from the winter's cold ?
'Tis not a dream- result of indigestion-
Or Fairy palace- that's quite out of question.
No! No! This chaste interior is real,
Of genius and art the home ideal.
The architect and artist have been here,
And each wrought wonders in his several sphere.
And now you'll want to know who 'twas that made 'em.
Do all I've said; and who it was that paid 'em.
Of couse I might inform you 'twas a sprite!
But then you tell me 'Walker!' You're quite right.
'Twas Walker- Carter- Chalton hand in hand;
They're joint proprietors you understand;
They found a way, by dint of right good will,
And didn't wait for an improvement bill.
Dull, humdrum, sluggish, "melancholy, slow,"
Describes in numbers of the proper flow

The sad condition of our ancient Chester
Minus the theatre. And so just to test her
And see if she'll support the regular Drama
We'll presently unfold a panorama
Of human life in every rank and state,
To fire the fancy, and to elevate
The people's notions; to make rational
And gen'rous their views; and still we'll fashion all
Our entertainment on this solid fact –
That man's a Laughing being – and the act
Shows he's a sense of humour, which at least is
A proof that he's superior to the "beasties."
'Tis certain too, as five and five are ten,
That mirth is the best medicine of men.
"Throw physic to the dogs," and come to us,
And whilst, dear public, we must all confess
"Tis not in mortals to command success,"
We'll strive to gain it; your applause we court
And hope you'll give the Royalty support".
The interior was designed in the Elizabethan and Queen Anne styles and had two ornate wooden balconies shaped in swan's neck curves. Two statues graced the side walls, one represented music (illustrated left), the other drama (below).


The partnership of Walker, Charlton and Carter were the first owners; in later years, James W 'Jas' Carter became the sole owner. He was running the place when films were first shown in February 1898- these were described at the time as "the greatest living pictures ever seen". See the advertisment that appeared in the local press at the time here...

In 1898 also, Mr Carter (who was also a member of the City Council) became enbroiled in a local religious dispute: in that year, one Miss Nessie Brown announced that she had decided to erect a memorial to the Protestant cleric George Marsh, who was burned at the stake on Gallows Hill, Boughton in 1555. When news of the plan spread, a furore ensued. There was a considerable number of Catholics in the city and they staged a series of vehement protests. In those days pantomimes were not solely for the innocent entertainment of young children, but were also used as vehicles for the public airing of local (much missed!) political satire. Thus, in his Christmas Pantomime in 1898 were delivered the lines,
"Something happened many years ago,
To harp on which stirs strife and animosity.
The folks liked not this fuss about a martyr
And showed their sense by plumping straight for Carter".
Despite all the fuss, the erection of the memorial received the sanction of the City Council and was duly erected on the site of the old stake and gallows where it remains to be seen today.


The Royalty for long attracted many of the music hall greats including Marie Lloyd, Sir Harry Lauder, Florrie Ford and Sandy Powell. The celebrated actor Henry Irvine performed also there.

In December 1915, a fatal accident occured on stage- a Japanes acrobatic troupe, the Mikado Family, were performing their act when 23-year-old Ishiao Ishimura failed to complete a somersault and landed on the stage on the back of his neck. After first aid was given he was transferred to the Chester Royal Infirmary, where sadly he died the following day. Poor Ishiao was laid to rest "far from the bones of his ancestors", in Overleigh Cemetery, where his grave may still be seen, its inscription in both Japanese and English.

In 1905, Mr Carter sold out to the great promoter and impresario Milton Bode (1860-1938), together with partners Edward Compton and Chester businessman Lawrence Booth. Managers in this time included Mr McKim, Mr Andrews, Mr Fontaine and Mr H. Norcott.

Bode purchased the adjoining site on which to build a vast Hippodrome capable of accommodating 4000 people. The project received great opposition, principally from parsons & publicans so he erected the Grosvenor Skating Rink instead and one of his managers, Mr H Norcott became manager of this. By 1922 Bode had become sole owner of the Royalty. Ten years later, in 1932, he sold it outright to Mr Edmund Keyes, who was born and brought up in Chester and was a well known businessman, active in city life who became Sheriff, Alderman and later Lord Mayor. In 1961, following her father's death, Miss Ursula Keyes took over. Miss Keyes was was not just interested in the theatre for, during her lifetime she supported innumerable charities and set up a charitable trust to supporting the medical needs of the local community.

Later in the 1960s, "Chester's Mr Show Biz" Dennis Critchley became the Royalty's manager. In 1946 he had appeared in the Royal Command Performance assisting Nat Mills & Bobbie, one of the star acts of that year. Being good at dialects and an excellent mimic he progressed to become an entertainer/comedy actor playing various roles in revue. Later on he became a solo impressionist performer.

In 1952 he became the assistant manager of the Queen's Theatre, Blackpool and in 1956 was appointed Manager of the Royal Pavilion Repertory Theatre, also in Blackpool.
Then, in 1957 he took over the management of the Royalty Theatre, Chester, where he became a Director and General Manager. He was responsible for Production and Direction of the theatres' own plays, shows and pantomimes. He also controlled the booking of all touring productions which appeared.


Russ Abbott thanked him personally for teaching him the rudiments of comedy presentation and timing and on his This is your Life in 1997.
In 1963 he started to write and direct pantomimes and summer shows all over the country for independent managements. His pantomimes appeared at most of Britain's major theatres including the Theatre Royal, Nottingham, the Opera House, Belfast, The Alhambra Theatre, Bradford, to name but a few. He did eight consecutive years of pantomime at the Empire Theatre in Liverpool and seven years at the charming MacRoberts Arts Centre Theatre at the University of Stirling in Scotland. His Summer Shows played all the top holiday venues including Blackpool, Yarmouth, Bournemouth.

During this time, Dennis directed such stars as Harry H Corbet, Les Dawson, Cilla Black, Frank Carson, Mollie Sugden, Nick Berry, Suzi Quatro, Mike Reid, Helen Shapiro, Kathy Kirby Cannon & Ball, Freddie & The Dreamers (favourites in pantomime), Lonnie Donegen, Gerry and the Pacemakers, Rod Hull & Emu, Keith Harris and Orville, Roy Hudd, Melvyn Hayes, Alfred Marks, Dana, Ted Rogers, Peggy Mount, Clive Dunn and Amanda Barrie and many others.

During the 1950s and 60s, many variety stars such as Ken Dodd, Jimmy Young, Harry Worth, Frankie Vaughan and Helen Shapiro (aged 14) performed at the Royalty, to be followed by 'pop' singers and groups including Tony Christie, Alma Cogan- 'the girl with a giggle in her voice', Herman's Hermits, the Rolling Stones (18th April 1964), Gerry and the Pacemakers and the Beatles (they appeared here together 15th May 1963).

The Beatles only played the Royalty once but made more regular Chester appearances at the Riverpark Ballroom opposite the City Baths in Union Street (sadly demolished in 1963 and now the site of a bank's offices). They appeared there five times in 1962, each time on a Thursday: 16th August- the day poor Pete Best was sacked (and didn't turn up for the show, unsurprisingly), 23rd August- also the day John and Cynthia got married!- 30th August, 6th September and 13th September.
(While the Fab Four were here in 1963, they heard tales of a cottage on the banks of the River Dee near the Grosvenor Bridge, bearing the intriguing name of 'Nowhere'. John Lennon was so fascinated he visited the house to see if it was true- and later wrote a song, featured in Yellow Submarine, entitled Nowhere Man...
John, incidentally, had another Chester connection, for his maternal grandmother, Annie Jane Milward, was born at the ancient Bear and Billet Inn in Lower Bridge Street, in 1873).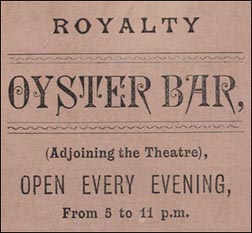 In 1957, builder Frank White undertook extensive structural alterations to the theatre; cantilever-type balconies replaced the older designs with their ornate plasterwork and pillars were removed to improve visibility. Boxes at each side of the stage were also done away with at this time. Our photograph below shows the theatre's interior as it appeared before the alterations, in the early 1950s.
Meet Mr Callaghan was the first production to be performed in the refurbished hall. This was opened on 8th July, 1957 by the theatre historian W. McQueen Pope.

Because of declining audience numbers, allegedly due to the rising popularity of cinema and then of television, the old theatre was forced to close in 1966 after a continuous run of 84 years. The problem was that the Royalty had always operated without subsidy, unlike the (soon, in its turn, to be demolished) Gateway Theatre, which opened in 1968 and has always been supported by grants from the Arts Council, North West Arts Association and Chester City Council. Ironically, the last pantomime to show there was Aladdin- which had been its first, back in 1882. It starred the then-famous duo of Miki and Griff.

The ground floor became a 'chicken in a basket' cabaret club known as The Theatre Royalty Club, and then, changing hands several times, was used successively for bingo, wrestling and as an indoor skateboard park before becoming a disco known as the Warren Club (opened 3oth August 1965). It's final use was as the home of the popular Alchemy nightclub- still in situ when these photographs were taken in April 2001.
Through all the changes, the decor and fittings in the upper sections of the old Victorian theatre, such as the statues illustrated here, remained undisturbed and intact. Nontheless, the resplendent gold and scarlet finery of the interior was torn out during successive refits, including some fine oil paintings of Chester's bridges which once graced the auditorium's rear wall.

In 1986, Chester City Council's Conservation Review Study had recommended the development of the run-down Royalty site "preferably retaining the theatre auditorium" but, by fifteen years on, May 2001, the greed and stupidity we have come to expect once again prevailed, and it was announced that councillors had given the go-ahead for the building to be entirely demolished and replaced with two restaurants, 24 'luxury' apartments and a car park.
The plans for this new development in the city centre conservation area were described by the Chester Civic Trust as "ill-mannered and profoundly unimaginative... it is too tall, too bland and altogether unworthy".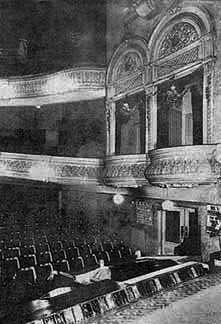 For those of you who would like to know more of the golden days of the Music Hall, we strongly recommend you read J. B. Priestley's wonderful and evocative novel Lost Empires- published in 1965 but, in our experience, still easily to be found in second hand bookshops.
We will be bringing you more of the history of the Royalty and further details- hopefully including some 'artists impressions'- of the new luxury apartments as soon as we get them. Can't wait.
Chester, incidentally, also once boasted another music hall, cinema and theatre, situated near the Cathedral in the 14th century Chapel of St. Nicolas, which still exists although now utilised as commercial premises. Learn a little about it here and also in our brief history of the Chester cinema here....
Left: The Royalty as it appeared in the early 1950s, before extensive alterations were undertaken- the balconies were altered and the ornate boxes removed entirely.

15th February 2001: Sadly, demolition of the Royalty started this week- and this letter from Paul Crofts of Saughall appeared in the local press:

"Many people, myself included, are sorry to see another part of the city's heritage make way for yet more apartments and restaurants. Any battle to save the theatre would have been lost before it could begin because of the state the building is in. (How could we save this building when we live in a city that recently allowed a courthouse to be built over part of its Roman amphitheatre?)

A few weeks ago I spoke to a very helpful gentleman at the city council's conservation department who assured me that he had visited the theatre last year with a view to getting the building listed.

This was not possible because there was very little of the original interior remaining. The only pieces worth salvaging were some original plaster mouldings and the two statues from either side of the proscenium arch (illustrated above).

Having seen some photographs of these in the local press some time ago, I was concerned that if these items were still intact inside the building, they would soon be lost forever as the demolition crew would rip everything out and throw them into a skip.

I was able to speak to the building's site manager who told me that only a week before, he had been approached by a gentlemen who wanted to rescue these very items amongst others from the theatre for his private collection.

I have since been in contact with this gentleman and what a joy it was to learn that he has rescued a vast collection of bits and pieces not only from the Royalty, but also from our long-gone picture houses too.

His collection includes many photographs of the interiors of these once great entertainment palaces. We must also not forget that last year Dennis Critchley's collection of posters from the Royalty was on display at the Grosvenor Museum.

Later this year an exhibition is to take place within Chester History and Heritage at St Michael's Church featuring photographs and memorabilia of the cinemas and the other places of entertainment.

Although I am far too young to remember the Royalty as it was (I'm only 30), I along with many other people, do care about our heritage. Many people have very fond memories of the Royalty Theatre and it is good that some small parts of it at least have been salvaged".