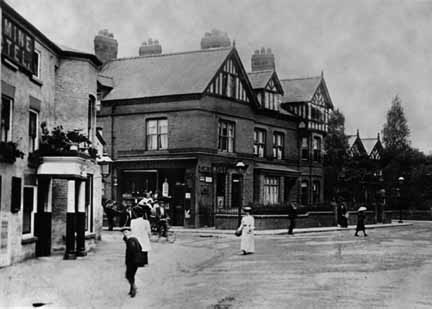 A genteel hotel in a genteel area: the Ermine Hotel photographed around 1910, complete with potted geraniums above the door. On the opposite corner of Ermine Road, Thomas Carter's chemist shop is today the Flookersbrook Veterinary Practice.
In December 1921, Fred Lowe wrote of the hotel its surroundings in the pages of the Cheshire Sheaf:

"On the left-hand side of Flookersbrook stands the Ermine Hotel, an old-established hostel, with its extensive stabling and auction mart. The earliest licensee I can remember was a Mr. Fern, who carried on the business for many years. The late Mr. George Barnes held the licence for some time, and retired a few years ago. During the annual training of the Cheshire Yeomanry Cavalry a troop was always billeted at this hotel, where there was plenty of accommodation for them.
Close to the hotel, through a gateway, there was a pathway across a large field called the Ermine Field, which led to Brook-lane and opposite the entrance to Dickson's Nursery. At that time there were no houses near. Now we have the Ermine-road and Halkyn-road and a number of streets, forming a small town of itself".
A trades directory for the period immediately before Mr Lowe wrote the above, 1919-20, shows Mr Harold Wilcock as licencee of the Ermine.
The origins of The Ermine are doubtlessly very ancient, as it stands squarely upon the Roman Road (some say the road existed long before then) that commenced just outside the Leigonary Fortress of Deva, branching off from Watling Street (Foregate Street) along the line of modern Frodsham Street, Cow Lane Bridge, Brook Street, Flookersbrook, Kilmorey Park Road, the Newton Hollows (a true 'hollow way', worn down by untold centuries of feet, hooves and wheels), Hoole Bank and then onwards to Warrington, the River Mersey and beyond.

Commencing in the fourteenth century, this ancient way was superceded by a more convenient route that branched off from the old one at the Ermine's location, and that would eventually become today's busy Hoole Road. Once a turnpike road, it was for centuries a major coaching route and the Ermine would have been an important stopping place: a last chance to water the horses and for travellers to partake of a last "one for the road" before setting out upon their long and hazardous journey.