If you're enjoying your visit to our site,

please

consider donating a small sum to help us keep it online and growing for the benefit of all who love Chester. Simply click the button and enter your contribution, no matter how small. It's safe and easy- you don't even need a PayPal account. We thank you!
A Virtual Stroll Around the Walls of Chester

The Vanished Pubs of Chester: The Gallery

A growing collection of images of Chester's pubs (also breweries and hotels) that are no longer with us.
Your contributions, comments and reminisciences are very welcome! New material added here 13th January 2015






The Hare & Hounds and
The King's Arms





The Old Queen's Head




The Riverpark Ballroom




The Northgate Brewery




The White Lion Hotel




The Bull & Stirrup




The Ostrich Vaults




The Carnarvon Castle




The Talbot Inn (July 2019)


The King's Arms Kitchen




'A Moral & Physical Thermometer'
Here are a series of details from the 1875 Chester OS map revealing the locations of a number of vanished local hostelries (more pubs and better maps to follow soon!)..
Castle Street | Watergate / Linenhall Street corner | Frodsham Street area | Love Street / Foregate Street | Around Holy Trinity Church
Lower Bridge Street | George Street / Cattle Market | The Northgate Area | Egerton Street Area


Chester's Vanished Pubs parts 1 | 2 | 3 | 4 | 5 | 6 | 7 | 8 | The Living Pubs of Chester

Search Streets: B | B 2 | C | D | E | F | F 2 | G | H | L | M | N | N 2 | O | P | Q | S | S 2 | T | U | W | W2 | Breweries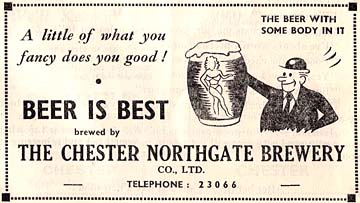 Site Front Door | Site Index | Chester Walls Stroll | King's Arms Kitchen | Brooksbanks | Northgate Street | The Living Pubs of Chester
Cheshire CAMRA | Chester / South Clwyd CAMRA | CSC CAMRA Forum | outinncheshire| Chester Memories Facebook pubs page | Top of Page


Strictly © Steve Howe / B&W Picture Place