A Virtual Stroll Around the Walls of Chester
The Vanished Pubs of Chester Gallery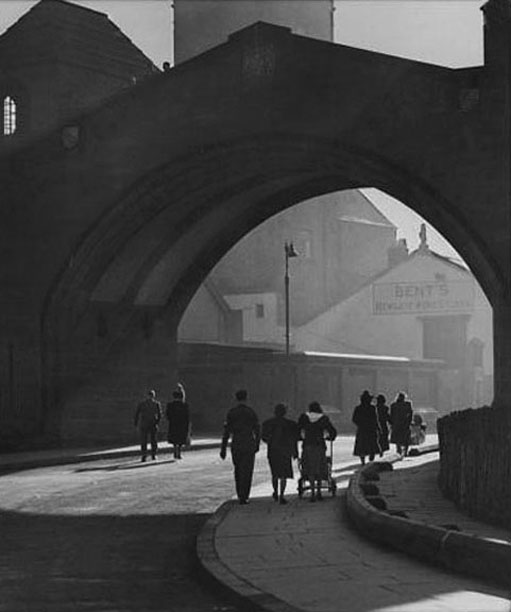 A beautiful image by Edward Chambré Hardman of the old Lion Brewery in Pepper Street, seen through the arch of the Newgate.

In 1871 there were 13 breweries in Chester, of which seven appear to have been pub breweries. All the latter had ceased operation by 1892. Of the commercial breweries, the three biggest were Edward Russell Seller & Co. in Foregate Street, the Chester Northgate Brewery in Northgate Street and the Lion Brewery here in Pepper Street, which was founded in 1642.

In 1697, a messuage (dwelling house), cellar, kiln and malthouse in the holding of William Sudlow, apothecary and bearing the curious name of The Hand & Snake was recorded as standing in Pepper Street. Between 1871 and 1892 the premises passed through at least four hands- including the Whittells and Messrs Walton & Clare- before being acquired by Thomas Montgomery. The entire brewhouse was rebuilt and enlarged sometime during this period.

Montgomey's business was incorporated as the Chester Lion Brewery Co. Ltd. in 1896, but was taken over by Bent's Brewery of Liverpool in 1902. The brewery was closed soon afterwards and the building used for a variety of other purposes. It was eventually demolished in 1968 and replaced by a multi-storey car park. In March 1968, Mr D J Tomlinson of the Chester Civic Trust rescued the large stone lion, the trademark of the old brewery. Perhaps as an economy measure, or because of its position, its back to a chimney, the lion's features were only carved on one side of the stone. The task of removing it was entrusted to army engineers from REME at the Dale Barracks. and it rested for a couple of years in Mr Tomlinson's garden at 11 Curzon Park North until it was arranged for it to be re-erected it on top of the new car park's concrete tower, where it remains a prominent feature today. You can see the lion in its original home atop the brewery tower in our photographs below..
| | |
| --- | --- |
| | |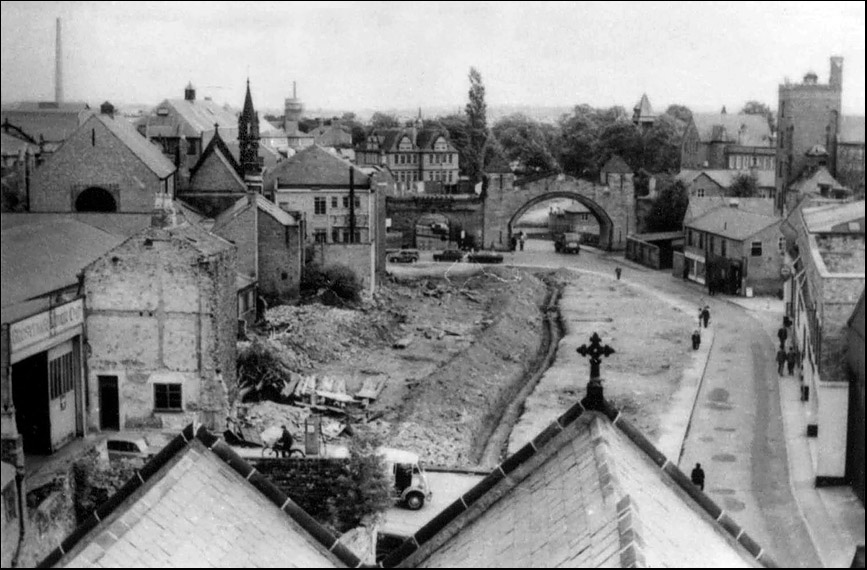 Pepper Street photographed from the tower of St. Michael's Church. On the far right can be seen the tower of the Lion Brewery.

The brewery with its trademark lion just before demolition in 1969.
The Royal Engineers removing the stone lion in March 1968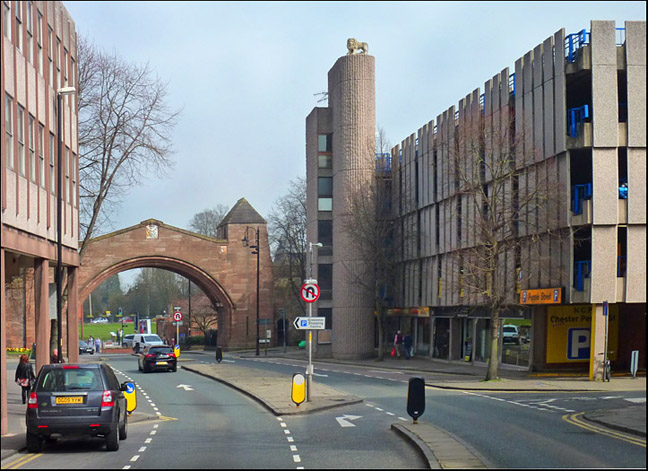 The old brewery lion today, looking down from the top of the modern car park in Pepper Street


Do you have any more information about Chester's old breweries?

Chester's Vanished Pubs parts 1 | 2 | 3 | 4 | 5 | 6 | 7 | 8 (including breweries) | old pubs gallery

Site Front Door | Site Index | Chester Walls Stroll | Old Pubs Gallery | Previous Picture | Next Picture