Almost as long as people have been visiting this, the ancient and beautiful city of Chester, others have been writing books to help them find their way around, and our Chester Virtual Stroll is just the latest- but the first to be published exclusively on the World Wide Web! The first such guidebook we know of was penned by one Lucian, a monk of Chester Abbey in 1195- over eight centuries ago. You can learn a little of him, his community and his remarkable work by going here.
• Here is an illuminating selection of Quotations & Comments from distinguished visitors to Chester from the 12th to the 21st centuries.
• Chester as she was: a growing collection of old maps, aerial photographs- and a magnificent Victorian view from a balloon! In addition, our galleries of old photographs and drawings of Chester and Liverpool are here.
• Chester in the Snow: 2010 and 2013
• The Chester Gallery & The Liverpool Gallery A small selection from 25 years of photographs by the author. Our picture library contains thousands of images and new material is regularly being added...
• Still accurate today after 140 years, a fascinating description of Chester's unique covered galleries- the Rows written by Joseph Hemingway in 1836, with additional material and pictures by your guide.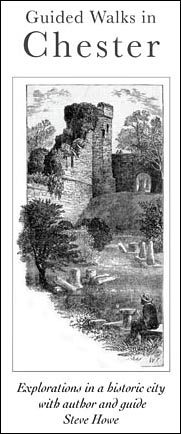 • Thousands of Chester's departed citizens are buried in the wonderful Overleigh Cemetery. Learn about some of the more notable ones here.
• Almost everybody is familiar with the works of Louise Rayner, a Victorian watercolour artist who lived in Chester for many years and produced numerous much-loved images of our city. Read about her life and see some of her masterpieces here.
• A history of the cinema in Chester by David A Ellis with additions and illustrations by Steve Howe.
• Some memories of the recently-demolished Chester Royalty Theatre

• 'The Honorable Incorporation of the King's Arms Kitchen' was a unique public house at the Eastgate, which, during the 18th and 19th centuries, functioned as a satirical 'mock corporation'. Read the fascinating reminisciences of a 'frequenter' here

• Along with the old Kitchen, many more of Chester's pubs and breweries have ceased to be over the centuries. Here is a growing list- currently over 400- and a gallery of photographs and drawings of some of them is now here. As with the rest of the Virtual Stroll, your contributions and reminisciences of these lost hosteleries and their licencees are very welcome here...
• A Virtual Stroll Around Hoole is now online, including a useful set of local links (early days yet- sponsorship and advertisers are needed to help this grow!) Now featuring our new Hoole Business Directory.
• A short distance beyond the Eastgate is the suburb of Boughton. Here is an article by Tony Cummings (with additions and pictures by the author): Spital Boughton's Litany of Death and Martyrdom, which tells a little of the area's chequered history.
• The story of a vanished religious community that for centuries flourished on the site of the new HQ building: The Nuns of St. Mary's. (we will also be meeting with the communities of the Black, Grey and White Friars during the course of our journey).
• A visit to a fascinating part of our city very different to the Rows and Walls- and the ongoing story of its redevelopment over the last few years: The Old Port.
• Some images of the 1992 and 2014 Chester Mystery Plays. We have a large collection of pictures from these events so get in touch if you're interested..
• A Brief History of the Chester Philharmonic Orchestra by Tony Mitchell
• A collection of amusing and irreverent Chester Anagrams by man of mystery, Seranus
• You and I may enjoy a gentle stroll around Chester's City Walls, but Simon Catterall once did things rather differently: a hilarious true story- Naked Around the Walls! (1984). Also enjoy his Youthful Memories of Chester (1974)

• An archive of letters to this site and the local press regarding the Chester Amphitheatre (An unmissable insight into what the people really think! The most recent letters are here) - and the Chester Virtual Stroll's ongoing illustrated history of this special, but much-abused, ancient monument.

In addition, here are the complete text and illustrations from the pamphlet published in 1932 by the Chester Archaeological Society the last time the philistines tried it on: Save the Chester Amphitheatre!

Also some pictures of St. John's House and the short-lived 'Amphitheatre Gardens' which were removed when the northern half was excavated.

Finally, here is a dynamite criticism by one Flavius of the way the amphitheatre and other archaeological issues have been (mis-) handled over the years...
• Explore a former disused railway line running from rural Cheshire, through the city of Chester and on into Deeside- since June 2000, the location of a superb new cycleway and footpath- but for years threatened by a madcap, multi-million pound plan to put a 'guided busway' on it. Join us for our Virtual Stroll Along the Millennium Greenway - and read a collection of letters for and- very much in the majority!- against the CDTS Busway.

• At the end of each chapter of our tour, and also here, is a feature entitled Curiosities from Chester's History, which records many of the remarkable events that have taken place in and around our city over the last two millennia. To give context to these, some notable events in world history and the succession of the British Kings and Queens are also included. Useful links to further reading have also now been provided.
• If you'd like to visit another example of a British walled city, here's a brief portrait of beautiful Conwy, fifty or so miles from Chester along the North Wales coast.
• A useful collection of links to other sites discovered along the way including: Chester, Cheshire & North Wales, Liverpool, history, archaeology and genealogy, photography, internet & Apple Macintosh, music, environmental and miscellaneous links. Your suggestions are welcome.
• "Oh no, not the holiday snaps!" A collection of new images by the author of somewhere very different to Chester- beautiful Cortes Island off the coast of far-away British Columbia, Canada.
• Another Place- Anthony Gormley's amazing installation on Crosby beach, north of Liverpool. Photographed by the author (who grew up just down the road!)


• A selection of your letters. Your contributions, suggestions and constructive criticism are always welcome! Go on, write to us- we'd love to hear from you!
• Advertise to the world on this website! A custom-designed banner with your company logo and a link directly to your site- go here for details...
• For all of you fascinated by the history of this remarkable city, when you've finished exploring our website (and not before!) we strongly recommend a visit to the newly-relaunched (and exceedingly excellent) Chester Wiki.
• Visit our sponsors- without them this website wouldn't exist! Check out the fine photographic and digital services at The Black & White Picture Place: weddings & special occasions • classic portraiture • photographic restoration & repair • commercial, industrial & archaeological photography • printing, processing & digital services • The Picture Gallery: Images of Chester, Liverpool, people and many other subjects.
• Get what you deserve! GoodHiding- fine leather goods handmade in Chester.

• Now read our brief Introduction to Chester, study the route map (now with a scrollable and zoomable Google Earth satellite view of Chester) - or go straight on to the starting place at the Northgate (or you could try browsing through our A-Z index or use our Google search). A growing bibliography and reading list for further study is here.
• All of the original photographs on this site - and many of the older ones- are available to purchase as beautiful, handmade prints- far superior to the online images- in a variety of sizes. The perfect gift! Call 0775 1521 600 or email for details.
Now go on to our starting place, the Northgate. Alternatively, check out our Route Map or read our brief Introduction to Chester..