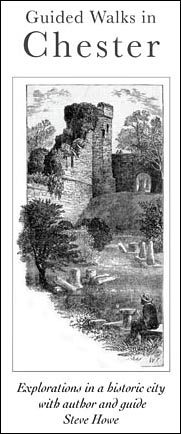 'Chester: a Virtual Stroll Around the Walls'- www.chesterwalls.info - is the most comprehensive, entertaining and informative local guide available on the World Wide Web.

From the comfort of your armchair, explore our beautiful city and its ancient two-mile girdle of defensive walls, all the while hearing tales and learning fascinating facts from 2,000 years of history and discussions about more contemporary developments.

There are features about the unique Rows, reminisciences of vanished pubs, cinemas and theatres, the Mystery Plays, quotes from eminent visitors through the centuries and much more. There's an extensive and useful selection of links to other local websites too. The site is constantly updated and new features are being added regularly.

We welcome contributions from our readers and, indeed, many of their fascinating anecdotes and photographs are available nowhere else. The site is regularly visited by thousands of residents and visitors to Chester from around the world.

Studying our reader's letters pages will show where our many visitors are from and, more importantly, what they think of the site.
Enter the words 'Chester Walls' into Google and who will you find in the number one position? Us!

Consider, then, that there is a cost-effective method for you to reach all of these potential customers!

We have recently commenced offering advertising banners at the head of each of the Chester Virtual Stroll's numerous pages. These can display your company's logo and contact details, links directly to your own website and email- and we can even include a photograph and 'mini-editorial' about your business. Wherever possible, you may choose where on the site your banner is displayed. For example, if you owned a shop or restaurant in Northgate Street, your advertisment could be situated on one or more of the three Northgate chapters.

We will design your banner for free- see some example below- link it to your phone, email and website and display it as described for just a few pounds per month!


If you have not yet got round to putting your business online, perhaps it's time to consider it. Personal recommendations aside, the majority of enquiries about our own photographic and digital services formerly came to us via Yellow Pages and the like but these days we are finding that most find us via internet searches. Remarkably, we find that many of these potential clients had already visited our websites before they picked up the phone- so we know the internet works!

We would be pleased to design and host a brand new, no-nonsense website for you- including all graphics, photography etc- a simple, hassle-free, jargon-free service that really gets your business talking to the world. You may choose to maintain and keep your site updated yourself (not an option offered by many commercial web design companies!) or we would be happy to do this for you at reasonable cost.

You may already have a website that is not to your liking for one reason or another. Let us have a look and offer you free, no-strings advice on how it may perhaps be improved.


A visit to our online galleries (and here) will soon convince you that our range of original photographs of Chester are simply the finest to be had. Perhaps we notice these things more than some, but continue to be surprised how bland are the pictures that 'decorate' so many hotels, restaurants, offices and the like. By contrast, our unique, handprinted images cannot fail but to enhace your premises and, in addition, provide an assured source of interest and conversation for your clients and visitors. In addition to the Chester images, our photo library contains many fine views of Liverpool, North Wales, Yorkshire, natural history, people and many more subjects. These are all similarly available as fine, handmade prints in a variety of sizes. Original commissions are welcome too.


Perhaps you possess old photographs of your premises, proprietors and staff as they were in former times? We offer an expert reproduction and restoration service. Enlarged, hand-coloured and framed images of this type can add a truly personal touch. View a selection of battered old photographs- and what we made of them! Classic contemporary portraiture is, naturally, also one of our specialities.


If your clients and guests find our Virtual Stroll stimulating, they may also be interested in our real Chester guided walks. Wander the world famous City Walls- the most complete in Britain- and discover the delights of other parts of our lovely city as well. Depending upon their requirements, we can give your party a quick introductory tour of the city centre or conduct lengthy and detailed study walks upon specific themes, for example, the Roman and medieval roots of Chester, the city walls and Rows, the great religious foundations, Chester's vanished inns, how an ancient city deals with modern developments, 'death, punishment and hauntings' and many more...

These are just some of the ways we at the Chester Virtual Stroll and the Black & White Picture Place can benefit you and your business!

We invite you to enjoy the site for yourself and then contact its author and editor, Steve Howe to discuss your requirements and learn more: 0775 1521 600 / email: knowhowe@bwpics.co.uk / websites: www.chesterwalls.info / www.bwpics.co.uk