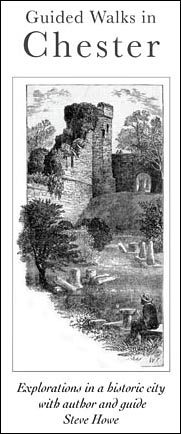 Apple Macintosh & Internet Tuition
Buying a Mac? Sensible you. Welcome to the world of beautiful design, reliable hardware, consummate software, ease of use and freedom from all manner of bugs and viruses. I will help you choose your new Mac and set it up to suit your needs. New to the wonderful world of the internet? Allow me to show you around! Steve Howe, 01244 345099 / 0775 1521 600 / email me
Auto Sales
Volkswagen Chester, part of Inchcape Retail, the UK's leading motor retailers. Sealand Road, Chester, Cheshire, CH1 4LQ Tel 0333 222 8322
www.inchcape-volkswagen.co.uk/VW-Chester.aspx

Building & Maintainance Services
A J Leadsom Construction, 61 Woodlands Drive CH2 3QQ 01244 323146

Chester & Liverpool Guided Walks
By photographer, historian and author of the award-winning Chester: a Virtual Stroll Around the Walls, Steve Howe.
25 Lime Grove CH2 3HW 0775 1521 600 www.chesterwalks.uk
Cleaning Services
Quality Cleaners, 7 Faulkner Street. 01244 320327
Wash2Wear, Washing, Drying and Ironing. 22 Charles Street. 01244 317317
Clothing & Fashion
erj boutique, 37 Faulkner Street CH2 3BD.
Foxy Frox, 34 Faulkner Street CH2 3DB 01244 409059
G Rooms, 15-17 Charles Street CH2 3AZ. 01244 322122
School and Leisure, 16-18 Charles Street. 01244 322621
Vallerina, lingerie, corsetry, underwear, swimwear and hosiery. 13 Faulkner Street. 01244 347088
Community Centre (including Hoole library), Westminster Road CH2 3AU. 01244 342741
Disco (mobile)
R&S Entertainment, 5 Willow Crescent, Hoole. 07870 998046
Dog Grooming & Pet Supplies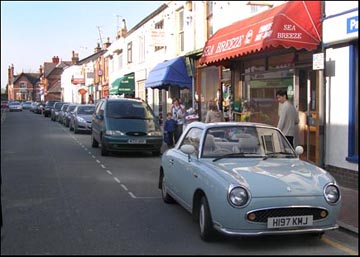 K9 to 5 Dog Grooming & Pet Supplies, 102 Brook Street CH1 3DU. 01244 347565 / 079505 71700
Electrical, TV and Audio
Smithfield Electronics, Ermine Road. 01244 400300
Estate Agents & Property Management
O'Brien Wheeler, 17 Faulkner Street CH2 3BD. 01244 340220
Property Deals UK, Estate House, 1 Faulkner Street CH2 3BD. 01244 319000
Somerville's, 24a Charles Street CH2 3AZ 01244 318777
Flooring
Brian J Watts Flooring Specialist Ltd, 21 Charles Street CH2 3AY. 01244 320248
Florists
Snapdragon, 10b Faulkner Street CH2 3BD. 01244 328015
Mr Fruity (see below)

Food & Drink
The Suburbs, 22 Charles Street. 01244 344325
The Lodge Bar at the Bawn Lodge Hotel, 8-10 Hoole Road. 01244 324971
Bargain Booze, 24 Faulkner Street. 01244 403938
Bricklands Ltd, Fish, Game & Poultry Dealer 36 Faulkner Street CH2 3BO. 01244 346622
Chatwins, 1-5 Charles Street. 01244 326029
China Garden, Peking and Cantonese Cuisine. 7 Charles Street CH2 3AZ 01244 313946
The Co-Op, 27 Faulkner Street. CH2 3BD 01244 323401 and 33-35 Walker Street. 01244 324391
deli-vert, 10a Faulkner Street CH2 3BD. 01244 340505
Hoole Indian Take Away, 9 Charles Street. 01244 400283
Hoole Kebab House, 19 Faulkner Street CH2 3BD. 01244 327774
Hoptons the Butchers, 30 Faulkner Street CH2 3BD. 01244 327580
L. Lewis, Ice Cream Manufacturer 12 Westminster Road CH2 3BB. 01244 323624

Mr Fruity, Fruit, vegetables and flowers, 21-23 Faulkner Street CH2 3 BD. 01244 351457
Sarnies, 1a Faulkner Street. 01244 317281
Chester Beer & Wine, 19 Charles Street CH2 3AY 01244 317094
Sea Breeze Fish Bar, English, Greek and Oriental dishes. 40 Faulkner Street. 01244 319765
Sticky Walnut, 11 Charles Street CH2 3AZ. 01244 400400
Sainsbury's, 2-6 Charles Street. 01244 583020
Jane's Handmade Bread, The Hollies, Oak Bank Lane, Hoole Village CH2 4ER. 01244 300761

Funeral Services
Co-operative Funeralcare, 35 Walker Street CH2 3BS. 01244 315597
Garage & Tyre Services
HiQ Tyre Services, 2a Westminster Road CH2 3DQ. 01244 321317
Graphic Design
Martin Huxley Graphic Design, 07887 721008
Greetings Cards, Stationery & Gifts
Sentiments... by Sonia, 8 Charles Street. 01244 400354
The Gift Box, 11 Faulkner Street, Hoole CH2 3BD. 01244 329222

Hair & Beauty
Absolute Bliss Nails & Beauty, 52 Faulkner Street CH2 3BE. 01244 317771
Capelli Haircutters, 3a Faulkner Street CH2 3BD. 01244 400888
Denton & Hyde, 26-28 Faulkner Street. Hair: 01244 400037 Beauty: 01244 344419
Hair Directors & Beauty Ltd, 24 Charles Street CH2 3AZ. 01244 325956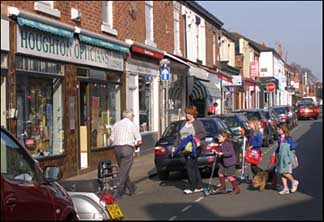 Jon's Barber Shop, 26a Charles Street CH2 3AZ. 01244 326567
L. A. Beauty, 32 Faulkner Street CH2 3BD. 01244 311634
The Hair Shop @ 28, 28 Charles Street CH2 3AY. 01244 326231
The Salon, 35 Faulkner Street. 01244 400600
Westminster Barbers, 17 Westminster Road CH2 3BB. 0771 971 2223. Open 6 Days- late Thursday
Beauty at Vanity Fayre, 18a Faulkner Street CH2 3BD 01244 328 979 / 07814407265

Hardware Supplies etc
Hoole Hardware & DIY, 38 Faulkner Street. 01244 346540
Health & Fitness
Urban Fitness / Powerplate Studios, 32 Charles Street. 01244 403363
Hoole Acupuncture Clinic, 34 Charles Street CH2 3AY 01244 639680

Herbalists
The Groves Herbal Dispensary, 24 Charles Street. 01244 319744
Hospice of the Good Shepherd Charity Shop
9 Faulkner Street. 01244 310196
Hotels and Guest Houses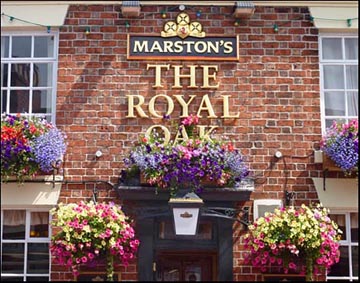 Alton Lodge Hotel, 78 Hoole Road CH2 3NT. 01244 310213
Ba Ba Guest House, 65 Hoole Road CH2 3NJ. 01244 315047
Bawn Lodge Hotel and Bar, 10 Hoole Road CH2 3NH. 01244 324971
The Cheltenham Lodge, 58 Hoole Road CH2 3NL. 01244 346767
Chester Court Hotel, 48 Hoole Road CH2 3NL. 01244 320779
The Dene Hotel, Hoole Road CH2 3ND. 01244 321165
Glann Hotel, Stone Place off Hoole Road. 01244 344800
Glen-Garth Guest House, 59 Hoole Road 01244 310260
Green Bough Hotel, 60 Hoole Road CH2 3NL. 01244 326241
Kilmorey Lodge Guest House, 50 Hoole Road CH2 3NL. 01244 324306
The Limes Hotel, 12 Hoole Road CH2 3NJ. 01244 328239
Peartree Guest House, 69 Hoole Road CH2 3NJ. 01244 323260
Strathearn B&B Guest House, 38 Hoole Road CH2 3NL. 01244 321522
Holding Lodge Guest House, 81 Hoole Road, Hoole Chester CH2 3NJ. Tel 01244 322236
Devonia Lodge Guest House, 33-35 Hoole Road, Hoole Chester CH2 3NH. Tel 01244 322236

Leaflets
We Do Leaflets, Prop. James Kirby, 0845 519 3589
Libraries
Hoole Library. Now at Hoole Community Centre, Westminster Road CH2 3AU. 01244 342741
Opticians
Houghton Opticians, 14 Charles Street. 01244 325969
Pharmacies
Boots the Chemist, 4 Faulkner Street CH2 3BD. 01244 325965
Photography
The Black & White Picture Place
Expert photo restoration and picture galleries. Click on the camera to learn more
Beautiful handmade images of Chester and other subjects • Photographic restoration & repair a speciality

25 Lime Grove, Hoole, Chester CH2 3HW. 01244 345099 / 0775 1521 600
email me
Picture Framers
City Framers, 98a Philip Street CH2 3DA. 01244 349431
Plumbing / Tiling etc
Mike Shaw

Bathrooms and kitchens suppied and fitted. Expert plastering and tiling.
Free heated towel rail with every bathroom renovation ordered!
All work insurance covered. Call for a free quotation...

077371 57274 / 01244 881386
Post Office
Hoole Post Office, 18 Faulkner Street. 01244 326679
Pubs (see also Food & Drink)
The Bromfield Arms, 43 Faulkner Street CH2 3BD. 01244 345037
The Faulkner, 48 Faulkner Street CH2 3BE. 01244 328195
The Lodge Bar, Bawn Lodge Hotel, 10 Hoole Road CH2 3NH. 01244 310951
The Royal Oak, 16 Faulkner Street.
Rotary
The brand new website of the Chester Canalside Rotary Club- a satellite Rotary Club that has been created for Hoole, Vicars Cross, Newton & Boughton.
Shoe Repairs
Pioneer Shoe Repairs, 15 Faulkner Street CH2 3BD 01244 323429
Solicitors
Matthew Lewis & Co, Martins Bank Chambers, Hoole Road CH2 3NF. 01244 327750
R T Steele & Spencer, 43 Hoole Road CH2 3NH. 01244 318016 / 314531

Sporting Trophies
Olympic Trophies, 23 Charles Street. 01244 347654 / 07940 873695
Travel Agents
The Really Helpful Travel Group, 3 Faulkner Street CH2 3BD. 01244 351455
Website Design
Black Sheep Creative, 37 Sefton Road, Chester, CH2 3RR 01244 342738
Steve Howe / B&W Picture Place, 25 Lime Grove, Hoole 01244 345099 / 0775 1521 600 / email