In the meantime, however, here's a list of links you may find useful and entertaining...
• The brand new website of the Chester Canalside Rotary Club- a satellite Rotary Club that has been created for Hoole, Vicars Cross, Newton & Boughton.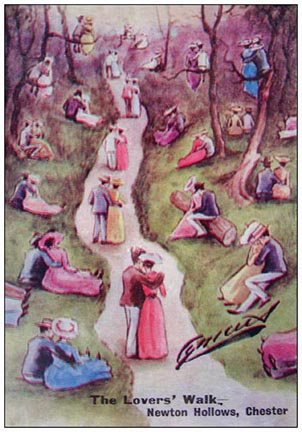 • RoundAboutChester's Hoole directory.
• There are numerous Hoole references on the excellent, recently-relaunched Chester Wiki.
• Hoole's page in Wikipedia
• A useful street plan of Hoole at Multimap
• Chester: A Virtual Stroll Around the Walls. An informal, but very informative guided walk around the most complete circuit of Roman & medieval city walls in the UK. In over fifty illustrated chapters, the author accompanies us around the two-mile circuit, shows us the sights, tells of the great events that have taken place during the past two thousand years, occasionally contributing his two penn'orth regarding contemporary developments in and around the city. Lots of fascinating information and pictures, much of it not easily available elsewhere and new material is added (almost) daily.
• The Chester Virtual Stroll's comprehensive local links pages. Your contributions and suggestions are most welcome.
• Explore a disused railway line running from rural Cheshire, through Hoole and on into North Wales- since June 2000, the location of a superb new SUSTRANS cycleway and footpath- which for years was threatened by a madcap council plan to put buses on it. Join us for our Virtual Stroll Along the Millennium Greenway.
January 2009- The time is long overdue for this out-of-date version of our virtual journey along the Millennium Greenway- largely dealing as it does with the bitter, years-long battle to preserve our car-free path from the iniquities of the CDTS 'Guided Busway'- to be gracefully retired into the archives and a complete re-write to take place. This would add all of the new photographs and other material that this writer has been thigh-deep in for the last few years, tell of the very welcome extension of the route to Guilden Sutton that is currently taking place, add better access information and detailed maps, provide a guide to hotels, shops, pubs, cafes etc close to the path- and generally provide a much, much more positive, regularly-updated read than it currently is!
That's a lot of work and sadly, we are incapable of taking the job on- without your help. If you are in a position to donate towards the site's renaissance, brilliant. If you're in business along the route, consider advertising with us. We can design (for free!) a jolly banner advertisment for you with details of your business, your contact details, links to your website and email- and a map directing Greenway travellers to your establishment!

• An exploration of the Shropshire Union Canal that runs through Hoole.
• The website of Cheshire West and Chester Council.


• City Council ward information: Hoole Groves and Hoole All Saints.
• The websites of Hoole All Saints Church and Hoole Baptist Church.
• The website of Hoole Lawn Tennis Club
• HAGA: the Hoole Allotments and Gardens Association

• A lively magazine for Hoole and district: Hoole Roundabout
• The changing face of the Ermine / Flookersbrook pub. Some fascinating 18th and 19th century newspaper advertisments for the old Ermine were added here May 2009.
• The Independent Republic of Hoole on Facebook. You will need to sign in and log on if you are not already a Facebook user.
• A growing list of the Lost Pubs of Chester. Just a few mentions of Hoole here but you can learn about the many boozers that have vanished over the years in neighbouring Newtown, Brook Street, Boughton etc...
• The sorry story of the playground 'improvements' shambles a few years back in Alexandra Park (updated with new photographs February 2008)
• Visits to our neighbours, the NewTown Saints and the Newton Independents

• Chester's contributions to a fascinating national survey of hygiene and cleanliness in hotels, pubs and takeaways- lots of Hoole businesses here, for good or ill- Scores on the Doors

Get involved! Your suggestions for additions to this list are very welcome.

Search our site in detail with Google...