• 'Chester: A Virtual Stroll Around the Walls'. An informal- but very informative- guided walk around the most complete circuit of Roman & medieval city walls in the UK. In over fifty illustrated chapters, the author accompanies us around the two-mile circuit, shows us the sights, tells of the great events that have taken place during the past two thousand years and occasionally contributes his two penn'orth regarding contemporary developments in and around the city. Lots of fascinating information and picture galleries here, much of it not easily available elsewhere and new material is added (almost) daily. Quite simply, the finest online guide to the City of Chester- now with a comprehensive index!
• Planning to stay in Chester? The best place to find accomodation to suit all budgets is at Trivago
• Established in Chester since 1990, The Black & White Picture Place offers the finest in photography: quality handprinting & processing / photographic renovation & repair / scanning & digital editing / graphic & webpage design / commercial / industrial, PR, archaeological / weddings, portraits & special occasions / gallery: huge selection of handmade photographs of Chester, Liverpool, people and many other subjects / Tuition to all levels: photography, handprinting & processing, Apple Macintosh, Photoshop, etc / Chester photographic and historical guided walks and much more...
Telephone 0775 1521 600 email: knowhowe@bwpics.co.uk

• From Lucian the Monk to Graham Norton: the fascinating observations of over 800 years of visitors to Chester- and also well over a decade of visitors to these webpages!

• An illustrated list of some of the many Chester pubs which have vanished over the years, and the reminiscences of a 'frequenter' of one of the most remarkable, the King's Arm's Kitchen. Your reminisciences, corrections and contributions to this page are particularly welcome!

• A growing collection of old maps and aerial photographs of Chester- and also a Victorian view of the city from a balloon!
• Explore a disused railway line running from rural Cheshire, through the city of Chester and on into North Wales- since June 2000, the location of a superb new SUSTRANS cycletrack- but which for years was threatened by a madcap council plan to put buses on it. Join us for A Virtual Stroll Along the Millennium Greenway - and read a collection of reader's letters for and- very much in the majority!- against the hair-brained CDTS busway.

• The author of the above feels that the time is long overdue for this version of the virtual journey along the Millennium Greenway- largely dealing as it does with the bitter, years-long battle to preserve our car-free path from the iniquities of the CDTS 'Guided Busway'- to be gracefully retired into the archives and a complete re-write to take place. This would add all of the new photographs and other material that this writer has been thigh-deep in for the last few years, tell of the very welcome extension of the route to Guilden Sutton that is about to take place, add better access information and detailed maps, provide a guide to hotels, shops, pubs, cafes etc close to the path- and generally provide a much, much more positive, regularly-updated read. He is, however, now financially incapable of undertaking the task and is appealing for advertisers, sponsors and donors to come forward to assist him with the task. Visit the site for details...
There are currently strong moves afoot from planners, politicians and profit-driven developers to do away with much of Chester's precious Green Belt, which was wisely put in place to prevent our small, historic city from gobbling up its surrounding villages and becoming just part of an urban sprawl with Ellesmere Port. We ask you, if you love our city, to visit the Save Chester's Green Belt website from where you can easily dispatch emails to your Member of Parliament and local councillors, telling them just what you think about the proposals. A further excellent site, that of the Friends of North Chester Greenbelt has also been recently launched. Please get involved- once it's gone, it's gone for ever! Learn more about the green belt concept here..
• Re-launched in Spring 2014, a splendid addition to Chester cyberspace where everyone is welcome to contribute- add your two penn'orth to the massive amount of information already present on the Chester Wiki. In a similar vein, if not as good, are Wikipedia's Chester Pages
The brand new website of the Chester Canalside Rotary Club- a satellite Rotary Club that has been created for Hoole, Vicars Cross, Newton & Boughton.
• A truly excellent all-round source of useful local information: Activ Chester.
• A superb new site featuring galleries of beautiful images of our city and much more: Chester- a portrait.
• For local news and sport visit Chester First, "powered by the Chester Standard and Chester Evening Leader".

• A fine site that offers spectacular panoramic images of Chester and much else: Chester 360°. You've never seen our city look like this before!
• A wonderfully eccentric exercise in web design (just how many pictures and links can be crammed onto one page?), here is the nontheless very useful and entertaining Chester Tourist.com. Its list of hotels and guest houses in Chester is far more comprehensive than the local tourist board's, for example...
• Simply masses of detailed historical information- and very highly recommended- British History Online's Chester pages.
For historical researchers, or just those fascinated by Chester's rich past, Cheshire West & Chester Council's excellent Archive & Local Studies System allows free access to some remarkable databases of information: trades directories 1781-1840, City Gaol registers 1808-42, 16th-19th century military records and much more.

The trades directories give an insight into times when every second building in the city seemed to be a pub and the rest were occupied by real tradesmen and merchants, not the hair & nail studios, mobile phone emporia and nick-nack stores of today. Not to mention all manner of weird and long-vanished occupations such as clear streetarcher, city yeoman, tinplate worker, glover, stay maker, cork cutter, flatman, whip maker, keeper of the Northgate Gaol, flop shop keeper, nailor, flax dresser, task-master, button mould maker, bone moulder, Clerk to the City Machine and Clerk to the Lower Machine, Surveyor of the Windows etc...
The City Gaol records list criminals, their crimes and- often brutal- punishments: "3rd Jan 1816. Disobeying an Order in Bastardy of a female bastard child for 2s per week belonging to the Parish of St Olave in Chester. Committed as above for same in case of a male bastard". "16 Oct 1815. Breaking and entering warehouse of Edward Roberts and William Roberts in said city and stealing 2 pieces of sugar value £6. Tried 26th Oct 1815 and found guilty. Sentenced to transportation for 7 years." "Insulting several well dressed women about 3pm on City Walls by indecently exposing and shaking at them his private parts against common decency and breach of the peace. (punishment not recorded)"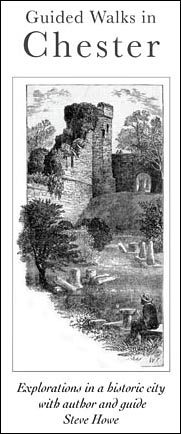 • Blast from the Past: 'Don't Forget the Walls' was a campaigning website launched by the Chester Conservatives in January 2007 in response to the row that has resulted due to the appalling state our precious city walls have been allowed to get into of recent times due to the indifference of local political philistines and cheapskates. However, by the summer of 2007, the supposedly non-political dontforgethtewalls.com had become absorbed by the website of the Chester Conservatives.
• The website of the Chester Cycling Campaign- now with their own domain: www.chestercycling.co.uk. News of Chester's slowly improving cycling scene, a bewildering array of worldwide cycling links and much more... Another source of local cycling news, full of fascinating information, is: Chester Cycle City

• Blast from the Past: The Chester Information Network was launched in a blaze of local media coverage in March 1997: "We are developing a major programme to give all our residents and visitors training and access to public terminals making Chester one of the more technically advanced cities in the world", enthused Chester City Council Leader John Price.
Pretty soon, however, it all seemed to have ground to a halt. The 'public terminals' never happened and the supposedly prestigious website lacked sparkle and showed next to no sign of regular maintainance. (Mind you, for some reason the BBC seemed to be impressed with CIN, as in October 1998 they linked it to the Regions of Britain section of their website, where it was reviewed as "modern looking" and "containing a large amount of relevant links about the walled city on the banks of the River Dee". Interestingly, that particular bit of the beeb's sites no longer exists...)
To anyone attempting to revisit CIN, it soon became evident that the entire shambles had been quietly (not a dickey bird in the local press etc) laid to rest- the link taking the visitor to a second- and more promising- attempt: 'The Chester Portal'.
Portal's front page: "The Chester Portal was a project that ran successfully for a number of years. However the project has unfortunately run it's course and we are now unable to continue to maintain and update the site as much as was once possible. We apologise for any inconvenience this may course". (the dodgy spelling is theirs).

• The Chester City Council website (see note about the new council and council site below!) All manner of useful information about local services may be found here, including the Millennium Heritage Trail which aspires to "take the visitor around fourty of our city's finest buildings"- but unfortunately supplies no more than a sentence of information about each- and no photographs, merely illustrations of the heritage trail plaques that adorn them.

Virtual Chester ("supported by the Big Lottery Fund") - a triumph of clever-dick design that doubtless cost a bomb ("tens of thousands of pounds" according to a helpful council official in a recent conversation) but nontheless remains deeply disappointing in the sparseness of the information about our endlessly fascinating city that it actually contains. It's also annoyingly platform-dependent; if, like us and thousands of others, you access the internet with a Macintosh computer, forget it as the plugin you need- the 'Cortona VRML browser'- to view the 'virtual' elements of the site, simply won't work.

We did, however, enjoy the fine collection of historic images housed on the site but noticed quite a number of inaccuracies in the descriptive sections we visited.

A local web design company- who shall remain nameless- during the course of a recent telephone sales pitch, cited Virtual Chester as "exemplary of how online city guides should be on today's internet". (unlike our own, which they described as "in serious need of a makeover").
• In December 2005, the local press drew our attention to a prestigious new feature on the council's tourism website: the City Walls Trail. Divided into several sections, the tour offers the visitor a package of amateur photography and the usual basic information that everyone's heard before.


In Spring 2009, a major local government reorganisation resulted in the extinction of both Chester City Council and Cheshire County Council and the creation of the new Cheshire West and Chester Council. Their new website contains all the useful information formerly hosted by those of the old councils.
• Cheshire West and Chester Council Watcher describes itself as "Exposing Cheshire West and Chester Council failings, incompetence and wrongdoings. (An antidote to council spin)". A fascinating, if deeply depressing, read.
The Friends of Edgars Field is a group of local people who are dedicated to improving, publicising- and defending from development, as you'll see when you visit- this unique and historic open space next to the River Dee in Handbridge. Be sure to visit the Friends' fascinating and informative website here.
• Another fine site for those interested in the doings of the community on the other side of the Old Dee Bridge: Handbridge.com.
The City of Chester is the only place in Britain to have retained the tradition of regular midday proclamations at a fixed place and time, courtesy of the world's only husband-and-wife town criers! Find out more about them here.
• Be sure to visit the excellent website of the Upton-by-Chester Local History Group
• An interesting new website written by and for the residents of the Newtown district of Chester- be sure to visit the NewTownSaints
• Here is the Lache Park Community Website
• Business advice, networking and much more: the Chester, Ellsmere Port and North Wales Chamber of Trade and Commerce website
• A fascinating collection of the finest Chester blogs can be found at The Deva Station. Its editor writes, "Welcome to what I hope will offer a comprehensive home for all the Chester blogs. I'll be using the Deva Station to explore our city's finest blogs, list them on the links and- hopefully, one day before too long- create the first Chester Blog Awards".
• Somewhere we wished we had more time to visit in the flesh: the excellent and growing website of the Cheshire and Chester Record Office

• The websites of Chester University and West Cheshire College. The outstanding Chester UK weather at West Cheshire College site (including live satellite images) in July 1999 won the Becta / Guardian UK School and College Web Site Award.
• Queen's Park High School. An entertaining and informative site from this Chester school. We wish more local schools did it as well...

• An online visit to the world-famous Chester Zoo
• A city council website outlining their slant on a proposed- extremely controversial- major new city centre redevelopment: the Northgate Development Home Page. Also here and here. For some alternative views on the subject, here is Seranus' (far from finished) version.
December 2008: It now looks increasingly unlikely that the scheme is going to happen but watch this space...
• A detailed guide to the goods and services available at the splendid- but currently, thanks to the aforementioned redevelopment, very threatened- Chester Market.

• The Countess of Chester Hospital's website. Spartan but useful- details of hospital services and a few local links. Also, here is a fascinating and extensive website we've just discovered while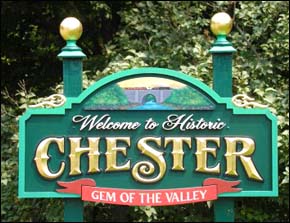 mooching through Google: an illustrated history of the hospitals in and around Chester, written as part of the NHS's 50th anniversary celebrations. Tons of pictures and info. It's nice to say, for once, that here's a local site that's comprehensive, interesting, entertaining and well constructed. Hope it lasts.

• Situated by the Shropshire Union Canal at Tower Wharf is Chester's foremost live music venue (not that there's many, mind)- and our home from home- the magnificent Telford's Warehouse

• Another (the other?) fine live music venue, located in Rufus Court, off Northgate Street: Alexander's Jazz Bar
• The Chester Philharmonic Orchestra
• "Chester's best kept secret": what's on at the Chester Film Society
• More Chesters! Away across the Atlantic Ocean are...


| | |
| --- | --- |
| Chester, Nova Scotia, Canada, | Chester, Massachusetts ("Gem of the Valley") |
| Chester, Connecticut, USA, | Chester, Vermont USA (pop 3,044) |
| West Chester County, Pennsylvania, USA, | Chester, West Virginia, USA - 'Home of the world's biggest teapot'. |
| Chester County, Tennessee, USA | Chester, California USA (pop 2316) |
| Chester, Utah, USA | Chester, Illinois USA - home of Popeye the Sailor Man! |
| Chester, Idaho, USA | Chester, Maryland USA |
| Chester, South Carolina, USA | Chester, New York USA |
| Chester, Montana, USA | Chester, New Hampshire USA |
| Chester, Nebraska, USA (pop 300) | Chester, Pennsylvania USA and, much better, here |
| Chester, Iowa, USA (pop 151) | Mount Chester and Chester Lake in Canada's Rockie Mountains |
| Chester Township, New Jersey also here | Chester, Texas (pop 260) |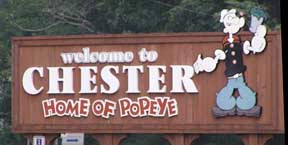 Do you live in any of the above and can recommend good local web guides (some of the above, in common with town council sites everywhere, are pretty dull to say the least) - or know of any other Chesters anywhere in the world? (somewhere other than the USA and Canada would make a change!)

• Chester's (former) twin towns: Sens in Burgundy, France- and, as of February 2001, Senigallia in Italy (also here). In Spring 2009, the newly-reorganised Chester West and Chester Council decided that twinning, introduced into Europe after WW2, had become merely an opportunity for free holidays for councillors and did away with the practise. Where they now go for their free holidays is unknown.

Now go on to part II of our Chester, Cheshire and North Wales links...