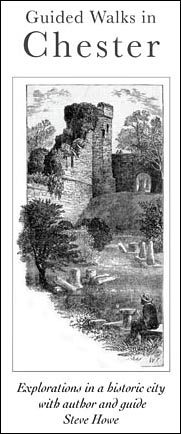 • Those of us who are horrified by the current scandals concerning the behaviour of our Members of Parliament (and who isn't?) may care to vist the excellent theyworkforyou.com to peruse the records- expenses claims, register of interests, overseas visits and who paid for them, voting records and much more- of their own Parliamentary representatives- including Chester's former MP Christine Russell- who rejected expenses reform in July 2008.
• A fascinating research project: Mapping Medieval Chester. Our own gallery of maps and aerial views of Chester from the 16th to the 20th centuries is here...
• Chester resident and author Gordon Emery publishes a fascinating range of local histories and guides. Visit his new website.
• Visit Cycle Chester: "Chester is one of the chosen cities for the Cycling Demonstration Towns Project. Over £2m worth of investment will go into transforming the city into an area where cycling becomes a genuine option".
• As of August 2001, that most pleasant of Chester's suburbs, Hoole (where we live!) has its own lively website- Hoole Online. (Shame it hasn't been updated for months though)..
• Our own Virtual Stroll Around Hoole is now online! Not much to see there yet, but there is a useful selection of local links. Our Hoole Business Directory was added in Spring 2009. Listings are FREE so, if you're in business in Hoole or district, you're very welcome to come aboard!
• Some interesting historical gems care of the parish council of Upton-by-Chester.

• They've been practising for 150 years so ought to be quite good by now: the City of Chester Brass Band
• A walking and outdoor group based in and around Chester: The Chester YHA Walking Group. Thanks to Neil Spenley for this link.

• We've occasionally been know to be critical of poorly built and maintained local websites, but not this one: you'll definitely enjoy your visit to the galleries of the Chester Photographic Society
• The Chester & Ellesmere Port Enterprise Agency: "We provide free and subsidised advice, guidance and training for local residents thinking about self employment or those already in business in addition to running some services across the whole of the Cheshire area"

• The official website of the Chester Mystery Plays.- and here are a couple of images (more added soon!) by Steve Howe from his comprehensive documentation of the 1992 Chester Mystery Play cycle- as with all of his photographs, available as beautiful handmade prints.
• The website of the Chester Dragon Boat Festival Their spectacular events take place on the River Dee every Spring.

• For long-suffering followers of Chester City Football Club, here's the excellent Unofficial Guide and also a collection of Chester City & Conference Links. Weirdly, the former Official Club Site now appears to be merely an advertisment for training shoes....
• For those of you interested in balls of a different shape, here's the Chester Rugby Union Football Club
• Irreverent and hilarious: for some light relief, here are Seranus' Chester Anagrams!
• The website of the Cheshire branch of CAMRA- the Campaign for Real Ale- Out Inn Cheshire . And here's the Chester and South Clwyd branches' website.
• English Heritage's Listed Buildings of Chester. (Scan down this first page to find the start of the Chester material).
• The internet home of Chester Cathedral. You can also learn about this wonderful building in the Cathedral chapters of the Chester Virtual Stroll.

• Talking of outstanding buildings, a few miles from Chester, at Hooton Park, are three handsome- and very rare- aircraft hangars dating from the First World War. Despite being Grade II listed, Vauxhall Motors wanted to demolish them in order to build an 11,500-space car park- seriously. A vigorous campaign of objection ensured that the hangars were preserved and are now to be restored in order to house an aviation museum. Bravo! Find out more by visiting the Hooton Park Trust

• A new site dedicated to promoting the campaign for regaining public access to Lake Hatchmere, Cheshire: Hatchmere.com
• The Cheshire Wildlife Trust and the splendid Caldy Nature Park
• Lots of absorbing local-interest reading here: The Cheshire Magazine
• A most fascinating long-term archaeological project is taking place at a unique site just a few miles from Chester: a 'lost' Cistercian chapel and abbey, a crowded medieval cemetery, extensive remains of Roman and Iron Age settlements and even earlier worked flints have all come to light here, thanks largely to the energy and perseverance of project director Mike Emery and his dedicated team. Who knows what the future may bring? Be sure to visit the Poulton Research Project. Do try to visit the real site- and assist them with their funding if you can!
• The website of the Chester Archaeological Society- which has recently celebrated its 150th anniversary.
• A few miles from Chester is Carden Park, home today to a large modern hotel and golf course, but which has a history of thousands of years of human occupation- including, during the eighteenth century, the 'English Hermit', John Harris. Read his story and learn about the ongoing archaeological investigations at Carden in this fascinating article by Anthony Sinclair and Keith Matthews

• Digital artist Julian Baum, in conjunction with Chester Archaeology has commenced a major undertaking to produce a 'virtual reconstruction' of the great fortress of Deva as it may have appeared in the third century AD- the Chester Project.
• The website for Cheshire's Military Museum and the 22nd (Cheshire) Regiment, housed at Chester Castle.
• The website of Cheshire Police

• Covering the towns of Ellesmere Port and Neston and the villages of Whitby, Parkgate, Burton, Willaston, Hooton, Childer Thornton, Great Sutton, Little Sutton and Ince: The South Wirral Local Community website
• Some interesting stuff about Historic Chester and an excellent- and growing- Guide to Cheshire
• Just a few miles from Chester is Ellesmere Port. Here is a page of Local Community Links and also the website of their fine Boat Museum

• A site dealing with the villages of West Cheshire: Jeff Buck's The Cheshire Cat. This site is a member of the Cheshire Webring, which contains links to dozens of Cheshire-interest websites.
• More decent guides to Cheshire towns: Northwich, Alsager and Bollington and the websites of communities just a few miles from Chester: Mickle Trafford and Christleton.

• Chester is, of course, world-famous for its ancient circuit of city walls- but learn about some of the world's other walled towns here.

• Just a few miles from Chester, and close to the historic Welsh market town of Holywell is the wonderful and evocative Greenfield Valley- a pre-Christian Holy spring housed in a 16th century chapel and known as St. Winnifred's Well- 'the Lourdes of Wales'- at one end, the stately remains of the Cistercian Basingwerk Abbey at the other, and in between the many millponds and ruins of the 18th century water-powered industries and 19th century railway that were once located here. There's also a fine pub to hand- the Royal Oak- and all is set in the midst of lush woodland. A wonderful place for a family day out.

• Mold (Y Wyddgrug) is a small, unspoiled market town in North Wales, just a few miles from Chester. The beautiful golden Mold Cape is one of Britain's most famous ancient artefacts. Find out about it here.
• Assembled by Roger Smith, far away in British Columbia, Canada, are some interesting Hawarden links- not only to the lovely town in North Wales, but also to Hawardens in the USA and Canada.
For fans of the Microsft Flight Simulator, Roger has also produced the scenery for Hawarden Airport! See his website for details.
In the user guide for release 1 of the software (1200 copies of which were downloaded world wide) he very kindly recommends our Chester Virtual Stroll as "THE link for people wanting to find out more about Chester and the neighbouring North Wales area"- "While on the subject of the local area, for those wanting to find out more about Chester (in particular) and North Wales, I thoroughly recommend the following web site by Steve Howe of Chester (he tells it, and keeps you informed, just as it is) and it has many useful links too. The Hawarden Aerodrome perimeter is just 4km (2.5 mile) from the northwest corner of the city's medieval walls".

• Here's a small site devoted to a beautiful old town a little further along the North Welsh coast with spectacular walls and castle: Conwy: Another Walled Town.
• A large and fascinating site devoted to the history of Shotton

• A superb archive of old photographs of North Wales: Times Past

For those of you researching into Cheshire history or tracing your ancestors, here's a few invaluable sources of information:

The Cheshire County Record Office, Archives and Local Studies
The Family History Society of Cheshire: Lots of information, including details of their research centre at Alderley Edge. The site includes an index to wills at Cheshire Record Office and a useful guide to Cheshire parishes as well as a selection of relevant links for Cheshire family historians.
Advice on how to trace your Welsh roots at North Wales Genealogy

Genealogy and Cheshire information in the same site: Alan's Genealogy and Cheshire, England Page

The Public Record Office and the Office for National Statistics
GENUKI- the UK and Ireland genealogy information service. Comprehensive family history links including advice for people researching UK and Irish genealogy from abroad

An excellent internet genealogy service offered by the Mormon Church: FamilySearch

• More local interest websites may be found among our History and Archaeology Links...