• We start with one of the great men of Chester's past: heraldic artist and historian Randle Holmes, the third of that name, who was born in 1627 and is said to have been the first Freemason in Chester. In 1688 he was appointed to the illustrious position of Sewer of the Chamber-in-Extraordinary to his Majesty, King Charles II. Also in 1688, he published his great work on heraldry, the Academy of the Armoury which is said to have been one of the most voluminous and extraordinary books ever written, and the first to be printed in Chester. Prefixed to it was this apt anagram of his name: LO! MEN'S HERALD
• Not too amusing we know, but then, three centuries later, in 1997, along came Christine Russell, the first Labour and first female Member of Parliament for our fair city. Despite HER CURT SILLINESS, in the corridors of power, where she will INSTILL HER CURSES, it is whispered that she RECRUITS HELLS SIN to bring about HER SINISTER CULLS.

She won't be the first politician not to feel SURENESS TILL RICH, but should she achieve her aims will she preside over nothing but CHESTERS ILL RUINS?

• Could one describe Gyles Brandreth, author, broadcaster- and Chester's MP from 1991 to 1997- as a GENTLER SHY BARD or a RASHLY BRED GENT? Nevertheless, unlike many of his former parliamentary colleagues, he has never been known to ERR BY THE GLANDS.

Mr Brandreth's memoirs, Breaking the Code: Westminster Diaries May 1990-May 1997 (Weidenfeld & Nicolson 1999) is compulsory reading for students of British- and Chester- politics. Bloody funny too.

• Oh, Lyndon Harrison, our ex-Euro MP! He had such trouble with those DARN HORNY LOINS. No wonder he was known in Brussels as the SHORN RANDY LION.
Now, however, kicked upstairs and reborn as Lord Harrison- we HONOR SIR LARD of HORROR ISLAND.
• Once Britain's richest man- he's slipped down a bit now- Chester's own Gerald Grosvenor, His Grace the Duke of Westminster. Tug those forelocks peasants- no doubt about it, he's GRANDER SO GROVEL.
• Now long departed for a plumb job as Listed Buildings Advisor with English Heritage ("one of the most experienced and knowledgeable professionals working in the field of historic building conservation") but formerly architect of our city's cultural and architectural renaissance: the great Peter de Figueiredo- ERUDITE OF PEDIGREE and of DEIFIED OGRE REPUTE.

His genius, while serving, ironically, as our 'Conservation Officer', was responsible for the absurd and historically- irrelevant pointy roof and opaque perspex windows at Thimbleby's Tower, the wooden stumps scattered around in Eastgate and Watergate Streets, those infamous flagpoles in Town Hall Square (most of which, due to public demand, were eventually removed)- as well as a crucial involvement in the ongoing amphitheatre shambles.
What a busy boy he was! Yes indeed, given a bit of empty pavement, this EERIE FIDGET DOER-UP just couldn't resist sticking a bit of dead tree on it, forcing many of our American visitors to exclaim GEE PURE EDIFIED ROT!
• Recently planning to erect yet another collection of instant slums on what's left of Blacon Meadows were a north-of-the-border outfit by the name of Scottish Metropolitan- referred to in the business community as THEM PATRIOT COLONISTS, TOTAL ETHNIC IMPOSTERS- a real THISTLE PROMOTIONS ACT. They were doubtless proud of their SMOOTH INTRICATE PLOTS, but many of Chester's people saw these TOPMOST NEOLITHIC RATS as mere perpetrators of more CATTLE SHIT PROMOTIONS...
• And then, in 2003, we heard of another bunch of out-of-town money lenders planning to erect 70-odd new shoe shops, wine bars, hairdressers and yuppy flats around Chester's Town Hall, the so-called Northgate Development. Our council could have held an international architectural competition to determine the future of this historic site but ah, no. And let's not even mention the likely massive archaeological destruction. In years to come, will people say of London and Amsterdam (now referred to as ING) that we were SOLD A DAMN ADORNMENT?
• Then, of course, there's Chester City Council. They'd like us to think they're a SUCCINCT CHEERY LOT, but if you want some common sense, you'd be better advised to CONSULT CITY CRECHE. What with Scottish Widows, Scottish Metropolitan, Scottish Power and Capital Bank PLC (I PLAN BLACK PACT)- a subsidiary of the Bank of Scotland- getting their horrible hairy highland hands on many of our local assets, it seems our coucil have imposed upon us a NICE SCOTCH CRUELTY

And, as for being bicycle-friendly, they're a dead loss. In fact, their CONCEIT HURT CYCLES. With a bit of effort, Chester could have Britain's RICHEST CYCLE COUNT!
• A while back, the Chester Heritage Trust commissioned a study to decide what's to become of Chester's magnificent, but shabbily-presented Roman Amphitheatre. Would they convert the run-down and unattractive Dee House to house their speculative offices and heritage centre, or, it was rumoured, even erect a 'modern structure' in its place to serve the same function? Whatever, the as-yet unexcavated other half of Britain's largest amphitheatre doesn't seem to be getting a look in. Could it, therefore be said that it GATHERS UTTER HERETICS and thereby RESTRICTS HUGE THEATRE? Or is it all SHEER GUTTER THEATRICS? As a result of their actions, in years to come we will certainly REGRET HURT AESTHETICS...
• Nobody's answering the phone at Backford Hall. The entire Cheshire County Council is out blowing their newly-inflated expenses at another CHIC COURTESY LUNCHEON.
• It may have been around since 1775, but of the Chester Chronicle's style of journalism, truly may be said: IT CORNERS THE CLICHE
• The noble founder and (apparently) sole member of the 'Chester Ratepayer's and Residents Association', who kept us entertained with her regular, sometimes dotty- but often very sensible- contributions to the local press: Dora Taylor - our very own LADY ORATOR.
Miss Taylor sadly passed away in March 2007.
• Which is more than can be said about Bob Clough-Parker, who formerly regularly revealed his endearing views in the aforementioned Chester Chronicle, and who serves in the no doubt mutually-advantageous positions of Chester's 'Mr. PR' and also secretary of the Chester Chamber of Trade and Commerce (CHAMBERED CHATTERERS ENFORCED COMA)? Could he and his business cronies be described as a GHOUL ROBBER PACK?

(In March 2002, it was announced that they'd got their hands on a local radio station too- the imaginatively-entitled DEE 106.3. Like crappy pop music and screaming advertising? They're your men.)
• Then there's Councillor Peter Byrne, once Chairman of the CDTS Steering Group and leading exponent of the ludicrous CDTS 'Guided Busway' scheme: a NICELY CORPULENT BORER- maybe even a NICELY NOBLE CORRUPTER- who said objectors to the Busway were "living in cloud cuckoo land". He and his type will always UNRELENT ON POOR BICYCLER.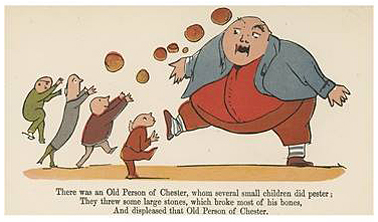 • As the main man behind a development company with the less-than confidence inspiring title of Steel Tower (hardly a SWEETER LOT), one Patrick Davies, in pursuit of profit at all cost- A VAST PRICE KID who has been heard to say I TAP DARK VICES (even though he likes to appear the 'nice guy' and PET A VICARS KIDS)- has sold our nitwit councillors the surreally-ludicrous idea of demolishing our award-winning Northgate Arena swimming baths in order to erect a Hilton Hotel, of all things, on the site. Soon to be robbed of anywhere to go for a swim in our city centre, truly we will say his TRICK SAVE A DIP. Once the cash has been pocketed and he's gone on his way, of the mess he leaves behind future citizens will doubtless say ITS A VAPID RECK. Yes indeed, this KID ACTS A VIPER...
• While on the sorry subject of the aforementioned Deeside Railway, our planners and politicians, who, as we all know, DESIRE DAILY AWE persist in their idiot plot to SEE RIDE WAYLAID by turning it into an unwanted- and hugely expensive- 'guided bus' route, a plan we're certain WAS EERILY AIDED by their speculative chums with greedy eyes on the supposedly-greenbelt land around the new Park & Ride site- overriding the wishes of the clear majority of the population who wish to retain the route for cyclists and walkers only, and who are most unwilling to see their WEARY IDEALS DIE. When CDTS proves to be a financial and environmental disaster and the recriminations start, will they be brave enough to admit I DARESAY WE LIED?
• As Secretary of the Friends of the Millennium Cycleway, Audrey Hodgkinson has for years worked tirelessly to defend the old railway-turned-cyclist and walker's delight- to the degree that all those she has inspired refer to her as OUR DARLING DONKEY- even, going slightly over the top, as OUR SKINNY GODHEAD. Never afraid to take on planners and politicians and to defend the cycleway from vandals, truly may it be said that she ANNOYED ROUGH KIDS.
• Another hero of the cycleway, who unselfishly offers the use of his JCB when heavy clearance needs to be done, is Peter Moore Dutton. An eloquent correspondent to the local press- just the latest in a family line of commentators upon local issues- and regularly expressing concern at the way our lovely city is being abused, he is OUR TORMENTED POET. Reluctant as he is to ''blow his own trumpet', some like to think of him as a NOTED MUTE TROOPER.


'Seranus'