Liverpool Links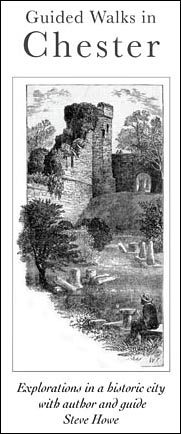 25 years of images by Steve Howe of the great city on the Mersey: The Liverpool Gallery
A huge archive of outstanding images from the 'golden age' of Merseyside photography from the studios of Elsam, Mann & Cooper, Pagan Smith and others, run by Mike Meadows and Carol Sharpe: formerly Oxton Studios, but now renamed the Reflections Photo Archive.
(Mike and Carol have now moved from Merseyside to Hastings, but we're happy to report that their website continues to be as brilliant as ever)
Thanks to David Lydiate for telling us about his most interesting Liverpool website. Lots of fine pictures, a few facts- but a bewildering quantity of useful and entertaining links.
'Liverpool Tales from the Mersey Mouth' by John Williams- a wonderful collection of essays and anecdotes covering every aspect of Liverpool life. Highly recommended.
Another fine gallery of merseyside images: Merseyviews

Learn about the extraordinary life and work of Joseph Williamson, the 'Mole of Mason Street' at the superb and engrossing Friends of Williamson's Tunnels site.
A fine guide to the Canning Street area of Liverpool... and, close by, a fascinating exploration of St. James' Cemetery

The Liverpool City Council website- a typical local authority site really: fairly dull with a few gems of useful information and helpful links.
For all you 'North-enders' out there, here is the excellent Crosby Channel website and the Litherland Picture Post

The complete guide to Mersey & Irish Sea Shipping.
Liverpool John Lennon Airport. In addition, see some photographs of what was then Speke Airport during the 1960s here...
Here's an interesting site devoted to the History of New Brighton
A comprehensive guide to one of our favourite parts of the city: the Lark Lane Home Page ...very close to which is the glorious Palm House in Sefton Park- for years, one of this writer's favourite 'hang outs'. Unforgivably neglected and derelict for years, in September 2001, it was officially re-opened to the public after a long period of restoration. Read all about it at the official Palm House website! Also, here is Steve Howe's page about the Palmhouse...
Merseyside boasts some of the finest museums and galleries in the world! Discovering these places as a child literally changed my life. See why by visiting the website of the National Museums and Galleries on Merseyside.
The Liverpool University Archives: Containing details of their archive collections including the Social Work Archive and the archives of the Cunard Line.
A new site written by Dave Williams- and still 'under construction'- dealing with the history and memories of what was once the world's largest mental hospital at Rainhill, near Liverpool: Between the Towers. He is anxious to contact anyone with pictures or reminisciences to share. Email him: williams.d@cableinet.co.uk
Here is a series of portraits by Steve Howe of some of the former patients of the hospital: Rainhill Residents
The Liverpool Enquirer Lots of Liverpool links here.
Many fine Liverpool Images from Liverpool Pictorial
Last- but certainly not least- is the fantastic Yo Liverpool Forums: A bewildering range of Liverpool-orientated conversations. No matter where in the world you are, if you're a Scouser, this will be your home-from-home! Highly recommended.


History & Archaeology Links (updated December 2008) Top of page
A most fascinating long-term archaeological project is taking place just a few miles from Chester city centre: a 'lost' Cistercian chapel and abbey, a crowded medieval cemetery, extensive remains of Roman and Iron Age settlement and even earlier worked flints have all come to light here, thanks largely to the energy and perseverance of project director Mike Emery and his dedicated team. Who knows what the future may bring? Visit the Poulton Research Project Website- and visit the real site too if you can!
Visit the remains of a fascinating XXth Legion Roman bath house located in an archaeology-rich area on the edge of the North Wales seaside resort of Prestatyn- an area designated as a Scheduled Ancient Monument with a thriving wildlife population, but nontheless currently (Summer 2001) threatened by a housing development...
Launched on 1st July 2000 was the website of the Chester Amphitheatre Trust. Actually, upon recently attempting to visit, we found the link to be dead, but you can also keep abreast of developments at the Chester Amphitheatre by visiting the official city council Chester Amphitheatre Project website. In addition, here are the amphitheatre and reader's comments chapters of the Chester Virtual Stroll...
The website of the Chester Archaeological Society- which has just celebrated its 150th anniversaryChester City Council's Chester ArchaeologyBased, remarkably, in Washington DC USA, here is the excellent website of a Roman re-enactment group based upon the legion that were stationed in Chester (DEVA) for over three hundred years: LEGIO XX- The Twentieth Legion Lots of remarkable information here- we found their Handbook for Legionaries particularly fascinating...
A few miles from Chester is Carden Park, home today to a modern hotel and golf course, but which has a history of thousands of years of human occupation- including, during the eighteenth century, the 'English Hermit', John Harris. Read his story and learn about the ongoing archaeological investigations at Carden in this fascinating article by Anthony Sinclair and Keith Matthews

Chester artist Julian Baum, in conjunction with Chester Archaeology has commenced a major undertaking to produce a 'virtual reconstruction' of the great fortress of Deva as it may have appeared in the third century AD- the Chester Project. Brilliant stuff.

An excellent 'virtual stroll' around another great British walled city: the York Wall Walk The website of English HeritageCadw: Heritage in WalesThe Royal Commission on the Ancient and Historic Monuments of WalesThe Clwyd-Powys Archaeological Trust
A useful and growing collection of links to all things historical: The All History Guide
A fine collection of links to urban excavations in Medieval Archaeology
Shannon's colourful and informative Ancient History Resource Page
Accessible and fascinating: welcome to the Current Archaeology Homepage
The Council for British Archaeology guide: UK Archaeology Online
Yet more fine archaeology-based stuff at Suite101.com
A fine guide to Roman Military Sites in Britain: Britannia
The Illustrated History of the Roman Empire is a vast resource offering large chapters, chronologies, galleries and interactive games.
Brought to you all the way from the University of Kansas, this is the definitive internet source of information about the Romans: Bill Thayer's vast and brilliant Roman Sites.
(Bill writes of our Chester Virtual Stroll: "Almost incomparably better than the official site" (the Chester City Council Home Page)- "And passionately concerned with archaeological preservation. This is one of the deepest gazeteer-type sites I know on the web, with both lots of pictures and lots of good detailed text".) Thanks Bill. We love you too..

A new feature on 'Roman Sites' is the text of Thomas Codrington's Roman Roads in Britain, published in 1903, but still very good.
The Public Record Office's National Archives Education Service may be accessed by anyone over 14 and contains a vast collection of documents pertaining to over 1,000 years of British history.
The Spartacus Internet Encyclopaedia of British History: 1700-1960
Photographic services for archaeology at The Black & White Picture Place