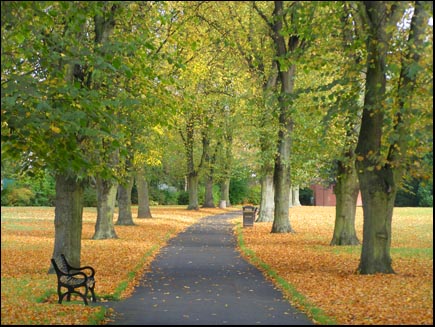 This well-used and much-loved park was founded in 1904 at a time when many of the neighbouring streets were being laid out. (more historic material to follow but an excellent collection of old photographs of Alexandra Park in earlier times may be found here- part of the Hoole Miscellany)

In Spring 1997, the children's play area had its swings, climbing frame and large slide (see photograph below)- torn out and replaced with dull play equipment and a sandpit- but nothing for older kids or teenagers- and had a heavily-splintered, raw timber fence erected around it- not to keep kids in or dogs out, but to "define the playground area" whatever that may mean.

The National Playingfields Association described the work as "unsatisfactory." Chester City Council were, in contast, adamant that they'd done a splendid job, but after numerous complaints from users and coverage in the local press, were eventually forced to agree that the workmanship and design "left something to be desired". But, having, remarkably, shelled out around £20,000 for the 'restoration'- regretted that there was no money left in the budget to put things right.

In April 1997, election material distributed by the local Lib Dems and Labour Party made mention of the disgraceful mess, using such phrases as "fair play for kids", but apparently merely in order to blame and score points against each other.

In June 1997 'big kids' swings were provided but letters continue to appear in the local press criticizing the playground, using terms like "dangerous and disgusting" and referring to the sandpit as a "giant litter tray".

A response by the manufacturers of the new equipment, Play and Leisure Ltd of Pinfold Lane, Buckley, stated that they "strongly objected to the opinion of laymen" (!!!) and that a "considerable amount of effort was put into this project by themselves and Chester city council to provide a play area for children of all age groups with the maximum amount of play value on a limited budget. Three separate proposals were submitted before the final scheme was approved by committee".
We can only imagine what the first two must have been like.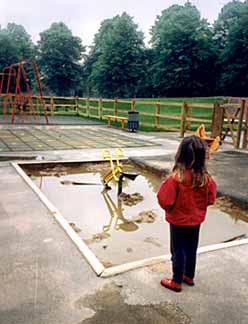 September 1997: The intellectual challenge of providing a little kid's sandpit, safe from flooding and dogs proved too much for the planners and it was eventually filled in. In our photograph, the author's daughter surveys the embarrassing mess shortly before it was done away with.

Around the same time, it was announced that the city council were preparing a National Lottery application to carry out a £1 million-plus restoration of Chester's Grosvenor Park. Many Hoole residents felt at the time that the incompetents responsible for the Alexandra Park mess should be kept well clear of the project.
Interestingly, at the time of this most recent update, fifteen years later, in Spring 2012, talk about Grosvenor Park's restoration continues, and the budget has risen to around £2.5 million- but not a jot of work has yet been carried out.

In March 1998, a two-year old child broke his leg as a result of falling from the crude wooden fence surrounding the playground!
A council report stated: "It appears that the toddler broke his leg as a result of falling from the recently installed timber perimeter fencing which surrounds the new play equipment. The fence being climbed was a timber post and two-rail construction (actually three-rail, as shown below, but what would they know?)- whose function is to simply separate the toddlers play area from the older children's play facilities. This is a play area 'design feature' recommended by the National Playingfields Association".

We draw your attention to the NPA's apparently-contradictory comment about this appalling fencing earlier in this story, referring to it as "unsatisfactory".

The Royal Society for the Prevention of Accidents were consulted and concluded that "the fence was adequate for the purpose, and not necessarily hazardous".

The toddler's grandmother, Frances Holland of Newton Lane, despite a declared aversion to 'making a fuss' (she refused Ms Cynthia 'busy' Body of the Chester Chronicle's demand for a photograph, and has consequently not heard from them since)- addressed a meeting of the council's Leisure Services Committee to urge them to do something about the hazardous fencing "before the same thing happens to another child".

To quote the Chester Evening Leader's report, "her pleas proved futile" as the men of action decided to put back their decision until June 4th.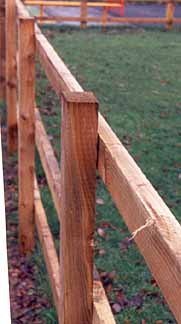 Which, of course, meant the shabby, splintery fence would stay as it was during the beginning of the summer when many more local children were likely to be using the play area.

Mrs Holland said she was "fobbed off and ignored" by every official and councillor she dealt with over this matter- with the exception of Councillor Gordon Smith, who, living close to Alexandra Park, had copped for a fair amount of ear-ache over this. The excellent Cllr Smith, upon retiring as Chester's Lord Mayor, donated a bench to the play area- which vanished during the recent 'restorations'- and also offered to donate £150 of his own money towards the costs of providing a better quality of fencing.
Right: jagged splinters clearly visible on the newly-installed fence surrounding the playground.

Interestingly, at the council meeting at which Mrs Holland spoke, the head of the Sports and Recreation Committee, Clive Roberts denied that there could be any credibility for the numerous complaints of dogs getting into the play area because "Alexandra Park is a dog-free zone". I kid you not. All those owners trooping into the park every morning and evening to unleash Fido for his 'walkies' are seemingly a figment of our unimportant imaginations. The excuses and incompetence went on and on.
July 1998: An immediate safety audit was ordered after local parent and resident (and later councillor) Noel McGlinchey presented damning evidence to the city council's Leisure Services Committee including:
• A RoSPA letter recommending safety improvements
• A National Playingfields Association statement that the fence fails to meet British standards
• Legal advice of damages between £4000 and £8000 for the injuries suffered by the child who fell from the fence.

August 1998: Surprise surprise. The lattter item, at least, seemed to have struck home as it was announced that, despite the council's insistence of its safety, the wooden fence was to be removed and a metal-hooped, dog-proof replacement erected in its place. At the beginning of September, the old fence was completely removed, opening up the play area and integrating it with the rest of the park. Many regular users at the time said that they'd quite like it to stay that way. Nontheless, in early October the new fence was eventually installed.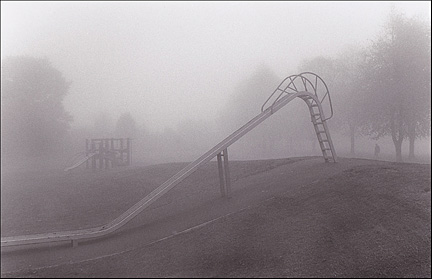 The following letter from Mrs Holland appeared in the local press in November 1998:
"May I refer once more to the playground fence in Alexandra Park? I am happy to see that the dangerous wooden fence has been removed and replaced by a metal bow-topped fence, much safer for small children- and dog-proof also! In fact there are one or two items still to attended to- a spring-loaded gate for example, facing the road- which does not close and which directly contravenes the much vaunted NPFA guidelines. I know it is scarcely credible, after all this time, and I will continue to monitor this". [see our photo at the bottom of this page: fourteen years later, this vital safety feature has still not been installed!]
Left: How it used to be: the much-loved slide and climbing frame in Alexandra Park just before they were removed on 'safety' grounds in the Spring of 1997.

"It has taken me since the end of August 1997 to arrive at this stage. My task was made more difficult by the totally disinterested response I encountered from certain officers of the city council. Only the intervention- at my behest- of the Heath and Safety Executive and the ensuing inspection and report by the Royal Society for the Prevention of Accidents caused any action to be taken. At times it seemed as though I was dealing with a secret society rather than a city council.

I wish to thank, publicly, those persons who have helped me in this. Cllr Gordon Smith for his support and advice during the early days of my campaign; Cllr Doug Kelly for his kindness and continuing help; Cllr Ruth Davidson, chair of the Leisure Services Committee, for her unfaililing courtesy to me during this long period. All three of these councillors share my conviction that matters such as this concerning the safety of very young children are far too important to become political.

Not everyone, however, shares this view. There are those persons- both elected and those who have failed to become elected- who have regarded this as a convenient political bandwagon upon which to jump and to claim participation and success. Some have held forth at length, in committee, in the press and in newsletters; some have not uttered a word in committee, when I would have appreciated some support. Not one of these persons has had the courtesy to approach me at all, even though they know the reason for my campaign- my grandson's accident.
My own ward councillor, in Plas Newton, has not yet found the time to reply to my original letter regarding the dangerous wooden fence, dated 23rd September, 1997. Yet these same people will again be asking for the public's trust and their votes come the next local elections.

This campaign has been a revelation to me. I know that many council officers and elected city councillors are hardworking and conscientious. However, bearing in mind my experiences, I would like to see some means of ensuring more accountability on the part of those persons appointed and those persons elected. Perhaps someone may have some suggestions."
Update: February 2008. Ah, but that was all in the past surely? Not so, sadly! We thought you'd like to see what sort of 'progress' had been made in the provision of play facilities for our young ones in beautiful Alexandra Park in the ten years since the above sorry tale was told...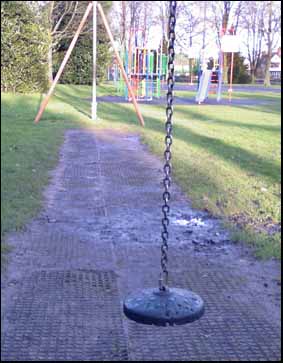 Here's the poorly-planned 'cable ride', filthy with mud and treacherously slippy. (By four years later, Spring 2012, the chain and seat had entirely vanished...)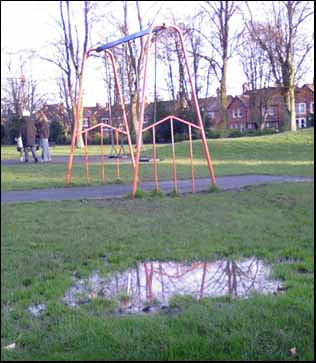 Between the swings and other play items are numerous deep muddy puddles such as this, waiting for the unwary to put a foot wrong (still there in 2012)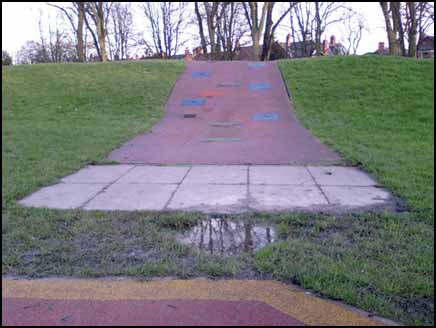 The bottom of the absurd and dangerous slope where the slide (above) used to be. Come down here on your scooter or bike too fast and you'll end up in this filthy pool. (also still there in 2012)
Four Years Later (April 2012) as we see below, little maintainance has been undertaken and conditions have grown progressively worse. Surfaces have eroded, recently-installed play equipment is worn out or broken and trees throughout the park are poorly maintained.
There remains little imaginative provision for older children and teenagers.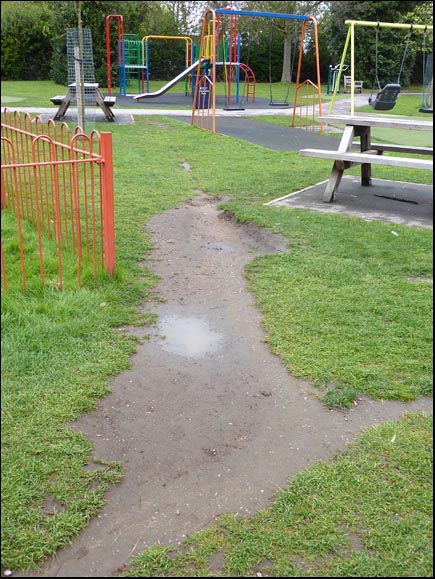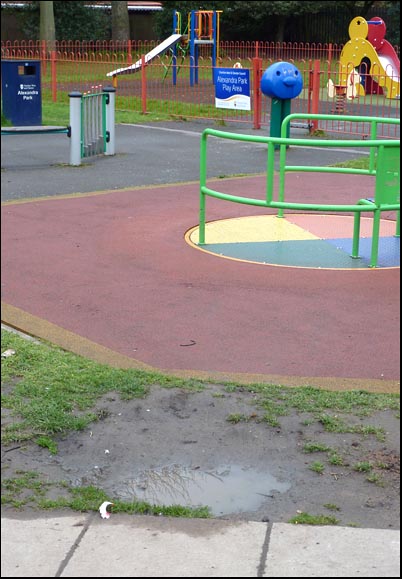 Security for small children, too, remains woefully inadequate. Here we see the main entrance to Panton Road and its speeding traffic, and the poorly-repaired hedge separating the playground from the pub car park behind. Both are actively- and obviously- dangerous. The situation was "scarcely credible" to Mrs Holland back in 1998 and continues to remain so today.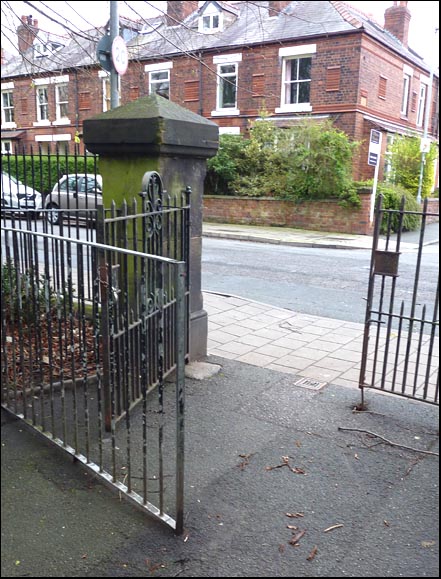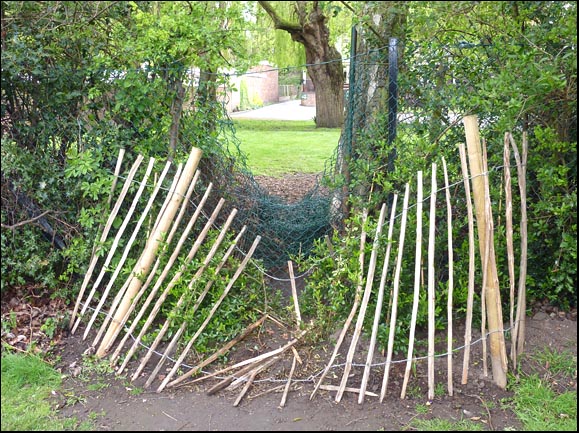 Elsewhere in the park, other problems exist. It beggars belief that the drinking fountain close to the tennis courts, installed when the park was new in 1904, has been disabled on- you guessed it- "health and safety" grounds. The handsome park lodge (below) became vacant in 2011 and remains so at the time of this update, April 2012. Local people have made their wishes known that this should be used for community benefit, ideally incorporating a cafe, a feature of most decent parks. It seems, however, that the 'powers that be' have it in their heads to flog it off to the highest bidder- who will then doubtlessly be allowed to erect an unsightly fence around it so as to avoid contact with we mere park users.
27th April 2012: Some good news at last... In April 2012, exasperated residents and councillors finally came together for the inaugural meeting of The Friends of Hoole Parks in order to counteract the decay and at last have a real say in how our local green spaces are looked after. If you'd like to get involved, contact Julia Wilson: julia.wilson@cheshirewestandchester.gov.uk or phone 01244 976765.
And watch this space for developments- decent ones we hope, just for a change...
Moving on nearly two years, here is Alexandra Park's playground in February 2014. Even allowing for the recent period of heavy rain, the situation has clearly worsened; the entire area is waterlogged and muddy and equipment has broken and not been replaced. Nothing has been done about the dangerous exit onto Panton Road and nobody even bothers to lock the place at night anymore..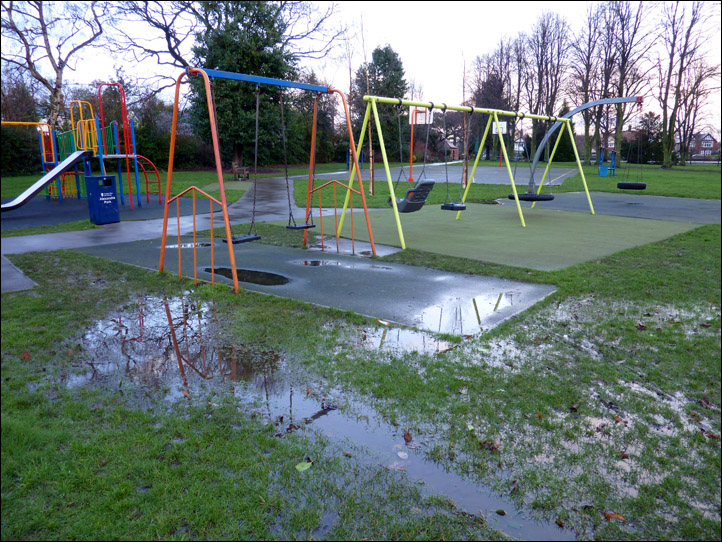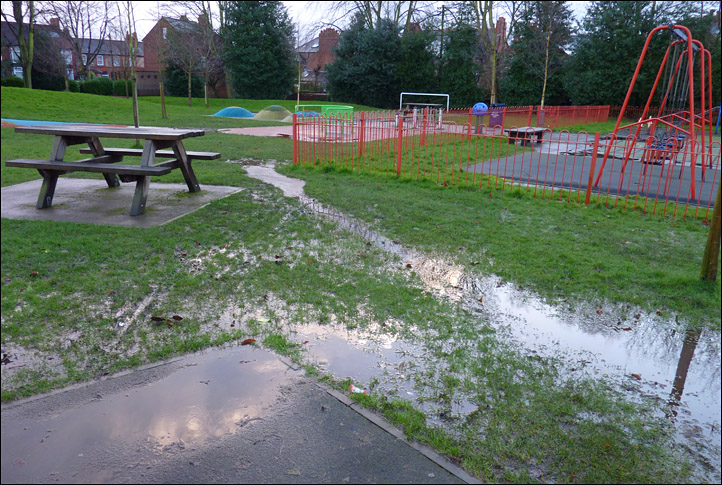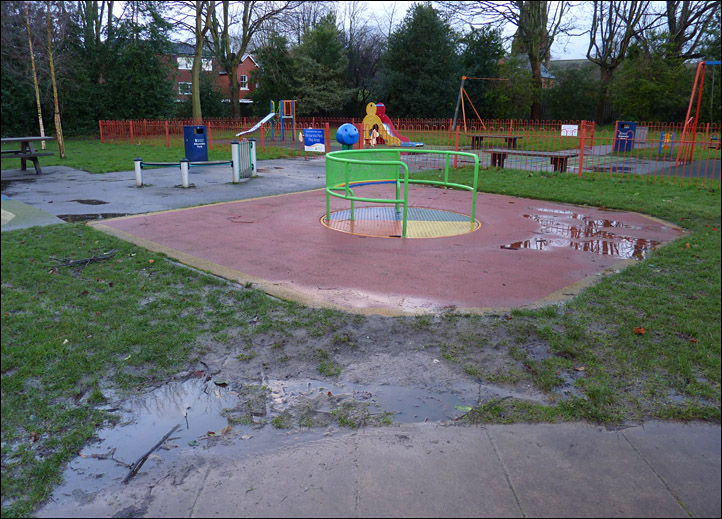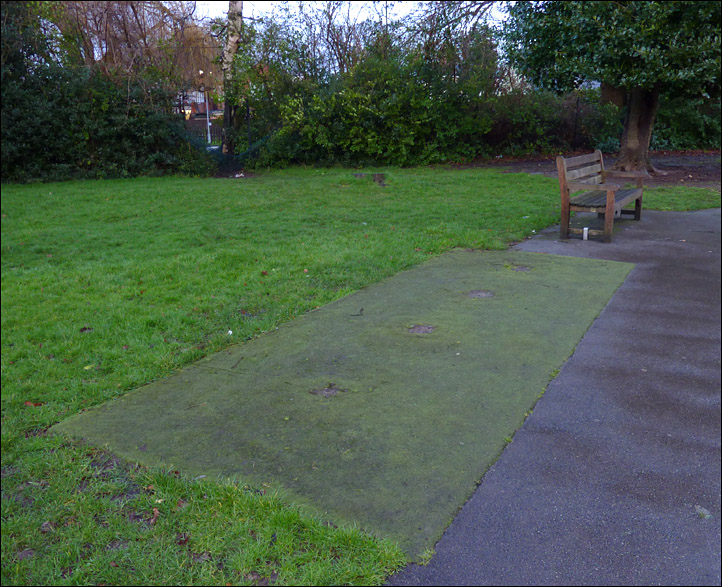 Below: How it used to be. But this lovely park lodge was disgracefully, after a sham 'consultation', stolen from the community and sold by CWAC to a private developer for a relative song and immediately sold on for a massive profit- not a penny of which has been seen by that community.

The controversial proposal that a neighbouring, recently-established Free School should be allowed to construct a private entrance into the park and lay down a new path there has now been acted upon. All this is in direct contravention of covenants laid down when the park was opened in 1904 that it would only been used for the enjoyment of the people and must never be sold off or built upon.

A spirited campaign by local people is currently underway to restore the lodge into public ownership and protect the status of the entire park and to register it as an 'asset of community value' with the council. Many constructive ideas for the lodge's future use are being proposed: cafe, gallery, social and educational centre... If you and your children treasure the Edwardian gem that is Alexandra Park, visit the Facebook links below and get involved!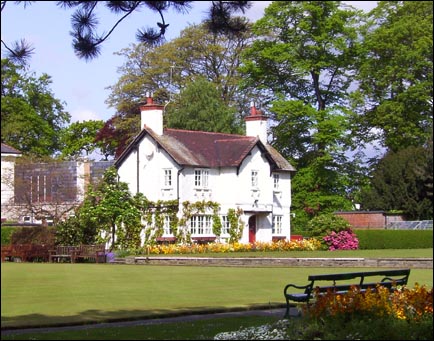 "So Cheshire West and Chester Council did break the law! At last we know the truth that Cheshire West and Chester Council did wilfully break the law in 'selling' part of Hoole Alexandra Park and its Lodge.
Key documents (see below) from the National Archives in Kew, along with others from the Chester Local Archive, have provided conclusive evidence for Hoole campaigners fighting to save Alexandra Park. These prove the park was created under the terms of the 1875 Public Health Act, which protects the land of Alexandra Park from being sold.
Since October 2013, Cheshire West and Chester Council has ruthlessly tried to cover up wrongdoing, hoping that the truth would never emerge. Cheshire West and Chester Council and its officers must be held to account for illegal acts.
The campaign goes on!"
Posted on Facebook May 2015 by the Hoole Community Forum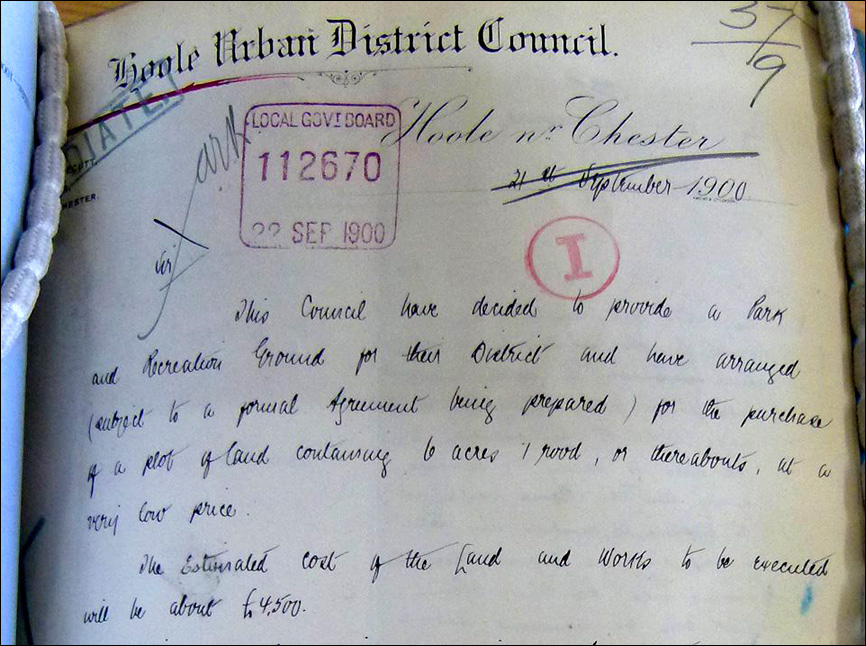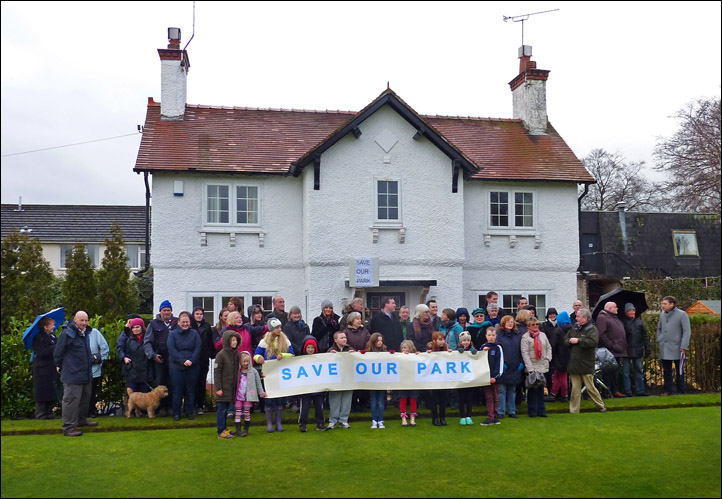 What the people think! 15th February 2014


As part of our planned website A Virtual Stroll Around Hoole, we plan one day to produce an illustrated history of Alexandra Park. Do you have any memories or old photographs of the park for inclusion? Contact Steve Howe 0775 1521 600