To help you make the most of your visit...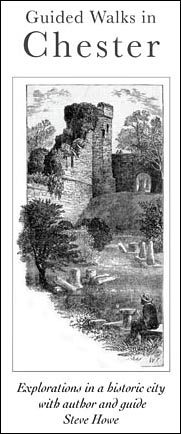 During the summer, exploring the two mile circuit of City Walls can be exhausting during the hottest part of the day- consider instead walking in the early morning or in the evening, when things are quieter, and the Walls and much of their surroundings can look particularly beautiful. But fear not- as we shall discover, there are many pleasant spots along the way to rest and ample opportunities for partaking of all manner of refreshments..

Our ancient City Walls and unique covered walkways known as The Rows are lovingly maintained but inevitably contain uneven surfaces and steep steps that are likely to prove an obstacle to prams, wheelchairs and those of you who have difficulty walking. There are however, a number of ramps which will allow you access to limited stretches of the Walls. You will find these at the Kaleyard Gate (point 4 on our map) on Park Street near the Newgate and close to the Albion pub (7) the Castle (11) and near Bonewaldesthorne's Tower (16).

Moreover, most of the western part of the circuit is at pavement level, and therefore easily accessible to all- but do please mind the traffic!
Our Chester Virtual Stroll is but the latest in a long line of guides to the splendours of our ancient city, but the first to be published exclusively on the World Wide Web, instantly and freely available to you, wherever you may be. One wonders what the guides of yesteryear such as Thomas Hughes, Joseph Hemingway or Lucian the Monk would have made of it?

Bear in mind that our intention is not to present a definitive history of the City of Chester, many of which already exist- British History Online's comprehensive A History of the County of Chester being by far the finest online example- but rather to give you a pleasant and illuminating day out with a few anecdotes, pictures and personal comments thrown in. Nevertheless, if you do need specific information about Chester, Liverpool or their surrounding areas, don't hesitate to get in touch and I will do my best to help. All your letters will be answered- and may even be published on our Reader's Comments pages.

If you're planning to visit Chester, you're welcome to print these pages and bring them with you- a better companion by far than most tourist guidebooks. However, you must not use any of this material for commercial or other purposes without talking to us first...
Finally, to see more photographs of Chester or its great neighbour, the fascinating city of Liverpool and a wide variety of images of other subjects- as well as full details of our fine photographic, digital, design and expert photographic restoration services, be sure to visit our sponsors- The Black & White Picture Place. Also be sure to see the work of GoodHiding, beautiful leather products, handmade here in Chester!

"A very young boy, for a trifling wager, ran twice around the City Walls of Chester (three miles and a half) in 23 minutes; numerous spectators were present, who deemed it a very extraordinary pedestrian exploit, particularly as the youth was only 12 years of age." The Sporting Magazine, May 21st 1792