A Virtual Stroll Around the Walls of Chester
The Vanished Pubs of Chester Gallery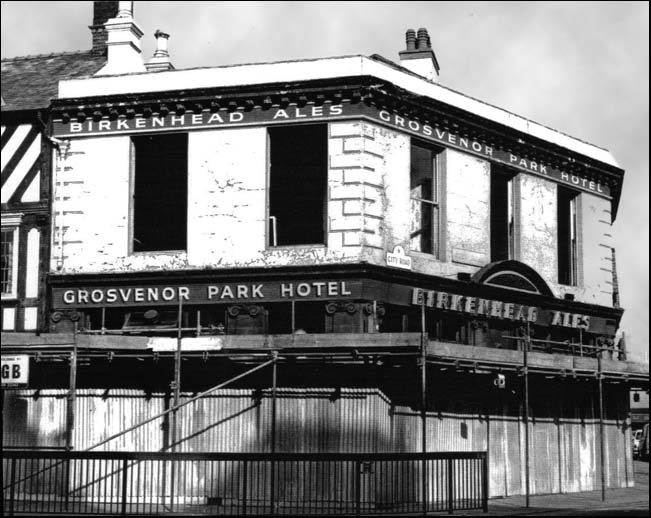 The Grosvenor Park Hotel stood at the corner of Foregate Street and City Road. Together with the Ring o' Bells and the nearby Queen's Head, it was demolished to make way for the Inner Ring Road. Their site is now occupied by the Grosvenor Court offices and the City Road roundabout.

An old Chester joke ran "What's the shortest distance between two pints?" The answer, of course, was "The Ring o' Bells and the Grosvenor Park Hotel!"

The Grosvenor Park was popularly known as Dick Scott's. Its landlord in 1942 was E J H Scott. It is seen above in a derelict condition just before it was demolished and below in happier times, decked out for King George VI's Coronation Day in 1937. You can learn more about the old pub and its occupants here.
A Chester map of 1871 shows that the place was called The Newpark Hotel at that time.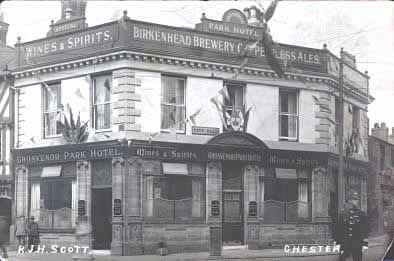 In March 2009, Geraldine Hesketh (nee Wikeley) wrote to us about the Grosvenor Park Hotel,

"Imagine how excited I was when I discovered your wonderful web site. My parents owned the above mentioned pub in Chester shown in your vanished pubs of Chester article. We lived there, if my memory serves me right, from 1957-1963.

My father's name was William A Wikeley and the pub was a Birkenhead Brewery house. I loved living in Chester and have fond memories of growing up there, it was wonderful was to see a picture of the old place.

I do remember some of the stars from the Royalty Theatre up the road popping in for a pint or two.

I can't explain the overwhelming emotion when I saw our old home from the 60s right there and have since told my sister in California, who celebrated her 21st birthday over the road at the Bars Hotel. All long gone, however Chester is still a wonderful city.

On our last trip back home we brought our Canadian friends with us and they spent a wonderful day with us there and would like to go back some day.

I would be very thankful if you could update your information regarding my family in your gallery section. My parents moved to a pub in Neston after the Grosvenor Park called the Harp Inn, still there today thank goodness- oh, and it was haunted too.

I am now living just outside Toronto, Canada and have been for 24 years. My parents are long gone, but thanks to your wonderful site I now have something to refresh my memory, with fond thoughts and pictures to bring it all back..."


c 1960: The Grosvenor Park Hotel and Ring O' Bells at the end of Foregate Street

The Grosvenor Park Hotel and Ring O' Bells in 1966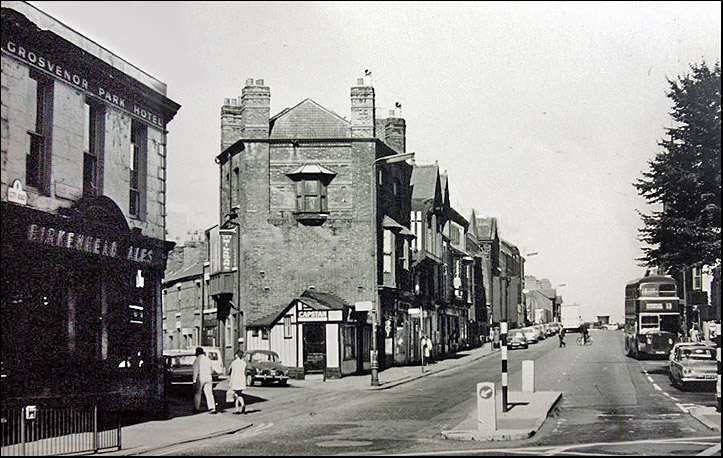 Two views separated by sixty years of the Grosvenor Park Hotel and City Road: above 1966 and below 1906..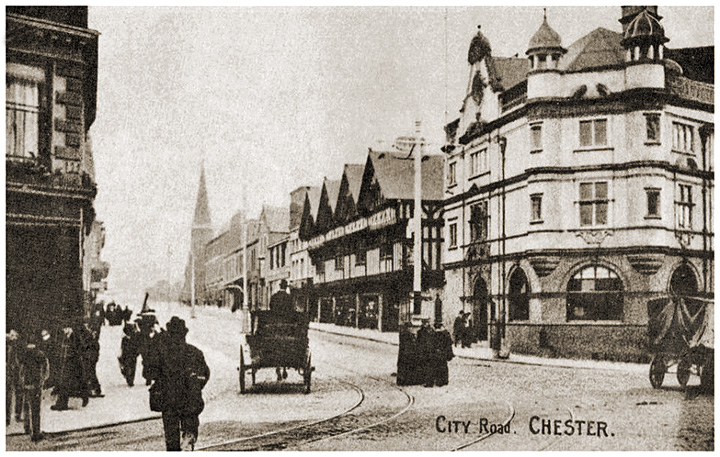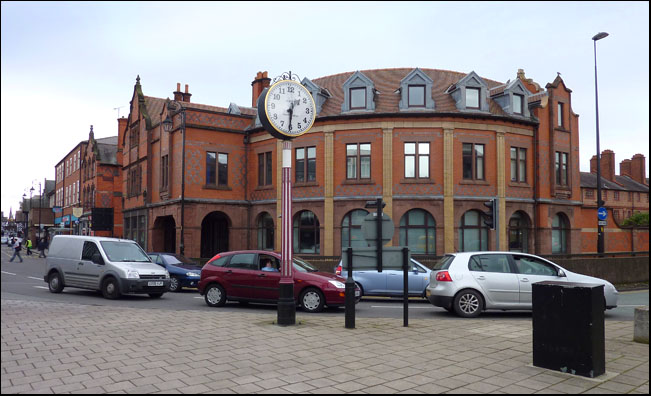 Do you have any more information about this pub?

Chester's Vanished Pubs parts 1 | 2 | 3 | 4 | 5 | 6 | 7 | 8 | gallery
Site Front Door | Site Index | Chester Walls Stroll | Old Pubs Gallery | Previous Picture | Next Picture