This fine building, 48 Foregate Street, was originally known as The Bars Hotel & Restaurant. Its landlord in 1898 Ben Pearson, in 1902 Mrs Hannah Maria Pearson, in 1914 Mrs G C Berry, in 1942 E W Pritchard. When this closed in the early 1970s it became The Tavern in the Town with King's Nightclub above. Later, it was converted into Cinderella Rockafella's night club.

With its 'Monk's Retreat' and impressive facade- which could easily have been preserved- it was sadly demolished a few years ago to make way for a bland 'luxury' apartments development. This photograph was taken by the author just before it vanished.

Reader 'J D' wrote to tell us, "One of the pubs I can vaguely remember a few years ago was The Schooner Inn which was next door to Cinderella Rockerfella's. If I remember correctly it changed to The Sports Bar which was at its busiest on a Sunday night".

Reader Hoolite also recalled, "Oh, yes, I remember the Sports Bar alright. Lots of neon and chrome in the 'American' tradition, a couple of pool tables, long bar on the right hand side as you walked in. Guaranteed major ruckus on most nights, being positioned right next door to Cinders, which was the first club I ever went into being about 16- they weren't too choosy".
John Murray wrote to tell us, "The Monk's Retreat was a small bar to the rear of the Bars Hotel which was popular with both Navy and merchant sailors. My Great Grandma Elizabeth "Bessie" Ratchford was barmaid there from about 1918 until her husband Tommy's death in 1960.

Bessie Hughes was born in Connah's Quay in 1887, she moved to Liverpool around 1903 and worked in several shops and bars (rumour has it she lied about her age to get bar work) and it was in one of those pubs that she met her future husband, apprentice bookbinder Tommy Ratchford. The family moved to Chester in 1910 and lived at 22 Pitt Street, they had 8 children between 1905 and 1923, my Grandma Alice, being the eldest. Their daughter Elizabeth, also known as Bessie, born in 1910 married well known Chester butcher, Reg Lloyd.
Left: The Bars Hotel in 1910. Above the columns on the ground floor is the prominent sign, "Geo C Berry, Garage". The name derives from 'The Bars', a medieval outer defensive gateway that was situated close to the spot. This gate may be centuries gone but the area is still called The Bars to this day.

A regular visitor to The Bars and Monk's Retreat was Lord Sir Aubrey Brocklebank, the owner of Cunard Line, who lived at Nunsmere Hall (now a hotel) near Delamere and a good friendship developed. Bessie's son, James, born 1919 was fascinated with ships and got a job onboard Cunard's ships sailing between Southampton and New York. He was a senior office on the Queen Elizabeth, which he showed me round in 1967 not long before her retirement from service. He then went on to work on the QE2 until his retirement in 1985. He died in 1991.
Bessie was described affectionately by many who knew her as a "larger than life character". Some older Cestrian people still remember her well and speak of her. After Tommy's death, she moved in with her daughter Bessie and Reg who lived on the corner of Hough Green and Cliveden Road until her death in 1966.

As a child, I remember visiting my Great Grandma, Elizabeth Ratchford (nee Hughes) while she was living with Great Uncle Reg (Lloyd) and Auntie Bessie (Elizabeth Ratchford) in their large house in Cliveden Road, Chester. Great Uncle Reg was a butcher in Chester with a market stall and a shop at 63 Bridge Street. He was a keen sportsman and in his time had been a boxer known as "The Butcher- Chester's White Hope" and he was groundsman at Boughton Hall Cricket Club. According to local history books, Reg was also a farmer at Brewer's Hall Farm in Curzon Park".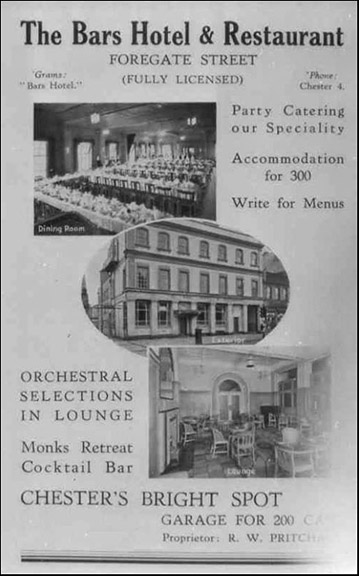 In April 2010, old Cestrian Gerald W Marsh, now in far-away Rochester, New York, USA, wrote us this fascinating letter: "I have just finished reading the account of the Monk's Retreat. I remember it very well. It was indeed a small bar, too small for more than one bartender, and that person was Bill Marsh" (Gerald is Bill's son). "He was the sole bartender from about 1929 until 1950 and got the job- an oft-told story- because the previous barman got sick and was unable to return to work.

Bill, who, like many in the depression era had been out of work for months, applied for the job, told them he was an expert bartender, cited several bars he had worked at in London, and got the job. In truth, he had never worked in a bar and barely knew a draft ale from a Sidecar cocktail. He "borrowed" a book on cocktails from the library, memorized as much as he could before he started work, then referenced the book throughout that first frantic evening. In the 1930s, he had sufficiently mastered his trade to enter a News of the World cocktail competition and won! I don't recall what the money prize was, but it was substantial. Alas, I don't know the name or recipe of his winning cocktail; it is buried in the microfiche files of the News of the World, and I am told I would have to visit London and search in order to locate it. The diploma hung on the back wall of the Monk's Retreat for years and when he left the owning Pritchard family refused to let him take it with him although the certificate was, obviously, awarded to him, not the Bars Hotel. When he died shortly thereafter my mother appealed to the Pritchards to let her have it, but to no avail.

Bill was the first insult comedian. To a balding man he would plump down his drink and say, "Rub some on your head, it might help." He would turn to a couple, ask the wife what she was having and then ask her,"What can I get for your father?" To a man with a colorful tie, "Where did you get the neckpiece?- Bertram Mills?" American soldiers, accustomed to the humor of ribbing, enjoyed him even more than the locals. He was enormously popular. Countless evenings I watched him work the crowd.

He worked seven days a week; Sunday the pub had reduced hours, and Monday was usually his evening off and he would take us- my mother, sister Jennie and me- to the Royalty Theatre. He worked hard. I remember that drays carrying barrels of beer would drive to the rear of the Bars; a steep slide would reach up to the Monk's Retreat at a 45 degree angle and Bill would haul the barrels up, one by one, pulling on a thick rope. All for £2.10.0 a week. On top of all this, during the war, he would do air raid duty, standing on the roof of the Bars at night, watching for German planes.

One night, and one only, Bill snaffled some sausages from the kitchen of the Bars, where black market food was always available for those who could afford it, and I remember to this day the taste! I was used to bright pink sausages, made mostly with bread, but these were laced with dark inviting bits of actual meat. Meat! What a treat it was.

Performers from the Royalty would head to the Monk's Retreat after the show, and Bill was on particularly friendly terms with comedians Frank Randell and Albert Modley. Sometimes he brought entertainers home and I recall a riotous evening with the Amazing Gridneffs, a Russian ladder acrobatic troupe- the youngest Gridneff son now teaches acrobatics in Blackpool and we have exchanged emails and he recalls visiting my house.

A previous writer referred to an Elizabeth "Bessie" Ratchford as working in the Monk's Retreat. In my many visits to the bar, I never met, or heard mentioned, Mrs. Ratchford. Perhaps there is a misunderstanding and she worked downstairs in the general bar. Certainly, to my knowledge, she did not work at the Monk's Retreat. The Pritchard's son, Brian, if he is still around at about my age, 80, would be able to corroborate this. As, I am sure, would any older Cestrian.

I still have Bill's cocktail recipe book. Wonder what the fine is by now?"