The RoyaltyTheatre & The Grotto Hotel; excerpts from Douglas Young's diary, week commencing Monday 9th July 1945. Kindly sent to us by their daughter Hilary Young..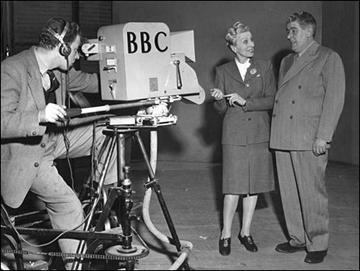 The husband and wife partnership of Nan Kenway & Douglas Young had made their names on radio during the war years, notably with the comedy programme Howdy Folks which ran weekly during 1940 and 1941. By 1945, as well as broadcasting, they were also touring in variety and roadshows..

In Ipswich, the previous week of July 1945, DY complained of a depressing week: "Ipswich very overcrowded with lots of Navy and American types. Practically all the pubs closed all the time. Very little beer, no scotch and few cigarettes. Very depressing – what with the theatre, audiences and bad microphone".
They travelled by train from Euston to Chester on Sunday: "Managed to get two seats- even though the train was packed to the toilets. Taxi to the Grotto Hotel, Bridge Street. Quaint old pub. Excellent cold salmon supper, comfortable room. Tea and Breakfast served in bedroom. Should be a cheap week as was last week (our bill only 14 pounds odd).
Monday: Pleasant theatre- Royalty, Chester. Also exceptionally efficient staff and charming manager who made himself known to us- most rare. Tubby Turner & Vincent Ryan both on the bill with us. We are sole top. Hope we do well… Two good houses and quite enthusiastic audiences. Manager seems pleased. Nice intimate theatre…

At hotel excellent cold supper and chat with proprietors Mr & Mrs Lewis. Everyone in hotel most anxious to please. Even two scotties who have 'taken to' Nan.
Tuesday: How I love the streets of Chester with its 'Rows'. Magnificent architecture. Cannot think why no other city has adopted the idea of shops in two tiers. Most convenient to walk about if it's raining. Lovely morning this one. Feel very happy in contrast to last week. Two good houses and excellent audiences again.
Wednesday: Took Nan and Sylvia for a trip on the Dee in a God-awful "skiff" with too-short sculls.
(Hilary comments: "Father's sport as a young man had been rowing- hence the caustic comment about the skiff on the Dee.)
Thursday: Pub closed. Lloyd Lewis, the landlord here, took me round the quaint old pubs of Chester. Gosh what a wonderful old city !! The more I see the more I love it. Two more shows but not such good audiences. Mr & Mrs Lewis came to second house then back for drinks in their taxi.
Saturday: Two shows as usual except that orchestra had two men missing- leader and trumpet - so Nan had to play Rhapsody in Blue.
(Nan Kenway was an accomplished pianist and within their otherwise comedy act included a concert item which was usually well-known highlights from the first movement of the Tchaikovsky piano concerto. Rhapsody in Blue did not require the orchestra.)
Real party here before we went to bed. Lloyd showed me his cellars. He opened a bottle of scotch down there and we sat on a crate and swigged a couple. Then he insisted on presenting me with a bottle of scotch!! What a grand bloke.
Sunday: BC** came over from Liverpool and we had a long and satisfactory chat then lunch in the Lewis's private sitting room and so off to catch the train at 3.
(BC Hilliam, otherwise known as 'Flotsam' of the partnership 'Flotsam and Jetsam'- the Flanders & Swan of that era. K&Y were to be part of a radio series 'Flotsam's Follies' that was to start on 22nd July.)
Very crowded. Stood to Crewe- had tea during a 2-hour wait- then stood to Derby- changed again and stood to Nottingham where we waited a hell of a time for a taxi..
Our bill at the Grotto on 16 pounds with Sylvia staying 2 days and people to lunch on Friday.
Thursday 19th: Wrote laughable verse of appreciation to Lloyd and Rose Lewis:
Oh, I have discovered a wonderful pub
With plenty of liquor and plenty of grub.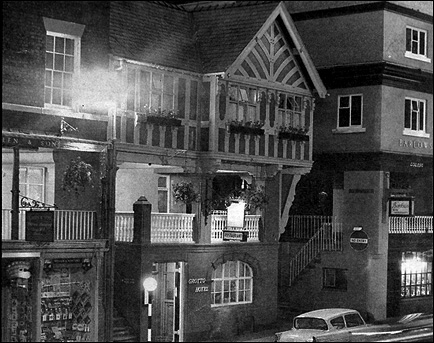 The bars have good sandwiches- salmon or brisket-
And also there's Marie- she fair takes the biscuit.
The landlord's a feller it's best to avoid
Although his name's Lewis, they all call him Lloyd.
He'll pick on some innocent, clean-living feller
And lure him to shame in the depths of his cellar
By plying the greenhorn with drinks till he's bottled
His eyeballs all bloodshot and features all mottled.
And flatly refusing, in spite of his prayers,
To let the poor perisher get up them stairs.
He waits till his victim don't know what he's doin'
Then pushes him down the dark roadway to ruin
By handing the poor sap, now hopelessly blotto
A bottle of Scotch, as "a gift from the Grotto".
Yes, yes, I repeat that the best thing to do is
Avoid taking trips to the cellar with Lewis.
Now, Rose, on the other hand, she's quite bewitchin'
She even lets people make tea in her kitchen,
And when you have guests into luncheaon and teas
You're shown to her private room, if you please!
(Although Rose herself, in these days on a diet!)-
Jim serves you a meal that's a positive joy
Much better and cheaper than Ritz or Savoy.
Another nice feature about the old "Grott"- is-
The friendliness shown shown by two charming Scotties.
And inside this pub at the close of the day
You'll see Lloyd a-sweeping the fag-ends away
Or giving the carpets a 'do' with the Bissell-
Although, mark you, dressed in his Newmarket-Whistle!
And then there'll be Marie and George and Pierre
Washing glasses or mopping up odd pools of bière.
But still, they are never too busy with chores
To stop for a moment and murmer "what's yours?"
Then follows a chat, lots of stories and laughter
And when you feel sleepy some hour or two after
You climb to your bedroom- just two happy Pros-
To find lovely flowers have been placed there by Rose.
Yes, we have discovered a wonderful pub
With plenty of liquor and plenty of grub
where "do unto others"- is always the motto.
You'll find it in Chester. The name is "The GROTTO."
A small memento- with sincere thanks for the happiest week ever- from Nan and Doug. July 1945
Here is another piece Hilary wtote about her parents: A Music Hall Diary 1945