The Carnarvon Castle long stood at no. 42 Watergate Street on the corner of Crooke Street (the 1859 Post Office Directory of Cheshire says no.155 however). It was recorded as being used as a polling station in 1809.

Reader Nathan Brett wrote to tell us, "Hallo! I was looking through your website of old forgotten pubs in Chester hoping to discover something of the Carnarvon Castle on Watergate Street. I thought that the attached photo (below) may be of interest. It is from a silver plated cigarette holder that belonged to my grandfather Terry Jones who was one of twin sons to the chap in the photo, the proprietor of The Carnarvon Castle, Walter Jones (my Great Grandfather).

Terry's twin was called Leo and there was also an older son called Walter after his father who was a Private in the Cheshire Regiment and died in WW1 in Belgium, I believe his name is recorded on a wooden plaque along with the other fallen soldiers of Chester in City Hall (?)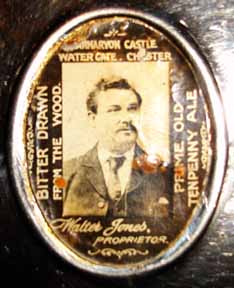 I think the "Prime Old Tenpenny Ale" sounds pretty good... I know very little else other than the twins did not get on that well and my grandfather lit a fire in the Carnarvon Castle under his brother Leo's bed! Happily all concerned were ok and the pub was saved from an even earlier demise!

I've never been to Chester and live near Bath now and if you know anything more of this pub or its inhabitants or if you have a photo past or present of the building, I would be most grateful!"

The Carnarvon Castle was listed in Cowdroy's Directory in 1789 when the licencee was Charles Brown. In 1818 the licencee was J Moore, in 1822-3 Robert Montgomery, in 1828 James Davies, in 1840 Michael Foster, in 1850 Matt Williams, in 1855 Emanuel Harton, in 1859 H Smith (seen left, lounging in the doorway of his inn in 1870), in 1871 Mrs Jones, in 1880 John L Walker, in 1898 Patrick Churchill (see below), in 1902 Walter J Jones (see above), who was still there in 1920 (he appears in a 1919-20 trade directory). Today a bookmaker's, antique shop and tea rooms occupy the old inn.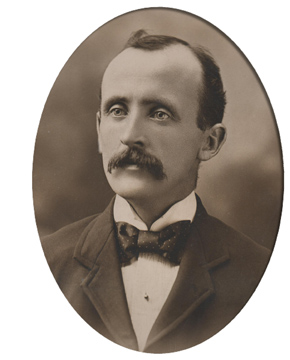 Reader Ken Dennis recently wrote, "I caught the end of your interview on Radio Merseyside (on the subject of 'the lost pubs of Chester') and noted your web address- a rich seam of varied information and for me a source of some information I was after. My Great grandfather was supposed to have had a pub in Chester, that being the "Carnarvon Castle" in Watergate Street. I can remember visiting the Rows many years ago with other members of my family and we had discovered the name on one of the upper beams, it was painted over put still discernible (no longer, alas!)

My problem being that I do not have any corroborating proof of him being there and for which years. I have a daughter's birth certificate on which he states that he was the licensee in 1898 and a large portrait photo of himself, on the back of which is written "Carnarvon Castle". His name was Patrick Churchill (his portrait is on the left) and he was a baker by trade. On your list of proprietors for this establishment he is not listed." He is now Ken!

In a second letter, Ken told us, "He took over the tenancy of the Carnarvon Castle during the second half of 1896 and the address quoted is 38 Watergate Street. I do not at this time have any leaving date. He later moved over to Liverpool to run a public house there, The pub he moved to was called "The Cheerful Horne" in Everton Road, on the corner by what became Grant Gardens (no dates for him there yet either). This pub I believe later changed it's name to "The Necropolis", no doubt taking its inspiration from what was the former cemetery opposite. Sadly this hostelry is no longer standing and is now a modern housing estate, even the road layout is different.