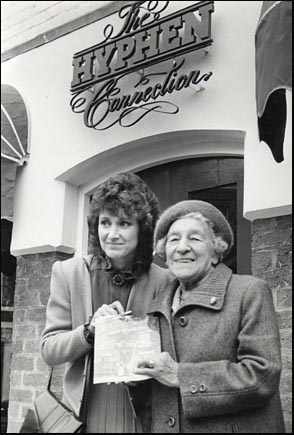 The Fox & Barrel was at no 16 Grosvenor Street, on the corner of Whitefriars.

It was listed in the 1902 edition of Kelly's Directory, its licencee at the time being Mrs Elizabeth Jones. Earlier, in 1850 it had been George Harrison and from 1857 to at least 1880 it was Thomas Worby. Kelly's Directory shows Thomas Miley had it from 1910 until 1914, when he moved to The Red Lion on the corner of Pepper Street and Lower Bridge Street.
The photograph on the right was taken in the 1970s and shows the then-popular newsreader Jan Leaming at the opening of a new fitted kitchen business, The Hyphen Connection in the much-altered former premises of the old Fox & Barrel.

The cheery elderly lady standing with Ms Leaming is Mrs Annie Margaret Miley (nee Sims), Thomas Miley's daughter. She is holding a photograph of herself, her father and her mother, Mary (reproduced above) standing outside their pub.
Previous to this, the building had been home to a scooter dealership, Autospeed. The building has since housed a number of restaurants including What's Cooking? Today it is occupied by a Brazilain-style eatery, the Tropeiro Churrascaria, illustrated below in January 2013.