A Virtual Stroll Around the Walls of Chester
The Vanished Pubs of Chester Gallery




New material added here 20th February 2017

The Bull & Stirrup Hotel, 8 Upper Northgate Street (splendidly illustrated above in a pencil drawing by Jay Hurst) closed at the end of August 2014. The building has been acquired by the Wetherspoon's chain and will be undergoing a radical refurbishment to create a hotel above and bars below and in a new extension behind, but retaining, we're told, the historic features of the old building. It was originally said to be re-opening sometime in 2015 but a two year delay occured before work finally started in the autumn of 2016. The new opening date now to be February 28th 2017.

It is one of many examples of a much older Chester inn being rebuilt in grand style during the nineteenth century. Designed by W M Boden, the impressive hotel was built in Ruabon brick and opened in 1889. The name Bull & Stirrup was inspired by the nearby cattle market which used to be based at nearby Gorse Stacks. Other neighbouring inns were also named for this: for example, the Brown Cow once stood opposite, on the corner of Canal Street and the still-thriving Pied Bull (the oldest pub in Chester still serving a pint) is just along the street.

On August 31, 1972, the pub famously hosted a strike committee, involving one Ricky Tomlinson – real name Eric Tomlinson – who helped organise the first ever national building workers' strike. Ricky was among the 24-strong 'Shrewsbury Pickets' later prosecuted under the 1875 Conspiracy Act and he served 16 months in jail. He has been asked to re-open the pub.

Here are a few photographs by the author of the pub's interior taken in the week before it closed. He will be following them up with some views of the new interior when the time comes..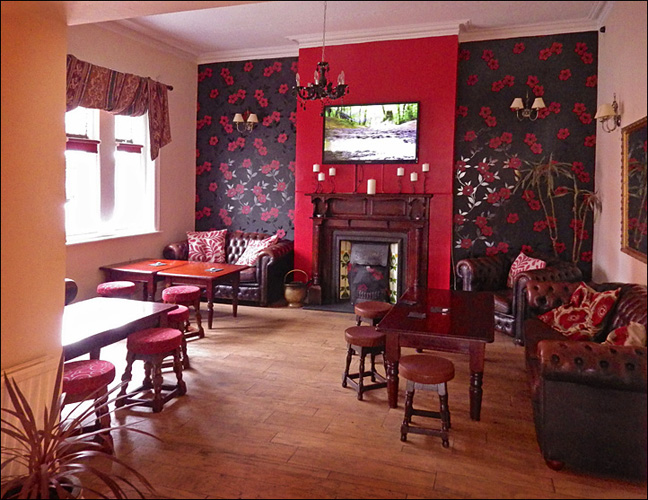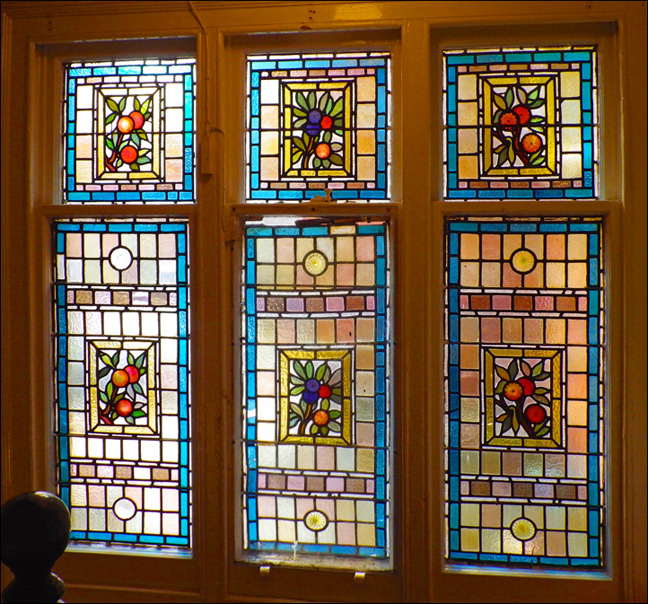 Just one example of the pub's superb stained glass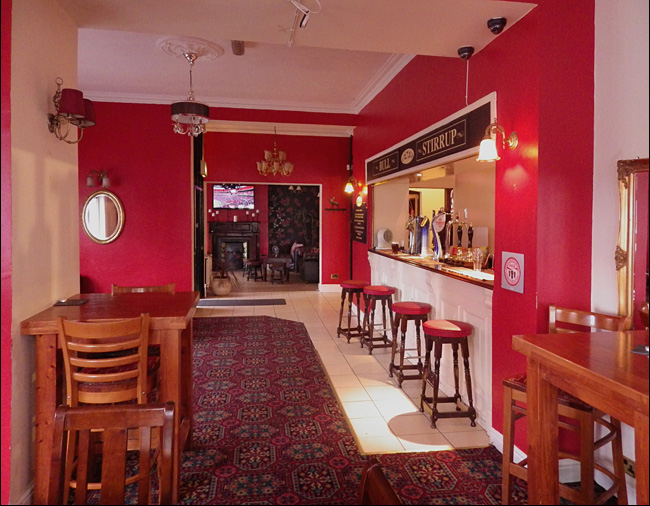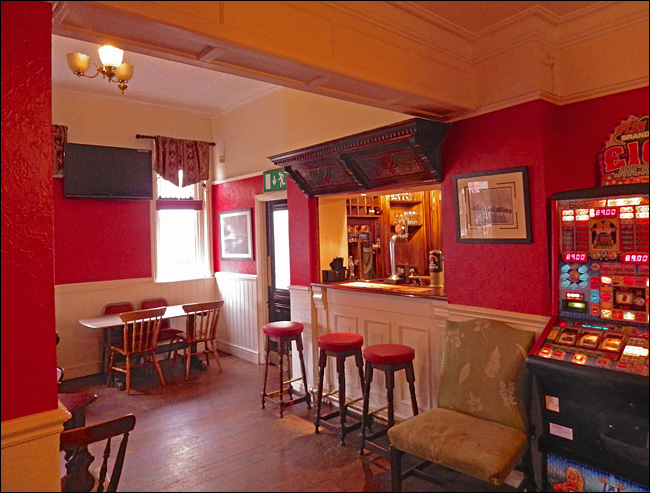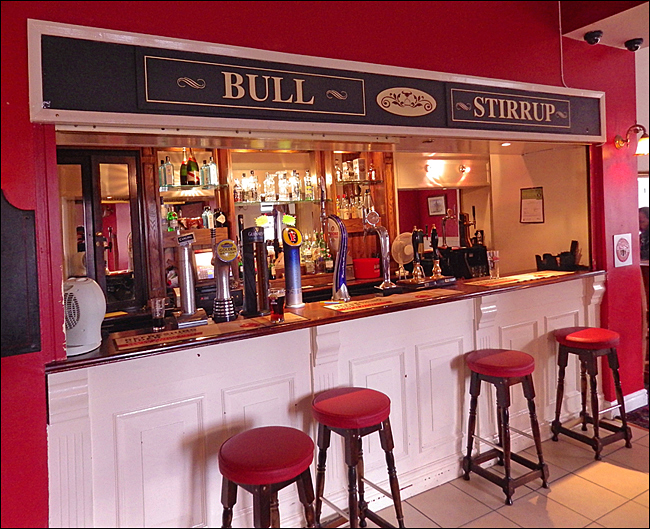 The Bull & Stirrup's garden. The vast 'super surgery' complex is seen under construction behind

Excellent ceramic tiles in the George Street entrance illustrating a famous event in Chester's history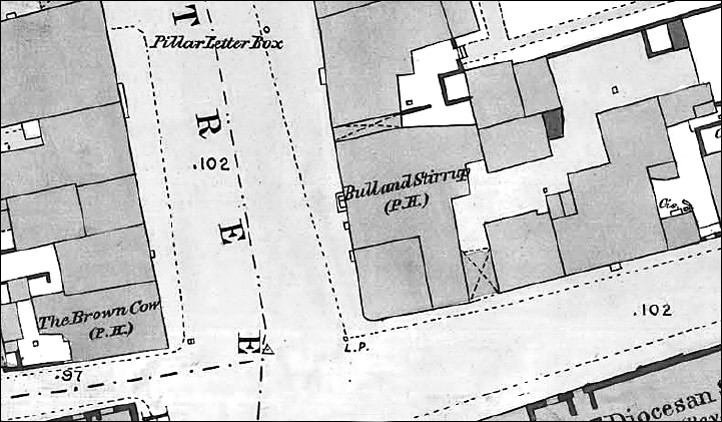 The earlier Bull & Stirrup on a Chester map of 1871. Note the Brown Cow Inn standing opposite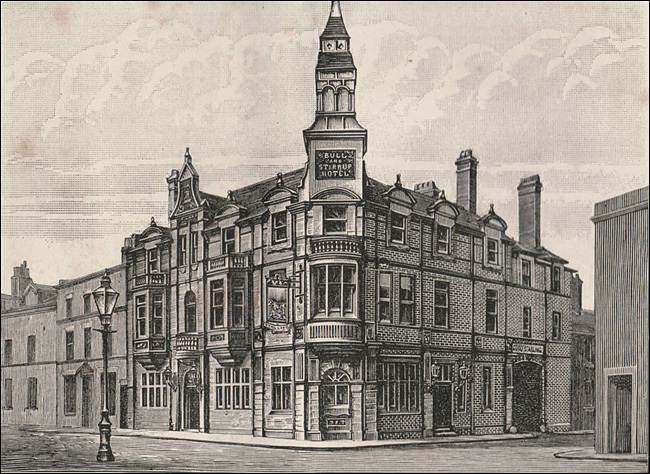 A 19th century illustration from The Builder showing the pub newly rebuilt

An advertisment from 1882

A dinner at the Bull & Stirrup given for Chester Cycling Club members lately returned from the Boer War, 1901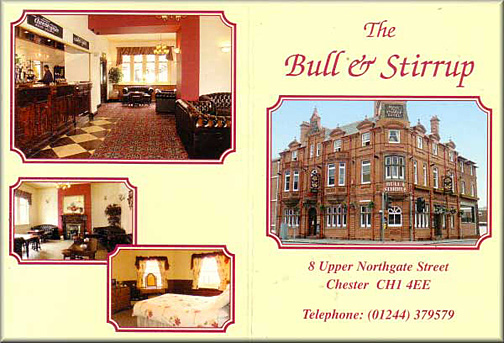 The Bull & Stirrup's business card



A sneaky peek through the Bull & Stirrup's windows a week before its re-opening..

Do you have any more information about the Bull & Stirrup Hotel?


Chester's Vanished Pubs parts 1 | 2 | 3 | 4 | 5 | 6 | 7 | 8 | gallery | lost pubs maps
Site Front Door | Site Index | Chester Walls Stroll | Living Pubs of Chester | Old Pubs Gallery | Previous Page | Next Page