A Virtual Stroll Around the Walls of Chester
The Vanished Pubs of Chester Gallery



The Plumbers Arms was at no. 39 Queen Street. The area is now built over by the Tesco, the former British Home Stores' rear entrances and Charlotte Court, as well as Union Walk. The photograph below shows it iin the early 1970s. The facade of the classical building, the former Independent Chapel of 1777, to its right still survives.

The licencee in 1934-5 was J Williams, in 1960-1966 Jean and Geoff Hewson.

The Chester artist Jill Pears wrote to tell us, "I remember going in there in 1976 with a boyfriend. It was pretty basic, with lino on the floor and a strip light, but it was a very friendly 'local'. The landlady was a jolly plump woman named Mary".

Rupert Davies wrote, "I worked for Quellyn Roberts in 1973/74. We delivered the ale there, walk through the door and there was access lid to the bar, the lounge was on the right and the stairs to the accommodation on the left. It was run by Mary and her hubby".

Joe and Ruby Cotgreave had the place at one time but we're not sure when..

Can anyone tell us more about the Plumbers, its licencees and customers?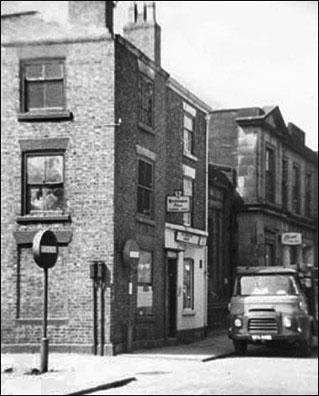 Chris Jeffery kindly sent this picture of the Plumber's just before its demolition in 1978.

Chester's Vanished Pubs parts 1 | 2 | 3 | 4 | 5 | 6 | 7 | 8 | gallery
Site Front Door | Site Index | Chester Walls Stroll | Old Pubs Gallery | Previous Picture | Next Picture