Here we have a rare and fascinating view, kindly sent to us by the fine people at Chester History & Heritage. It required a great deal of restoration but we think you'll agree it was worth it. It shows Princess Street, looking towards Town Hall Square. On the right, bearing the sign, 'Royal Kent Ales', is The Town Hall Vaults and on the left, The Manchester Arms. Just beyond this, and out of shot, is The Coach & Horses- today's thriving Coach House.
The Town Hall Vaults (nos 1 and 3 Princess Street). Its licencee in 1902 was Robert W Jones, in 1910-1914 T H Jenkins, in the early 1930s Mr Thomas Shrives Evans. His grandson, Ian Palin in Blacon wrote to us, "My granddad, Mr Thomas Shrives Evans, was the landlord of a few pubs in his time, his first was the Town Hall Vaults in Princess Street. Then he had The London Bridge Hotel in Bridge Street then went to the Royal George Hotel, George Street in the 1940s. He died there in 1952". The Town Hall Vaults' licencee in 1934 was Mr G H Nelson.
The Manchester Arms (no 8 Princess Street). Its licencee in 1891 was Frank Killimede and his sister Anne, in 1902 John Bolesworth, in 1910-14 Thomas Murray.
Do you have any further information about these- or any other- vanished Chester pubs? We're always pleased to hear from you and you will, of course, be given full credit for your contributions! Read about the other pubs that once stood in Princess Street here.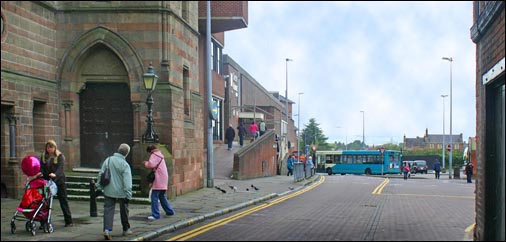 Princess Street today is a truly cheerless place, a victim of the planners, with the ugly bulk of the Market Hall and Council Offices on one side and, for the moment, the Bus Station on the other. It is difficult indeed to imagine it as it was. The Coach House - the old Coach & Horses- still thrives on the corner but otherwise, not a single pub exists there today.

The site of The Town Hall Vaults is where the ramp can be seen on the left of the image above, that of The Manchester Arms where the car and trailer are in the picture below.