The Black & White Picture Place
Old Photographs & Drawings of Chester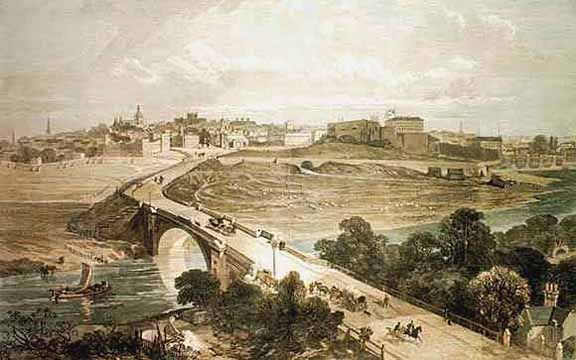 The Grosvenor Bridge, Chester 1869

A beautiful view of Chester's Grosvenor Bridge which appeared in the London Illustrated News on October 9th 1869. The bridge had been opened 36 years earlier by the 13 year old Princess Victoria and at the time was the largest single-span arch anywhere in the world. It had to be built as high as it was to allow the masts of sailing ships to pass beneath.

The Overleigh Cemetery (1850) is situated in the woodland on the right and, across the river, the site of today's Little Roodee car park is still open land, but showing clear evidence of the piling up of thousands of tons of earth to level the ground between the riverbank and the city to create a causeway for the bridge's approach road. Behind it, the landscape is dominated by the great buildings of Chester Castle.

The Roodee Racecourse is on the left of the bridge, beyond it the City Wall and the Militia Buildings standing upon the old Nun's Field. The site was later occupied by the unsightly 1960s Police Headquarters but a new hotel, apartment and local governement development, known as 'HQ' recently rose on the site.

In the distance may be seen Chester Cathedral, looking as it did before its later radical restoration.

Visit the Grosvenor Bridge / Overleigh Cemetery chapter of our Chester Virtual Stroll to learn more...

Old Pics of Liverpool & Chester | Old Maps and Aerial Views of Chester | Chester Virtual Stroll
Site Front Door | Site Index | B&W Picture Place | Chester Gallery | Contact us | Next Picture