The Black & White Picture Place
Old Photographs & Drawings of Chester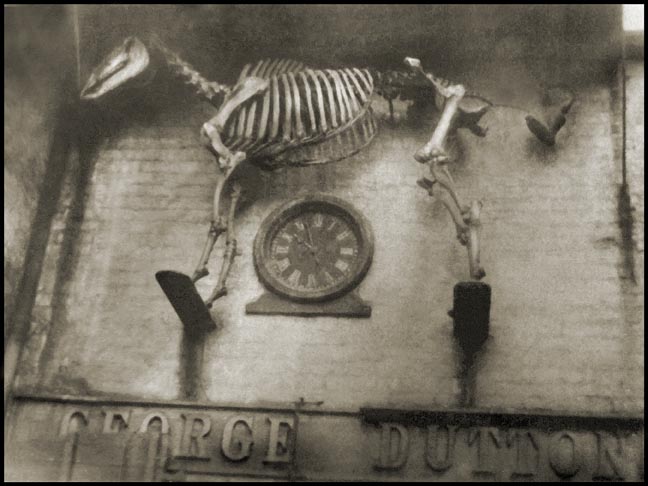 The 'Skelly 'orse': Princess Street
Reader Peter Allman kindly sent us the remarkable photograph above and wrote, "I am doing research on Chester's former leading grocery shop of George Dutton & Sons in Eastgate Street. There were also branches in Wrexham and Oswestry. The Health Food Store in Godstall Lane was their last surviving department. If anyone can provide me with any information, documents or photos concerning 'The Sigarro Stores' I should be very grateful and would carefully copy and return them.
I believe Dutton's were the first shop in Chester (possibly the North-West?) to introduce an element of the new concept of 'self-service' in the 1930s. Still, in the 1950s, the money and receipts used to whirr over the customers' heads on a system of taut wires to the central cash register.

Right: the Princess Street Area in the Chester OS map of 1898

I am also interested in Duttons' old stables in Princes, sorry, Princess Street. Why do we say 'Princes' when it's 'Princess'?
In a yard there (no. 32?) stood what Chester people and visitors affectionately referred to as the "Skelly 'orse", namely the skeleton of a horse. Many people visiting Chester in May for the race meeting would make a point of going to see it to bring them luck.
These premises were originally stables (possibly for Dutton's horses that made deliveries to the country houses?). Later they were converted to a garage area with petrol pump and workshop where Dutton's delivery vans were refuelled and serviced by my grandfather, Arch(ibald) Allman from about 1920. Living accomodation was also created- with a telephone!
My father Harold was born in the building in September 1921 to my grandmother Gladys. She had Skelly's tail removed, she told me, because a piece of bone fell into my father's pram when someone once rang the bell (you can just make out the bell on the photo).
I've just realised horses don't have tails do they? Not bony ones anyway. Here's to anecdotal evidence!
Later, in January 1926, my Aunty Joyce was also born there. It was also my grandmother who told me about people coming into the yard on their way to the races to see Skelly to bring them luck.
When the whole area of unsanitary cramped courts behind the Town Hall and market was demolished in the late 30s (most people being rehoused in Buddicome Park, now better known as The Lache) Dutton's moved their garages down to Crane Bank near the gasworks. The petrol tank was removed from the ground and Skelly's bones were thrown into the hole left behind.
As there has never been any further development on that particular spot- now a bus bay adjacent to the old City Mission- the bones must surely still be there. There is a little ghost story attached to Skelly too, but I'm keeping that back. Anyone wishing to hear it can join my Ghost Tour.
By the way, my grandparents didn't stay at Crane Bank very long. They were 'bombed out' as they put it in January 1941 when a bomb hit a couple of houses further up the road and caused structural damage to their home".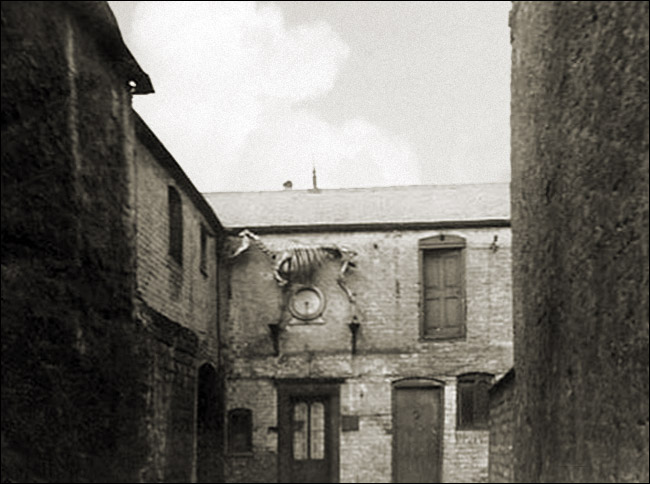 • A further curious yarn involving a dead horse, that of Euphrates and the Chester Leadworks, may be found here...


Old Pics of Liverpool & Chester | Old Maps and Aerial Views of Chester | Chester Virtual Stroll | Site Front Door
Chester Gallery | Site Index | B&W Picture Place | Contact us | Next Picture