25/1/04 To: the author of "A Virtual Stroll Around the Walls".
I have just spent some enjoyable time experiencing a "A Virtual Stroll around the Walls" of Chester.
Congratulations on some nicely presented, readable web pages. Unfortunately I'm located in Melbourne, Australia so I don't expect to be walking the streets of Chester in the immediate future! Your web site is the next best thing!
My interest is in Thomas Harrison and his contributions to the built environment which are well described in your excellent account of the
history of the city. I wonder if you can help me with some more background on his life and family?
Thanks again,
John Hargrave, Hoppers Crossing, Australia
6/2/04 Congratulations- What a wonderful site- The very highest commendation to all involved in the planning, production and content. Excellent.
Lindsay Bull (bessotted with Chester from a very young age)

4/3/04 Love your site having lived in Chester all my life (all 45 years) especially the old pics of the building of the Inner ring road though Newtown. I was a young child at the time, about 10 or 11, I remember it like yesterday seeing those old pictures, we used to play on the site after the workmen had gone home (in those innocent days contractors didn't have to fence everything off- like they do today) I can remember playing in a huge hole in ground which was to become the open subway by the bowling alley as it was then later a bingo hall.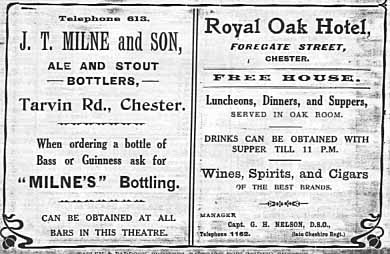 Also like the old pubs of Chester section. I remember quite a lot of them. I was going to write to you in February informing you of the closure of the Ermine but forgot!! (spent a lot of time drinking there in the Mid Eighties). I also hear that the Liver pub in Brook street is closing in the near future.
I also remember the New Inn corner of Church Street & Walter Street in Newtown, I lived as a young child opposite the New Inn, it is now flats. (Some where I have a picture of it, if I find I'll send it to you) I remember the Alma pub on St Anne's as well as Valerie Kerr & her brothers whose parents ran the pub, that picture you have off the young children standing near the Alma it was the last place standing they had demolished all the terraced house around it. Such memories!!!. I read Valerie's letter on your letters & emailed her she remembers some of what I said.
I also remember the Wine bar in Mercia Square, and the sweet kiosk (Like Jason wrote in March 2003) when you walked up the stairs to the upper level there was a restaurant? with a revolving door, to the right of this there were shops, I remember towards the right near the walls end there was a sort of toy/puzzle shop then you could walk straight on to the walls. On the top off these shops there were offices. I'm pretty sure that some where in my photograph archive I have a photo of Mercia square and surrounding areas. If I can find one I'll send it on to you, (I used to be a keen amateur photographer in the Eighties and have hundreds of pictures stored in boxes -- some are of Chester I'll have a route around see what I can find)
Noticed you have added two new pictures of old pubs The Mariners & The Durham Ox hope you can add more as you come across they it really improves the page.
Look forward to hearing from you keep up the good work.
Chris Jeffery
14/6/04 Dear BWPICS, Absolutely fantastic! As a resident of Chester, I have just got lost on your website re: Chester. Absolutely excellent, I shall enjoy exploring this and learning much much more about the historical richness and complexity that the City has to offer.
Jon Holland
18/7/04 As former Cestrians, my wife and I greatly enjoy your website - My wife lived in Newton, and I was raised in Seller Street. We now live in Fort Myers, FL.
Great site, keep up the good work.
Jeff Green
30/10/04 I am enjoying navigating around your professional web site. It seems to grow every time I look at it. It distracts me from my current mission.
You seemed to have a very accessible and extensive mine of information. I always recommend your site and the Victoria History site of Chester.
I am currently putting together a history of Mollington --People and Places (what started off as a History of our house)
Eric Lowe of Saughall reckons that our road, Townfield Lane was Roman in origin, thus we have a bigger history here than we have imagined including Mollington Torrent, Little Mollington and Mollington Hall.
We are just about to excavate the Birch Cullimore deed archives some covering Mollington in the 16th century. In your studies have you found any material that may be of interest to us locally but have not yet published?
It seems that Molington was particularly difficult to get to from Chester as the road was marshy if not boggy at Blacon Island and Port Pool and so I guess it was a backwater to the History of Chester.
If you have any material that may be of interest I would be glad to hear from you
I also run the Mollington Village's website and will also be changing its history content.
It's all very addictive,
Great stuff
Carl Stagg, Rose Farmhouse, Mollington
30/3/04 HI, MY DAD HAS TOLD ME A STORY OF WHEN HE WAS A YOUNG LAD HE AND SOME FRIENDS WOULD PLAY UNDER THE OLD DEE BRIDGE IN THE MUD AND WATER AT LOW TIDE. PEOPLE WALKING OVER THE BRIDGE WOULD OFTEN THROW PENNIES IN TO THE MUD AND WATCH THE CHILDREN RACE TO CATCH THEM.
HE AS ALSO TOLD ME THAT THE NEWSREEL OF THIS WAS SHOWN AT THE TATLER CINEMA. THE DATE IS IN BETWEEN 1940 TO 1945.WOULD IT BE POSSIBLE TO OBTAIN A VIDEO OR A STILL OF THIS.I HAVE ALSO BEEN TOLD THAT PICTURES TITLED THE MUD LARKS WERE IN A MAGAZINE CALLED THE DEESIDER.
I CAN'T FINED ANY INFO ON THIS.COULD YOU PLEASE HELP AND GIVE ME ANY INFORMATION ON HOW I CAN OBTAIN THESE PICTURES AND MAKE AN OLD MAN HAPPY! THANKS A LOT
DAVE HUNT. WROBINSON05@aol.com
24/11/04 I lived in Hoole before I married and we later moved to the US. We are moving back to the UK in a year or so. I could not remember were Sumpter's Pathway (Hoole) was untill you said but then I remembered I had a friend who lived in that area.
My parents had a house on Hewitt Street and my Grandparents lived on Charlotte Street, Chester. My Uncle drowned in the Canal one foggy night in 1937 he was riding his bike and must have got lost. Last time I was home I went to the library and looked up the article in the Cheshire Observer, he was only 19.
I am still researching the street that we use to take a short cut through from Charlotte St. into town. It would bring you out between City Road and what use to be Cantors Furniture Shop.
Last time I was home I was not very happy with the town centre they had made a really bad mess of it. I am not sure what they are thinking of doing next. From what I can gather from reading the newspapers they seem to be ruining the whole old world charm of Chester. I dont know who is in charge but they need to really think about what they are doing.
I have so many warm memories of how it use to be in Chester but now it seems to be just one big shopping centre without much character. I love your website and really enjoy reading the history even thought I lived in Chester for many years I never actually knew much about it.
We were going to come back to Chester to retire but I am having second thoughts about it the traffic is terrible but I do have many friends in and around the area so I shall have to think about it some more. I did notice the price of houses in Hoole has certainly shot up.
Thanks for replying by the way at the moment we live in Fremont New Hampshire USA.
Regards.
Avril LeBeau.
4/11/04 Hi, I just am searching and surfing the web, this rainy morning and I came into your site. Your information is great. It touches my heart to see and read what my ancestor did. Reading what he wrote let's me hear how he talked. Thank you. I pray you have a nice day. With kindness.
Are there any Speed graves or living Speeds in your area of Chester today? I sure would like for e-mails to come to my e-mail address or mailing address. God Speed
Mrs. Galilee Mills, P.O.Box 2296, Lewisburg, Tennessee 37091-1296 USA. galilee79@hotmail.com
25/2/05 Firstly, I must congratulate you on your marvellous website, in particular The Vanished Pubs of Chester. I am in need of a little pub information. A certain Mary Fildes, the famous orator and Chartist injured at the Peterloo Massacre in Manchester (16th August, 1819), and also grandmother of Sir Luke Fildes the Victorian portrait painter, apparently ran two taverns in Chester during the mid 1800s. One being the Shrewsbury Arms in Frodsham Street, but this has since disappeared or has been renamed. The other tavern... I have no idea at all. I would like to know, if possible, where the Shrewsbury Arms was situated in Frodsham Street. The period she ran the taverns and if possible the name of the other tavern also. (Any ideas, dear readers? Email Paul directly- and we'd like to know more too.)
Once again thanks for your marvelous website, there's not a day that goes by, I don't have a butcher's...
Yours sincerely,
Paul Parry paul.parry@tele2.fr
29/3/05 Hello, I'd just like to congratulate you on being the owner and author of the most wonderful site about Chester which I have encountered. It's bursting with information, images and enthusiasm and is incredibly detailed - fascinating and very useful!
I am a Chester resident myself- in Newton- and have long had an abiding affection for the city. Almost all my holidays have been (voluntarily!) taken within the UK and yet I always return to Chester. Your website reminds me why. It is a valuable resource - I've seen many Chester sites but none have come close.
Congratulations - I will watch the progress of your site with interest! Regards,
Kate Fletcher
2/4/05 Hi, I think your web site should be rewarded with the highest possible award. It is one the best informative sites I have seen.
I used to live at Thornton Green (six miles outside Chester) when I was young and spent many years digging at Chester. Now I live in Melbourne, Australia and your site brings back lots of happy memories.... Thanks
Tom Orrock
2/8/05 Hi, I came across your site whilst researching my family history. My Great Grand parents were married in St Johns. Sorry I do not have any photos. As photos only started in about 1835 I guess they would have been too expensive for a joiner.
They lived in Foregate and Francis Streets and married on 4th November 1865. I know she died in Beddgelert giving birth to a daughter in 1866.
What a brilliant collection you have put together. A role model of a good web site. Many thanks,
John Williams, Haywards Heath
7/8/05 Hello, I stumbled across your site when looking for something else and I have spent the last two hours revisiting old haunts of when I lived in Chester. I was born there in 1948 and left in the sixties. I have visited several times since but not studied any of the history since schoolday. So many of the stories were brought back through the gunnels of time and memory. My schooldays weren't the happiest of my life; it is only now, looking back, that I value the walking history lessons around the city walls both with school and with my father who loved the city. How lucky was I to grow up in such an interesting place?
In the late sixties, I lived in Christleton Road and worked in Abbey Square for the Diocesan Board of Finance (very stuffy). At night I worked in a pub in Bridge Street. I think it was the Kings Head but can't really remember (life was such a blur in the sixties). I also had a part time job in the Classic Cinema - arty films seemed to be their forte and I continued my education there...
Thank you so much for such a brilliant site on the city I left so long ago but which has always held a fond place in my heart.
Best wishes,
Alana Smith
12/8/05 Hi Steve, this is one of the best sites I have EVER visited. I am an Cestrian (being born and bred in Cedar Grove, Hoole, I'm sure you know it! ) and proud of it despite having lived in the south of England for nearly 30 years.
My family history always seems to mention Henry Gee, and through your website I have found that he was a Mayor of Chester and one of the founding fathers of the Chester Races....wow. I do not know if this geneacalogical connection is true...yet!
I am also a photographer (which is how I came across your excellent site) and I am impressed with the feeling you have created of the nature of Chester.
I love visiting this site to learn even more about a city I thought I knew a lot about!!
Best regards,
Steve Healy
24/8/05 I just found your magnificent website of chester! beautiful! THANK YOU!
Sincerely,
Martin Wilkins
12/8/05 Dear Sirs, I just thought I ought to write a short note to say thank you for your website. Brilliant content!
We moved to Cheshire a few years ago but hadn't (amazingly) explored Chester much until I happened upon your site whilst browsing the web looking for local history pertaining to the English Civil War. I have 4 young boys so your site has helped me no end in making up treasure hunts!!
Regards,
Tim Hopper
6/9/05 Fantastic website with loads of information, almost to much to take in at any one go!
Steve Carr
18/9/05 Can you tell me exactly why the walls were built? Listening to the radio the other day over here in Western Australia a guy said the Romans built the Walls to protect their cheese - surely this isn't true.
Would love your comments.
J. Bebbington
Hahaha. Thanks for that Joan, haven't laughed so much for ages.
10/10/05 "I'm so happy I've found your website. I spent a wonderful 10 months at Chester College 20 years ago (Sept '84-June '85). I've often referred to it as the "best year of my life". I was an American exchage/transfer student from the State University of New York College at Plattsburgh. I made lifelong friends (more than my other 5 years total at my American colleges). I returned to Chester for two return visits (when I was still young and single) in 1991 and 1993. Now that I'm married and with two young children (and it'll be a while before I can just pop over for a visit- maybe when the little ones are older), once in a while I look for info on good old Chester. Your website is by far the best (and better than any local website I've found here in the States on any town or city). I particularly enjoy reading about Chester's old pubs- spent many a nights enjoying them- and tours of the walls.
Your newest fan-
Bill Brady, White Plains, NY

5/3/06 To all concerned with The B&W Picture Place,
My very sincere congratulations on the development and presentation of your fantastically outstanding web site. For the last four hours, tears have stung my eyes at the sight of old familiar places that rekindled half forgotten emotions and memories both sad and happy. I have felt anger too at the vandalism of the developers, aided and abetted by councillors apparently, that have destroyed forever irreplaceable history in the name of progress and the accumulation of wealth. But I mustn't get political; I really just wish to thank you for a most memorable afternoon, a time that I will no doubt repeat again and again in the future. My father James Rimmer worked in the laboratory at the lead works for 39 years. Two of my uncles, Charles Sinnett and George Ellis also for slightly shorter periods, walked the yard along the canal. At about twelve years of age I climbed the shot tower with my Dad to take in the view of the Old City, well worth the tiring ascent that I will never forget.
It has been thirty seven years since I said goodbye to Blighty, looking back from thirty thousand feet over the English Channel, and strangely since Christmas I have been tentatively formulating plans to return for a short holiday later this year. Deciding on doing a little research I logged onto Chester City Council and I discovered your truly great web site. Thank you.
Sincerely,
Allan J Rimmer, Woori Yallock, Victoria, Australia
18/3/06 Hi there Steve, This just to let you know (as if you didn't already know!) that this is the most informative site of any I have come across on the web. The amount of knowledge and research available here in one hit is beyond believe. As an ex-Cestrian and 'Hooligan' (my home street - Cedar Grove) this site makes me want to return home every time I access it.
I thought I knew my home town reasonably well, but you have opened up my eyes to whole new aspects that I didn't know existed.
Well done and keep up the good work.
Best regards,
Steve Healy
18/5/06 Hello there, I have been looking at your very excellent Chester site from my PC in Perth, Western Australia. As Chester is my city of birth and childhood I have a nostalgic interest in all things Cestarian(!)
I have mixed memories of my very first school-St Werburgh's primary which I attended from 1963 to about 1966/7. The building was a Dickensian looking edifice, made from the local redish sandstone with a wall surrounding it topped off with broken glass to deter after-hours visitations. I believe the site is now a large Tesco's. From vague memory the school was situated not far from the Chester canal in the heart of the city.
I also attended Saint Anselm's Catholic in Handbridge, located over the River Dee; I recall walking over the Chester bridge and admiring the Weir.
I was wondering if any photographs exist online of these two areas of Chester?
My family emigrated to Perth, Western Australia in August 1970, I was 12 years old. I came back to the UK in 1999 and worked in the Leicester area for 9 months-managing to fit in a brief visit to Chester.
Thanks again for the wonderful pictures of my old Home-Town.
Cheers,
Michael Gorman
4/6/06 Hi There! As an ex-resident of Chester, only moved a few miles up the road to Neston, I recently discovered your excellent site & have wiled away many hours surfing through it.
Keep up the good work !
Alan Speed
24/9/06 Hello, I was delighted to find your wonderful and very informative website, whilst doing a bit of genealogy of my own.
We have sadly been exiled from Chester since 1991, when we were relocated first to Sheffield and latterly to Hampshire. Both my husband and myself lived in Chester since the early 1960s and watched some of the extraordinary changes that took place over the years. We still have family in Chester though, and come back as often as we can manage. He was there last week, on a round-about trip, taking our son back to Liverpool University.
We both started our working lives in Dee Bridge House (Lower Bridge Street) and frequented the hostelries around the area. The Bear & Billett had recently been re-opened (1977/78) after extensive renovations. The Falcon was still being propped up! And our company used to put temporary staff up in The Old Kings Head. I am glad to see that the Customs House is still there, as we did much of our courting there (blushes!)
It was interesting to read about The King's Arms Kitchen, as I was working in Midland Bank when the conversion work was going on, and the 'secret' room was rediscovered. It was also fun to remember Mercia Square - somewhere I'd forgotten about- Pierre Griffs was as favourite venue for bank do's!
Anyway - I think I have probably bored you enough, congratulations on the site- I will keep popping back to check on updates.
Melanie & James Nicholson