The Black & White Picture Place
Old Photographs & Drawings of Chester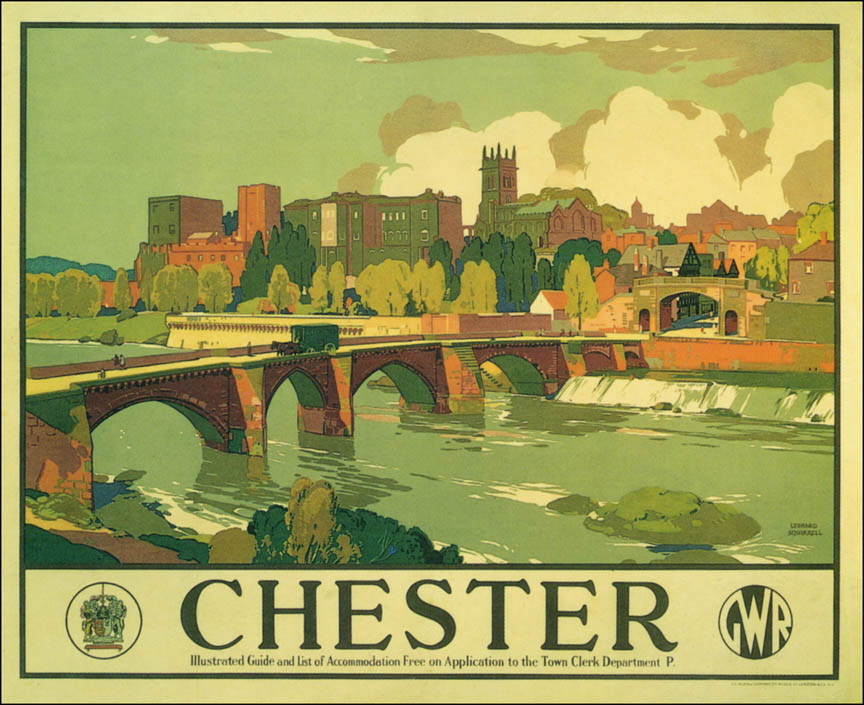 Leonard Squirrel: Great Western Railway poster 1938
This evocative illustration from the last year of peace in Europe clearly shows several of Chester's notable landmarks- on the far left rises the bulk of Chester Castle: on the left is part of Thomas Harrison's rebuild of 1785-1822 and on the right is a survivor of the great medieval castle, the three-storey red sandstone tower of c.1200, curiously named Agricola's Tower.

In the centre is the 12th C church of St. Mary-Within-the-Walls, to the right of which is the Bridgegate.

Dominating the scene is the magnificent sandstone bridge crossing the river. This is the venerable Old Dee Bridge, comprising seven unequal arches and built- much as we see it today- about the year 1387 on the site of a succession of earlier wooden bridges and a pre-Roman fording place. Note the horse-drawn van crossing the bridge.

Remarkably, the scene looks pretty much the same today- traffic aside- with one notable exception. In the very year this poster was issued, 1938, work started on Cheshire County Council's new headquarters building, County Hall, which eventually (it was not completed until 1957) came to dominate the tree-covered area in the centre of the picture. The building was acquired by Chester University in 2009.
A couple more fine views of the Old Dee Bridge may be seen here.

Learn more about this fascinating corner of our city in the Bridgegate and River Dee chapters of our Chester Virtual Stroll...


Old Pics of Liverpool & Chester | Old Maps and Aerial Views of Chester | Chester Virtual Stroll
Site Front Door | Site Index | B&W Picture Place | Chester Gallery | Contact us | Next Picture