The Mercia Square shopping development was built in 1970 and demolished a mere twenty years later, in 1990. The businesses based there included Simon Boyd curtains / furnishings, the popular Duke's and Pierre Griffe's wine bars, Duttons Undertakers, Consumer Advice Centre, Zig Zag, Cameo, Francois Phillippe and Raymond Jason hairdressers, LG Travel, Scottish Woollen Mill, Video Vault, Army & Navy Stores, Whispers / Deja Vu, Chester Sound Studios Hi-fi Shop, Hodgson Impey, Tartan Shop, Granada TV rentals, Sayers, Pumphouse, and the AA and MD Travel glass hexagons.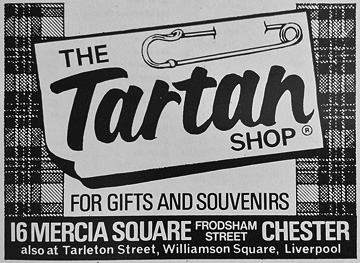 Reader Andy Wressel wrote to tell us about his memories of the place as it used to be:

"I remember the bar / restaurant on the upper level of Mercia Square called Duke's Wine Bar. When you entered through the glass door you found yourself in a dark room with an L-shaped bar straight in front of you. Its restaurant was to the left of the entrance and I seem to remember wagon wheels were the theme here decorating the walls.
Next to Duke's, with an adjoining internal door, was a bar called The Pump Room. I also recall this bar had a revolving door leading from the square. The decor here was old wooden barrels used as tables.
Also on Mercia Square was the wine bar Pierre Griff's, with its 'P.Gs' motif in the window with what could only be described as a drunken cherub straddling a barrel. Inside, wine bottle candleholders covered with an unbelievable amount of melted wax were the centrepiece of each table. This wine bar must have been responsible for introducing many a young Cestrian to the pleasures of wine drinking as beers and spirits were not served here.


Mercia Square was always alive with a happy atmosphere; laughter echoed as many drinkers would spill out from the bars to enjoy the summer night air. Friends would use the square as a meeting point and inadvertently spend the rest of the evening there, lost in time".
This entire area, hard by the Cathedral and Eastgate Clock, and thus frequented by more visitors than probably any other part of the walls, was shamefully allowed to remain derelict for a remarkable number of years after the precinct was demolished, the land changing hands a number of times as the speculator's game ran its course. In time, various development proposals came to light, whose merits- or otherwise- were debated in the local press. Here was a golden opportunity, people said, to produce something worthy of the site's prominent position in a historic city centre. But it wasnot to be: the third-rate prevailed yet again and the result lies before us now, a collection of exceedingly mundane structures with their backs turned to the walls, exhibiting a variety of refuse bins, discarded packaging and shabby advertising banners.