Overleigh Cemetery
Introduction

A Virtual Stroll Around the Walls of Chester


Some Notable Memorials in the Overleigh Cemetery
Henry Raikes (1782–1854) has one of the most extravagant tombs in the Overleigh Cemetery, featuring a full-size prone statue of the occupant protected by an ornate stone canopy. It is located in the oldest part of the cemetery on the edge of a steep drop down to the River Dee and was erected here within just a few years of it's opening. Today, it is extensively- and picturesquely- overgrown by ivy.

Vicar Henry Raikes was Chancellor of the diocese of Chester. He was the son of Thomas Raikes, a London banker and merchant, and Charlotte Finch, daughter of Henry Finch, Earl of Winchelsea.

One of his three brothers was Thomas Raikes (the younger) (1777-1848), a London banker and merchant who later became a famous diarist and a dandy traveller on the Continent, mostly in France. One of his five sisters, Georgina Raikes, married Admiral Lord William FitzRoy (1782-1857) on 9 August 1816.

Henry Raikes was the grandfather of Henry Cecil Raikes (1838-1891), a British Conservative politician and one of the earliest British politicians to have had their voice recorded. George Edward Gouraud recorded him on behalf of Thomas Edison on the evening of 5 October 1888.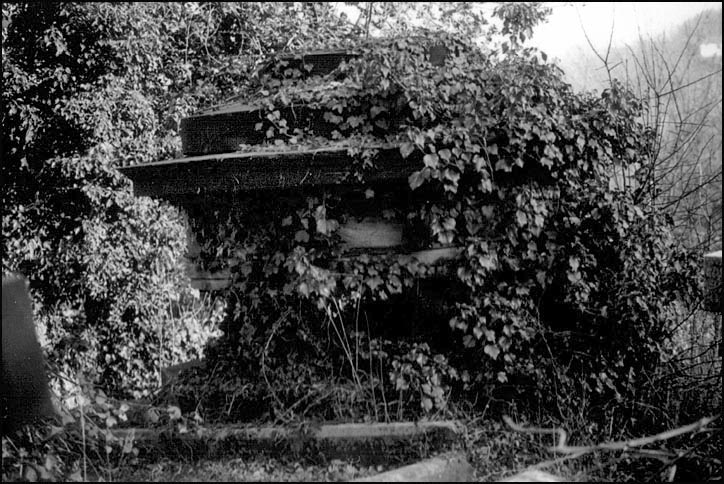 Next to the Raikes tomb stands this massive circular memorial. When the author took this photograph about 20 years ago, the tomb was fairly accessable but today it is completely hidden by heavy undergrowth. This is the shamefully-neglected grave of another of Chester's great men, the architect Joseph Turner. He was the designer of the Watergate, the Bridgegate, 'Pill-Box Terrace', the fine row of Georgian houses in Nicolas Street and the Bridge of Sighs crossing the canal, formerly linking the infamous Northgate Gaol with the Bluecoat Chapel in Northgate Street.

Grosvenor Bridge & Overleigh Cemetery | Cemetery Gallery Introduction | Overleigh Gallery 2
Top of Page | Site Index | Site Front Door | Chester Stroll Introduction