On September 11th 2002, Cheshire County Councillors voted against financing the £18m busway!
Members of the Environment Advisory Committee voted by eight to five against funding the scheme after acute concerns over the reliability of financial and passenger usage projections. Councillors were unwilling to gamble with the risk of escalating costs and felt other demands on Social Services and Education should take priority.
Amazing. More details are in the official press releases here. Predictably, however, the decision caused outrage among the pro-busway brigade, including many City and County councillors, the so-called 'business community'- and- consequently- the Chester Chronicle. Here was their editorial two days after on 13th September 2002: (the italics are ours)...

"Tories in charge at County Hall have rejected a much-needed congestion easing scheme, paving the way for their own abolition in due course. The decision not to fund Chester's CDTS busway flies in the face of opposition from Government, their own Conservative colleagues at the Town Hall, business leaders and the silent majority who recognise something must be done to alleviate the gridlock. If county councillors based in the east of the county won't support an environmentally-friendly scheme because it is not politically advantageous then perhaps it is time to say goodbye. Government ministers, who promised generous funding for CDTS after an inspector decided it was a good scheme, have been given the two-fingered salute by Cheshire. In the harsh world of politics that could mean we get a poorer financial deal in future across a whole range of areas. It would be nice to think that one day major decisions affecting local people can be made by local political representatives. In any event it doesn't look good for the authority's long terrn survival. The Tories mischievously justify their decision with reference to me vocal anti-CDTS lobby. And there's no doubt the project has proved controversial among a small minority of people whose homes back onto the proposed bus route. (and the writers, by the way, of these hundreds of letters stretching, to date, over 15 pages) But we need to look at the bigger picture. The prosperity and happiness of Chester families depends on a sound economy, lubricated by an effficient transport system. Given we depend so much on the success of shopping and tourism we have to remain competitive against fierce rivalry from Cheshire Oaks, Broughton Shopping Park and Manchester's Trafford Centre. Proponents of CDTS say the fight will go on and in politics little is ever certain.
The Chronicle remains committed to the project and is proud to line up with those who say: 'Busway, yes way!'"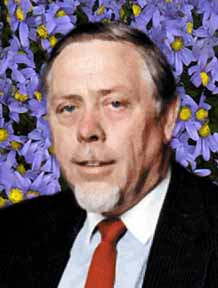 And we thought standards in the busway debate couldn't sink any lower (mind you, we haven't got to Councillor Price's rant yet- see below). And here's what rabidly pro-busway Lib Dem councillor Sue Proctor thinks of it...
But then, a mere two weeks or so after these words were published, the editor of the Chester Chronicle, Paul Chamberlain, was no longer in the job. Exactly why we\'re not for the moment sure...
And, from 'A View from the Town Hall'- an occasional column in the Chester Evening Leader (what are they thinking?) penned by City Council Leader, John Price, 19th September 2002:

"The lack of vision, understanding and courage displayed by a handful of councillors at County Hall last week threatens to scupper the single biggest attempt to bring a clean, quiet and efficient solution to our mounting transport problems and condemns residents and visitors to years of unnecessary congestion and pollution.
Thirteen years in the planning, the Chester and Deeside Transport System along the disused Mickle Trafford-Shotton railway line offers a walLway, cycle route and a guided Busway from Hoole into the city.
It offers a green, 21st century approach adopted in forward thinking places such as Germany and Holland, and progressive English cities like Leeds.
But councillors whose power base lies elsewhere in the county, want to abandon Chester in order to pursue multi-million pound schemes in their own patch.
It s a slap in the face for our businesses and the local economy.
It's a slap in the face for the Government, which has approved the project and will pay half the costs.
It's a slap in the face to the local plan inspector, whose recent report into our future development backs the need for the route.
And it's slap in the face to thousands of comrmuters and residents desperate for their elected representatives to show some leadership.
We are all aware of the vociferous local minority opposed to the Busway. But. if they'd had their way the railway line would still be a bramble ridden eyesore.

(which is why, of course, we've been fighting to defend the wonderful, well-maintained cycleway and footpath- part of the National Cycle Network- that's existed there for some time now?)

We've already built the very popular cycleway and walkway. (we??) The line was built for steam trains to cater for all the people of Chester. I believe the silent So come on, silent majority. We- those of us who aren't councillors or 'business leaders'- can't hear you! This website looks forward to publishing your floods of letters of support of the views of the good Councillor Price. Who had bugger all to do with building the cycleway, incidentally. Letters in support of CDTS are here.
Now skip forward a couple of months to 14th November 2002 to read a further episode of Cllr Price's 'View from the Town Hall'- a particularly nasty personal attack upon the reputuation and work of a respected elected representative from over the Welsh border here...
13/9/02 Hello Steve, I stumbled upon your site by accident and was shocked to see the impact the proposed CDTS will have. It seems to me obvious that it is a complete waste of money and a friend to none.
When do they propose to start work on this thing? Is it too late to object?
I am utterly opposed to its development and would like to register my support for the Anti-CDTS campaign. Do you have any names of people who I could write to?

Contact Secretary Audrey Hodgkinson: 01244 343055 (day) 343102 or 320207 (evenings). Send donations to the fighting fund to treasurer Graham Bromley, 30 Knowsley Rd, Hoole, Chester

I note that councillors John Price and David Robinson are particularly irritating supporters of the scheme. I don't see the retailers wanting to put their hands in their pockets to pay for it. It seems to me that their view that Chester will become gridlocked and the economy will shrivel up and die if the scheme does not progress is completly irrational.
This morning I have read with horror the Chronicle's far from balanced review of the latest twist in the CDTS saga. I find it quite unbelievable that they publish such a slanted view of the subject. Yesterdays coverage in the Standard was quite a lot better.
Kieran Skinner

16/9/02 We would like to thank the Evening Leader for supporting the public on the CDTS (Chester-Deeside Transport System) issue.
The Leader reported fairly and gave a fair chance to the public to air their views on the plans to convert the footpath and cycleway into a guided bus route.
We held a 'Take to the Track' event on Friday night where about 400 adults and children met to give support despite that many thought it would be cancelled since hearing the decision on Wednesday and at 6p.m many were unable to attend.
Cllr Ebo was spotted representing his constituents as usual, the crowd cheered and thanked him.
Catherine Green and I spoke for a few minutes then aome of us walked towards Newton Bridge for a photo opportunity (by Steve Howe) though many had to return home or carry on to work straight after the talk.
The mood was buoyant and determined. We collected more members (now over 2,000) and further donations from existing members to help us finance the continuation of the campaign. I have received many calls from members and request you make cheques payable to Anti-CDTS fighting funds, address G. Bromley, (chair) 30 Knowlsey Rd, Hoole, Chester.
We take the opportunity of thanking SUSTRANS, it is much appreciated that the walk/cycleway is maintained from your own funds. Many of our members say they will join Sustrans once the tranquil cycle/walkway is assured.
The website on which you can find more information on the campaign can be found at www.bwpics.co.uk/railstroll/railindex.html
Audrey Hodgkinson, Secretary, Anti-CDTS Campaign Groups, Chester.
18/9/02 The knee-jerk reactions of certain councillors to the unfavourable CDTS decision unfortunately comes as no surprise. Whilst I am not suggesting that local councilors should be delegated by their electorates they are obliged to listen to and take account of the views of their constituents.The arrogant "we know best" tenor of some of the reports printed in last week's paper seerns to indicate an unwillingness to listen.
Shopping and workplace patterns have changed since tyhe plan was proposed in the late eighties and there has been a significant increase in the proportion of residential property within walking distance of the city centre. There have been the usual references to alleged support from local people. If the number of "ordinary" people (ie non-Councillors and non-officials) writing to the press over the past seven years has reached double figures, then that is the measure of it. Compare this with the thousands of local residents who have objected to the scheme during the Enquiry in Public, the 1ocal Planning Inquiry, the TWA inquiry, by letter to the County Council Leader, at public meetings held in local schools and church halls and during local elections.
For anyone to imply that objections are only coming from a few "NlMBYs" is to insult the electorate and is a wilful misrepresentation of the true position.
As recently as last Friday, some 300 people turned out on the track to endorse its continuance as a greenway only.
There was also the usual suggestion that the town will face traffic chaos as the result of non implementation of CDTS.
A common theme and criticism by the inspectors during all the inquiries was around the lack of detail about comphmentary measures and parking policy. It was freely acknowledged that without these policies CDTS could not possibly alleviate traffic congestion and yet detailed proposals were never advanced (and nor were the costs of any such scheme included in the CDTS costings).
Finally, I was not surprised to see the latest escalation in costs to £17million for Phase 1. The estimate was £10 million in January I999 and then £10.9 million nine months later.
This justifies the County Council's scepticism about the viability of the scheme and the likelihood of costs escalating once construction was started.
The track in its current form can help to alleviate Chester's traffic an congestion problems.
It should be vested to Sustrans that they can properly landscape it and provide long term certainty for its future.
Then the Council, in co-operation with local people, should actively promote awareness of the track to stimulate use, particularly during th rush hours and "school run" as a alternative to cars.
Nic Siddle, 17 Sandileigh, Hoole, Chester.

19/9/02 IF any city or county councillor is looking for someone to blame over last week's CDTS decision then they need look no further than themselves and especially those in my ward, both before and after reorganisation.
It was, and it appears still is, their continuing arrogance in attempting to minimise and rubbish any opposition to this scheme that made me and many otlters step out of the ranks of the apathetic electorate and make a stand.
A common belief among those I spoke to was that we as individuals could do little to influence matters and that public consultations were a sham. Well, that's as maybe but the people do have power as lortg as they don't give up!
The battle is not yet won so keep banging the drum, buttonholing your local counctllors and keep wrifing the letters when the need arises.
Graeme Lyall, 47 Oaklea Avenue Hoole


19/9/02 There was a large turnout for the walk along the route of the proposed CDTS last Friday. I am pleased that there is now a chance that realistic discussion might take place as to its future. This green corridor is an excellent recreation faciiity for that part of Chester as is the Caldy Valley Park for the southern part. The residents interested in both green corridors and similar areas should form a joint discussion group to share information and give mutual support.
There are other transport issues which could be discussed more fully; especially the greater utilisation of the existing railway infrastructure, with a smartened-up Chester Station and a rail link to the Business Park off the Chester to Wrexham line.
Peter V Moore Dutton, Tushingham Hall Malpas

19/9/02 I am an octogenarian and a frequent visitor to Chester, disabled by prostate cancer and unable to walk very far. One of my pleasures has been the opportunity to be dropped off on the proposed busway route and to walk into town and walk the way back. There must be others like me who would be reluctant to walk along the route if we had buses rushing past us every few minutes.
I hope that the city council will realise this in the implications if its policies if it decides to go tbrough with the plan. It will deprive many of fresh air and will burden the council taxpayers for years to come.
Sidney Hill, Whitton Drive Chester

19/9/02 We thank the Chester and District Standard for supporting the public on the busway issue by reporting fairly and giving a people the chance to air their views.
We held a 'Take to the Track' event on Friday when about 400 adults plus children met to give support despite the fact that many thought it would be cancelled after hearing the county council decision on Wednesday. Cllr Ebo was spotted representing his constituents as usual and the crowd cheered and thanked him.
Catherine Green and I spoke for a few minutes then some of us walked towards Newton Bridge for a photo opportunity (by Steve Howe), though many had to return home or carry on to work straight after the talk. The mood was buoyant but determined. We collected more members (now over 2,000) and further donations from existing members to help us finance the continuation of the campaign.
We take the opportunity of thanking SUSTRANS, it is much appreciated that the walk/cycleway is maintained from your own funds. Many of our members say they will join once the tranquil cycle/walkway is assured.
The website on which you can find mote information on this campaign and cycle/walkway is www.bwpics.co.uk/railstroll/railindex.html
Audrey Hodgkinson, Secretary ANTI-CDTS Campaign Groups
A version of the above letter was also sent to the Chester Evening Leader, similarly thanking them for their unbiased reporting of the issues over the years.

19/9/02 The county council's refusal to fund the Mickle Trafford/Shotton busway plan must be some of the best news of the year to the thousands who enjoy Chester's finest new recreational amenity - its cycle/walkway footpath.
This over-hyped, gold painted busway illusion was flawed from the beginning - a fact soon recognised by the more perceptive who did not need a public inquiry or consultant advice to virtually confirm it. Even so, their support was tnvial in the extreme and its contribution to.any form of alleviating tramc problems, negligible. Sadly, there are still some councillors and (predictably) a section of locil Press who continue to proclaim Chester's imminent economic demise unless it is built. What arrant nonsense and clearly not acceptable to logical thought.
This is a transparently classical piece of political spin-doctoring not worthy of today's Chester With such an overwhelming rejection on ill fronts, and to stop wasting council time and money the honourable thing to do would be for them to formally withdraw the proposal - but such a civilised and democratic response seems to be missing here- or is it?
M.H.O. Hoddinott 19, Dicksons Dnve Chester

19/9/02 Make the buses free in Chester- for Chester residents (with a card). Surely this would ease congestion and increase usage of the Park & Ride, get the trafffic off Hoole Road and others.
Have a nominal charge for the Residents' Card, or put Ip on the rates. Councillors can sort out the finances between themselves. Just try looking at the traffic problems from a different angle. Don't spend millions on concrete and covering up green spaces with CDTS.
Put on more buses, improve the service (reliability), separate out bicycles from vehicles - cyclists are at risk - if it were safer more people would cycle.
Jenny Szczyglowska, Chester
20/9/02 Having read the articles in the September 12 edition of the Leader regarding the CDTS project, I have four questions I would welcome an answer to.
1. How does less than 3 per cent equal 'substantial'? Cllr Molly Hale is quoted as saying that the busway has the "potential to substantially relieve Chester's traffic congestion."
My understanding is that the busway is expected to reduce traffic on Hoole Road by less than 3 per cent. This was what was reported to the Public Enquiry. Taken over Chester's FIVE main access routes that is less than 0.6 per cent of the total traffic volume entering Chester How is that substantial?
2. The lp extra on Council Tax bills referred to in Mike Summer's article- quoted by Cllr David Robinson- is this lp for the capital borrowing cost? And over how many years is this? Or is it lp for the upkeep / subsidy / maintenance that will be ongoing, or has this not been calculated?
3. Cllr Robinson in this article is also quoted as saying "that the proposed park and ride provides an existing alternative to car use."
One of us seems to have a fundamental misunderstanding of the concept of park and ride. I really cannot see how one can 'park' and 'ride' without using a car- especially when the proposed car park is situated at the end of a motorway where cyclists, pedestrians and horse riders are banned and there are no stopping bus services.
I don't see how this equates to an exciting 'alternative' to car use. Could someone please enlighten me?
4. The Chamber of Commerce seem very keen on the park and ride. Will they still be keen when the loop hole in Green Belt protection, created by a greenfield site having a car park on it, is exploited by developers and another rash of out of town sheds (sorry, shops) like those that have sprouted around the Boughton Heath park and ride, appears. Will the Chamber of Commerce still support the busway then? I think not.
Diana Wilderspin-Jones, Elmwood Avenue, Hoole, Chester.

20/9/02 The anti-CDTS Campaign welcomes the decision of County Council not to fund the proposed guided busway.
We believe the committee came to the only logical conclusion it could, given the report from the officers themselves. The campaign groups are grateful to all members and many others for their help so far. A final decision has yet to be made since it is open to the city council to take up the project on its own responsibility.
However, as far back as 1997, Government inspectors examining the County Structure Plan Cheshire 2001 expressed concern at the rapidly escalating costs of CDTS and laid the responsibility on the county council to examine the final costs and assess whether or not the scheme did indeet represent value for money.
In making its decision the county council had before it this report of its own director of the environment and the latest estimates of the capital costs.
At the busway inquiry the cost was estimated to be about £11m. A more recent estimate put ths figute at £13m. The report gave the latest estimate to be £17m.
The report contained two statements of 'caution' which deserve to be read verbatim. On page 19 of the directors report to the environment advisory committee, paragraph 30 and 31, the county treasurer cautions:
"30. Two words of caution need to be interjected at this point. The economic and financial cases for the project rely heavily on the patronage projections made for the original public inquiry and the re-evaluation in the current review. These patronage projections have been produced with the help of consultants who are pre-eminent in their field, but they remain projections and not certainty."
"31. Secondly, capital costs for major construction projects have a habit of rising alarmingly after the first sod has been cut'. Again, the cost estimates have been scrutinised using all available data and ground information, but they remain estimates and not certainty".
It is in this light of clear evidence of escalating costs and serious cautions of the county's own officials that the county council's decision not to proceed with the project must be judged.
With uncertainties about the level of patronage, how effective the scheme would be, and uncertainties about the final capital costs, how could any assessment of value for money be made?
The county council had no option but to act prudently as the one responsible for spending local taxpayer's money and reject the scheme.
It is hoped a review of Chester's transport policies will now take place, producing a more balanced approach in which Park-and-Ride is enhanced by better provision of local urban and rural bus services and improved rail services.
Audrey Hodgkinson


20/9/02 I have worked and lived in or around Chester for many years, most recently in Brook Lane, before retiring and moving away.
I am delighted to read that the busway project has been rejected by a majority of members of the local council.
My first glimpse of the scale model of the proposed scheme for the disused railway line was at the Cheshire Show several years ago. The model depicted a walkway/cycleway/bridleway with gates and barriers at intervals to stop motorbike riding.
This plan was well received by many people in the Chester area. including myself.
Somewhere along the way a busway crept in, which appeared to happen overnight in an underhand way. This defeat of the project (which no free thinking person seems to want) is a victory for the majority of people of Chester.
I frequently use the cycleway from Connah's Quay into Chester along with many others. The route has grown into one of the few areas of Cheshire where people can cycle without traffic; it is wonderful.
Could I suggest that should the council have money to spare, they use it on cleaning up and repairing the streets of Chester and surrounding areas, which seem to deteriorate more each time we visit.
This is not a good example of Chester for visitors who would supposedly have benefited from the busway, funded by the people of Chester.
A Mold resident

20/9/02 The Chronicle may write in its commentary 'Busway, yes way!' and it may disparage and underestimate the strength of opposition from people who live on the south side of the city of Chester.
I am not a member of the lobby against the concrete bus route but I am well informed by people in Waverton who are against the plan and I am aware that our local Conservative county councillor voted against the plan.
He told me, 'Everywhere I go, each door I have knocked on has someone behind it waiting to tell me they are against the scheme'.
The Chronicle and Cllr Derek Bateman also backed the trams for Chester campaign and the fulsome praise landed on that scheme ended in fundraising and sinking without trace.
The Chronicle further ascribes the opposition to the CDTS to 'a small minority of people whose homes back on to the proposed bus route'. This is far from being the case and when I return from vacation I am prepared to give your transport correspondent an overview of opinions given to me.
Old Wavertonian

21/9/02 As a campaign group we felt it our responsibility to behave in a dignified and reasonable manner. We have done our best to calm people and reassure them positive results would be better obtained through the pen or keyboard rather than huge crowds shouting, and threatening, or mass boycotts, though the latter is still an option. We found occasional small demonstrations attracted more attention. Whilst it was tempting to use electoral ploys at the last local elections the committee felt it would only lead to further decline in the already near floor level respect in all things political in Chester. That they do what their party wants not what the electorate and logic tells them is the view of many so called 'apathetic' people, who actually would vote if they felt there were a choice. At least some councillors have had the courage of their convictions and since so much more information has come to light more are bound to do likewise.
Since the decision by the Environmental Executive of Cheshire County Council, esteem for the Conservative and Independent councillor has rocketed in a spectacular manner. That these councillors considered both local taxpayers and their quality of life, that they also acknowledged the record number of letters sent, suggesting CDTS busway project be cut from council spending is a novel experience. They now rank along side the councillors known to speak out against CDTS busway project. This can only be a good thing for public relations and politics. It would be really something if Cheshire became the place where most people wanted to vote and felt able to do so with newly found confidence. Who knows councillors may get an award for that, now that would be prestigious.
Without doubt the logical conclusion of the Executive has lifted the dark cloud hanging over the political scene in Chester. Let us hope it continues to lift.

We have received so many calls from supporters of Anti-CDTS I hope the Standard, the free weekly paper most people turn to, will print my letter giving more details about the campaign.
Membership forms can be obtained by writing to G.Bromley, 30 Knowsley Rd., Chester or by ringing 01244/343055 (day) 343102 or 320207 (evening) There is a small joining fee but we hope you will donate a little more to help with expenses. Could we remind members wishing to donate further- cheques should be made payable to 'ANTI-CDTS fighting fund'. We now suggest members write to their councillors.
As a campaign group we are at liberty to be speak bluntly. Some have no option but to keep silent, bound by small print. This is sad but a fact we must all take into consideration.
We are currently seeking a little help maintaining the Chester part of SUSTRANS. They are now putting men on the route for 3 days a week instead of two but can't be everywhere at once. We have volunteers to clear glass in their small area, could we organise a group? We have a kind chap who has taken on the task of knocking back the nettles growing over the access from Kingsway to save youngsters having painful stings on their faces. This section, incidentally, is under council responsibility. We are sure members use poop scoops and hope others will do so from now on. Sustrans wish to continue the walk/cycle on the original route plan to give children attending St. James a safer way to school.
It is kinder not to mention the name of the councillor who keeps chanting- "this route would not be maintained unless a 2 lane concrete busway were built"... I am sure, it has been pointed out, by those with more knowledge about this cycleway, that it is part of the Millennium National Cycle Route, and her remarks are not accurate.

Long-established bakers Weinholts (not pronounced the German way) Watergate St, closing is a blow to many that appreciated the friendly and peaceful atmosphere so much, including Ralph and me. It was more like a comfy club. Many customers were so upset they cried upon hearing the sad news.
I can't help wondering if the colossal 'car parking levy' Weinholts would have been forced to pay in the larger premises they considered moving into some time ago, had something to do with it. This led me to wonder, if the car park levy is this high now, to make up the short fall on the four already existing Park & Rides, what on earth would these charges be if the CDTS busway project was voted by the City? The report peppered (the word used by the much-admired Leader of the County Council) with cautionary notes, regarding all aspects of this project. The County Council Treasurer also warned (page 19 no 31 of the report) 'capital cost for major construction projects have a habit of rising alarmingly after 'the first sod has been cut'. This alone, must be setting alarm bells ringing, not only in residential dwellings but business premises too.
CDTS busway- Good for business???
Audrey Hodgkinson (Sec) ANTI-CDTS CAMPAIGN GROUPS. Tel. 01244 343055 (day) 343102 or 320207 (evenings)
24/9/02 So Chester City Council Leader John Price wants a modern transport system fit for the 21st century and suggests a large car park in the countryside and some buses. The buses would run for a short way along a concrete track and then join the rest of the traffic on Chester's congested roads.
Why not imagine a pristine railway station of glowing Cheshire stone and gleaming Victorian wrought iron, with sparkling interior which people would admire?
Not like the station as it is now where one feels one could be terminally contaminated as a result of coming into contact with any surface.
Imagine it linking railway passengers right to the centre of Chester by a continuously running overhead monorail of shining steel and perspex construction.
Imagine it quickly whisking its passengers as they look down upon the car filled streets. Or could those streets be filled with happy Cestrians on their bicycles, and pedestrians enjoying traffic-free streets and clean air?
Why not think wider than our current boundaries? This isn't pie in the sky- you only need to look as far as a European ski resort.
A space age traveller

26/9/02 Three cheers for the Cheshire county councillors who have listened to residents about tbe busway. The cost would not stop at £17 million and :would be a terrible drain on precious resources.
Thumbs down for Blacon councillor John Price spouting about the merits of the white elephant busway. He should do something useful by putting his time into stopping thosc infernal people who let off fireworks in Blacon two months before 5th November. It would be more use to the community.
Can't he get it into his head that people don't want or need the busway? They want a green walkway/cycleway only. It would do him good to get on his bike and enjoy it like thousands of others are doing.
Don't let any more money be wasted on this busway. Chester will continue to prosper very well without it. Let people enjoy rhe greenway and Sustrans look after it, the way they were going to in the first place; before greed set in.
Chester resident

26/9/02 I am pleased with the fact that the concrete bus route is not going to happen for the time being and the Anti-CDTS Campaign Groups should be congratulated on their efforts, for without them we would all have been faced with considerable damage to our Green Belt by the building of a huge car park and required service roads.
What has also emerged is that Cheshire County Council has stood against the city council and seen the big picture, while the city believes that it has a mandate to stand against the concerns of voters who value the Green Belt.
It is as plain as a pikestaff that the parking policy for cars- which is conjoined to the concrete bus route- would brlng about further congestion on the southerly by-pass and that this, coupled with the requirements of the American MBNA bank for extra parking and building space- again, to be taken out of the Green Belt- would bring about gridlock on the southerly by-pass.
Once again, I am putting forward the view that side by side with the current use of the route we should be considering a ground-level monorail or narrow guage single-track train linking North Wales, Liverpool and Manchester with the nearest stop to the city at Frodsham qand also on the Welsh border and a stop in the city centre. The CDTS scheme should be dropped and we should take advantage of the fact that over the 13 years it has been on the drawing board, road usage has changed along the bypass and the general public who live in this area will be seriously disadvantaged by the extra volume of traffic along this route and the knock-on effect on property values.
Old Wavertonian

27/9/02 You are wrong to imply that the only people objecting to CDTS are those whose properties back on to the project.
There is a groundswell of opposition from many quarters, not based on economic grounds: can £17m spent on another Park & Ride scheme really be the only way forward?
I append an alternative scheme which would give most of the advantages of the CDTS for a fraction of the cost. It also has the advantage of speedy implementation with the facility for modification.
PROPOSED PARK & RIDE SCHEME
The car parking / pick-up location would be at an appropriate location adjacent to the M56/A57 junction. The route for buses into Chester would be to the Hoole roundabout, and along the ring road.
At the junction with Hoole Lane there would be traffic lights which could be overridden by radio signal from the buses, so their turning into Hoole Lane would not be unreasonably impeded.
Somewhere along Hoole Lane (possibly between Pine Grove and Myrtle Grove) there would be a control point that would allow only buses through, to prevent other traffic using this as a rat run. This could take the form of a radio controlled barrier or a kerbed pit which can be spanned by the wheels of buses but not cars. This latter arrangement is used in Holland to keep cars off busways.
The junction between Hoole Lane and Boughton would be re-engineered. Traffic lights, controlled only by buses, would allow buses to turn right into Chester. To prevent other traffic following, there would be a similar control point in the central reservation that would allow only buses through.
Other traffic would have to turn right and go round the Boughton gyratory system. Similarly there would be no right turn into Hoole Lane from the East, traffic would have to go to the City Road gyratory system and come out again.
I would recommend that buses travel across town to the Sealand Road Park & Ride to give access to the Greyhoumd Park shops without changing.
David Beattie, Chester Road, Kelsall

30/9/02: Go here to read a remarkable pack of nonsense about CDTS and Sustrans from Focus: Hoole's Liberal Democratic Party newsletter- a response to which is below...
3/10/02 Did anyone seriously think that once the busway was built, hordes of people would suddenly become environmental converts and willingly abandon their cars in droves to jump on tbe bus? In my experience, nothing will persuade people to relinquish their precious car ownership except force. Why use the bus when using your car is cheap, easy and adds to your social status?
May I suggest a much cbeaper scheme to Chester City Council? One which is guaranteed to reduce traffic in town: remove all of the city centre car parks and ring the whole town centre with residential permit parking areas.
If people cannot park in town they wouid simply be forced to use the existing park and ride schemes, without the need to build any more roads thinly disguised as environmentally friendly busways. This 'stickl' could be implemented by a tasty 'carrot'- cheap and numerous bus sorvices within the city centre.
So you think that this idea is ridiculous? That it will discourage people from coming into the city? Why? Because, you say, people don't want to use the bus, they want to use their cars. If this is the case, what on earth makes you think that these same people to use the busway, if it is built?
A Brllli, Gladstone Road, Chester

3/10/2 Some councillors will peddle their misleading and misguided views about CDTS despite Cheshire's decision to remove financial support.
Councillor Molly Hale continues to make the ludicrous claim that the scheme had the potential to substantially relieve Chester's traffic misery. The council's own report predicted a maximum improvement of 3 per cent on Hoole Road. If that is Cllr Hale's definition of 'substantial', I wonder how she would describe the recent rates increases Chester has had to suffer over the years, part of which has had to pay the £3 million so far spent on the CDTS scheme and the estimated £8 million (more like £18 million) for the construction of the thing?
Now the novelty of park and ride seems to have worn off, in its simplest terms, the only way to reduce traffic coming into the city is by removing the spaces where cars can park. With the current level of space available we will always have this level of congestion. /
Just out of interest, I checked the usage of the Wrexham Road park and ride at 9.1O am on 24th September. There were approximately 15 per cent of the available spaces taken up- and that with a site with its own bus lane.
Who are the local people supporting this scheme as claimed by Cllr Price? The only time there appeared to be any great level of support was following the original flawed survey many moons ago.
These surveys can be angled to produce the required results- emphasise the dodgy advantages, show some pretty pictures of a tidy busway with, of course, no litter, some more pictures of graffiti and never ever show a picture of, for example, the Wirral Way as an alternative as to how it could look. I must admit that without being totally aware of the facts, the general principle of CDTS might seem like a good idea. But how much support would there have been if there had been a question along the lines of "Shall we spend £11 million of Chester's money to remove three cars per hundred from the queues?" Locals do not support it, as confirmed by Peter Cocker, and how Cllr Price can continue to have the face to claim that is beyond me.
In 1997 the consultation draft of the Chester Transport Study stated the following and I quote: "The system is needed to permit redevelopment and regeneration of major brownfield sites in Chester". This appeared at the top of the list of factors supporting the CDTS, not pollution and traffic reduction, not the improvement of the environment but development and that's what this has all been about.
I hope Cheshire's decision will finally mean the end of CDTS and that Chester's residents and its many visitors can look forward to undisturbed use of what is, at the moment, a credit to the city.
G. Hughes, 1 Westbourne Road, Chester

3/10/02 We are thinking of a Zimmer frame race on the Millennium pathway and if we wait long enough, who knows- we may cheat and stand in front of the two-lane concrete busway and be pushed along.
Who says it is not worth £17m, and the rest? Think positive. Think Dome.
Hmmm, just a minute though, the Dome didn't work. That's punctured our balloon.
Geriatrics Anon.

3/10/02 We have received so many calls from supporters of Anti-CDTS that I am writing to The Standard, the weekly paper most people turn to, with more details about the campaign.
Membership forms can be obtained by writing to G. Bromley, 30 Knowsley Road, Chester, or by telephoning 01244 343055 (day) 343102 or 320207 (evening). There is a small joining fee but we hope you will donate a little more to help with expenses.
Couid we remind members wishing to donate further- cheques should be made payable to 'Anti-CDTS fighting fund'. We now suggest members write to their councillors.
As a campaign group we are at liberty to speak bluntly. Some members have no option but to keep silent, bound by small print. This is sad but a fact we must all take into consideration.
We are currently seeking a little help maintaining the Chester part of Sustrans. They are now putting men on the route for three days a week instead of two but can't be everywhere at once. We have volunteers to clear glass in their small area, could we organise a group? We have a kind man who has taken on the task of knocking back the nettles growing over the access from Kingsway to save youngsters from suffering painful stings on their faces.
(This section, incidentally, is council responsibility)
We are sure members use poop scoops and hope others will do so from now on. Sustrans wish to continue the walk/cycleway on the original route plan to give children attending St. James a safer way to school.
Audrey Hodgkinson, Secretary Anti-CDTS Campaign Groups
7/10/02 I recently received through my door a copy of Focus- the newsletter of the Hoole Liberal Democrats, edited by Cllr Jean Nutall.
If you will allow, I wish to offer comments regarding certain of its contents.
In the face of opposition by a great majority of residents, Hoole's Lib Dems persist in their dogged support for the CDTS busway. Under the banner, "Another Tory false economy will mean Hoole loses out?", we're told how, thanks to the refusal of a majority of county councillors to fund the project, the millions of pounds intended for the construction of the busway is now "money lost forever".
What do they mean by 'lost' exactly? Does taxpayer's money, then, just vanish off the face of the earth, disappear in a cloud of smoke? One wonders sometimes.
But better 'lost', one feels, than- in the light of:
• declining park-and-ride useage and income,
• alarming hikes in busway construction and operation estimates,
• the council's own figures indicating the busway's likely minimal long term effect upon local congestion,
• the severe curtailment of a popular urban greenway necessary to make room for two lanes of buses,
• the almost-total non-existence of Cllr Price's ludicrous "silent majority" in favour of CDTS...

-better 'lost' indeed, than being pointlessly wasted upon a discredited White Elephant...
We're told by Focus that "lots of road and pavement improvements to ease congestion and make our area safer were going to be funded by CDTS. These will now be lost".
Oh? As a resident who has closely followed and written about the busway for a number of years now, I seem to have been looking the other way when details of these- surely most welcome- improvements were made available for public consultation.
Evidently, the Hoole Lib Dems have access to information the rest of us don't- could they please tell us more about these proposals- alas 'lost', it seems, before we ever got to see them?
We've only been asking for about ten years, mind...

But now, the small step from fantasy to something rather less honest.
Focus then went on to claim "The future of the cycleway itself is also at risk... Sustrans only have a limited amount of money for maintainance... Where will the money come from when it needs resurfacing? What will happen when it inevitably deteriorates? The route so many appreciate (that's rich) could now become another blot on the landscape".
(This last surely reminiscient of City Council Leader, Cllr John Price's exceedingly ill-informed recent quip, "We are all aware of the vociferous local minority opposed to the Busway. But if they'd had their way the railway line would still be a bramble ridden eyesore")

This fable of the imminent abandonment and decline of the cycleway has, sadly, been put about locally by politicians for quite some time now. Indeed, while knocking on doors during the council elections back in May, this writer talked to several residents who claimed to have been so informed by party canvassers.
Those of us who knew it for the invention it was, had thought that, by our promptly presenting the true facts both by personal communication and via letters appearing in the local press, it would have by now have long since been laid to rest.
But ah no. The same attempt to alarm both those who live near the path and those that use it ascends from the realm of rumour and actually appears in print!- You get the busway we want or you get a rubbish dump. No other alternatives, it seems, are suffered to exist in the blinkered, black-and-white world of the local party political mind.
The facts. Sustrans is a National charity whose funding comes from a complex combination of the National Lottery, European Union, Highways Agency, the cycle industry and generous individual contributions. Its responsibility is the construction and ongoing maintainance of the 10,000-mile-long National Cycling Network- including this, our splendid local stretch along the course of the old Deeside Railway. The entire route cost over £400 million! Those many thousands of cyclists and walkers who make use of this ever-growing network of quiet, safe, largely car-free routes can only agree with this writer that, despite limited funding, they do the job magnificently and are committed to continuing to do so into the future.
Are these local politicians, so quick to cast doubt, aware that Sustrans has recently increased the number of maintainance patrols on our local section from one to three?
Their newsletter tells us, "currently a volunteer is clearing rubbish at the city end". Are they aware of the increasing number of volunteers of all ages who regularly turn out to keep the nettles and litter at bay?
Sustrans state that they intend to continue their improvements to our cycleway- including extending it and improving the landscaping- once, of course, the CDTS situation has been finally laid to rest.
Their work promotes the health of the people and results in a genuine reduction in congestion and pollution. Rather than being made the subject of cheap rumour by embittered local politicians, they should be thanked and supported by all sections of our community.

County Councillor Molly Hale is quoted as saying, "Hoole and Newton need safer roads", but a further article in Focus tells us that "a local resident has drawn Bob Thompson's (newly-elected Lib Dem councillor for Hoole All Saint's) attention to the problem of traffic between Hoole Lane / Canadian Avenue / Clare Avenue. As school starts, the area can become quite congested with parents dropping youngsters off, people hurrying to work and a steady procession of people crossing Canadian Avenue. A volatile cocktail with every potential for personal injury... please be extra vigilant, the children are only little and often cannot be seen out of the rear window of a car".
What the local resident- for it was I- actually drew Cllr Thompson's attention to was, in addition to the above mentioned, the presence of a commercial premises situated on this corner which, despite the close proximity of a busy mini roundabout and the pavement often being packed with children attending neighbouring All Saint's and St. James' schools, encourage their customers to cut across the lines of traffic and mount the pavement to reach their 'car park'- to the rest of us just a wider part of the pavement- and pedestrians had better watch out! Having dropped off their cleaning, customers then happily reverse back out into the lines of kids and cars...
A premises which, we surely remember, was a while back itself totally demolished by a speeding car with tragic results. They know more than most how dangerous this corner can be. Now rebuilt and back in business, the pavement parkers are back and lessons seem not to have been learned.
This absurd situation was, remarkably, not mentioned at all by the editor of Focus, though her final reference to children "not being seen out of the rear window of a car" surely hints at it. And her phrase, "a volatile cocktail with every potential for personal injury" exactly hits the spot.

'Safe Routes to School'? I think not. Yes indeed, dear politicians, Hoole, and the rest of our city, does indeed need safer roads. CDTS has been shown by the council's own figures to be capable of producing very little in the way of long term improvement to Hoole Road itself, so what help is it likely to be even slightly further away, such as the clash of cars and kids that is the Hoole Lane / Canadian Avenue area, to name but one? I'm sure every parent in every part of Chester would have little difficulty in naming a traffic-blighted potential death trap existing on their own doorsteps they'd like to see some of the busway millions being spent to improve.
For the time is long, long overdue for politicians and planners to put an end to the inter-party mud slinging, put away the shiny, multi-million pound toy that was CDTS and return to reality, hopefully there showing the same amount of enthusiasm for coming up with real solutions concerning our children's safety and the real problems that exist right now for all of us on Chester's roads.
Steve Howe, Lime Grove, Hoole Chester