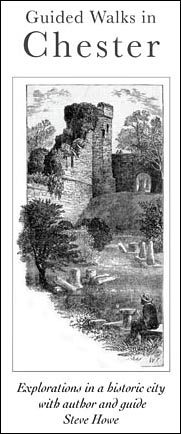 G. H. Steele visited Chester in the course of a short tour of Lancashire, Cheshire and North Wales. Little is known of him, except that he was born in Prenton on the Wirral about 1791, and was apparently living in London when he wrote his account of the tour. This extract is dated Tuesday, 18th August 1818...

"We then reach the antient city of Chester... We first enter this city by Upper Northgate Street, in the centre of which we pass under an antient gate termed Northgate -having three others, viz., Southgate, Eastgate and Westgate. In Eastgate street is a handsome inn called The Royal Hotel, kept by G. [Thomas] Jackson...

We stopt at The White Lion in Northgate Street, kept by W. Tomlinson. Close to the door of this inn is a mile stone, 182 miles from London. Arrive in Chester about half past 11 o'c. a.m. Close to the White Lion is Dickson's Bank.

Went to view the antient Cathedral. The interior of it strikes a stranger more with veneration and reverence for the antiquity of its sacred walls than with astonishment and admiration which can only be excited over some peculiar grace or elegance displayed in the architecture. This Cathedral has little to boast of in that respect being remarkable for its plainness...

In Northgate Street is the Town hall and the Market place, both of which are close to the White Lion, from which inn I left about half past 12 o'c. noon per Shrewsbury coach for Wrexham, having remained I hour and a half at Chester; the name of the coach is Highflyer. Just beyond the city on the road to Wrexham we passed over a stone bridge built ovor the Dee. From it observed the Prison, a large stone building" .
John Marsh (1752–1828) was an English music composer, born in Dorking, England. He was was perhaps the most prolific English composer of his time and is known to have written at least 350 compositions, including at least 39 symphonies. Of these, only the nine that Marsh had printed are extant, together with three one-movement finales. Marsh was a man of varied interests, and his 37 volumes of journals are among the most valuable sources of information on life and music in 18th-century England.
In September 1819 he visited Chester as part of a journey he took around Britain. Here are his comments on the poor state of the cathedral at that time:

"On Thursday Sept'r 2d. therefore I left Manchester for the last time & went thro' Delamere forest to Chester which I reached about noon & found I had a third time fallen in with the assizes. I however got a small bed room at the inn where I messed with a lawyer & his witnesses.
As to the Cathedral, my first object in a city, I found it hardly better worth seeing than that of Carlisle, for tho' the nave was not wanting & it had therefore a much better appearance withinside yet without it looked like an old dilapidated, weather-beaten castle… It was however now undergoing some repairs & being therefore not in a state for divine service, I had no opportunity of hearing its choir".

(Thanks to Brian Robins- www.earlymusicworld.com- for the above).
Thomas De Quincey, the 'English Opium Eater', frequently came to Chester to 'dry out' and in order to evade creditors and officers of the law. His mother lived in a house known as 'The Priory', situated among the now-vanished ancient buildings adjoining St. John's Church. De Quincey wrote the following about his wanderings near the river Dee in his great Confessions of 1821:


"The streets could be evaded by shaping a course along the city walls; which I did, and descended into some obscure lane that brought me gradually to the banks of the river Dee. In the infancy of its course amongst the Denbighshire mountains, this river, famous in our pre-Norman history for the earliest parade of English monarchy (it was a very scenical parade, for somewhere along this reach of the Dee, Edgar, the first sovereign of all England, was rowed by nine vassals reguli) -is wild and picturesque, and even below my mother's Priory it wears a character of interest. But, a mile or so nearer to its mouth, when leaving Chester for Parkgate, it becomes miserably tame; and the several reaches of the river take the appearance of formal canals. On the right bank of the river runs an artificial mound, called The Cop. It was, I believe, originally a Danish work; and certainly its name is Danish (i.e. Icelandic or Old Danish) and the same from which is derived our architectural word coping. Upon this bank I was walking and throwing my gaze along the formal vista presented by the river. Some trifle of anxiety might mingle with this gaze at the first, lest perhaps Philistines might be abroad... but I have generally found that, if you are in quest of some certain escape from Philistines of whatsoever class- sheriff-officers, bores, no matter what- the surest refuge is to be found amongst hedgerows and fields, amongst cows and sheep..."

He went on to describe, in quite a comical passage, his terror at encountering for the first time the tidal phenomenon known as the Bore of the Dee:

"An affectation to which only some few rivers here and there were liable... so ignorant was I that, until that moment, I had never heard of such a nervous affection in rivers. Subsequently I found that the neighbouring river Severn, a far more important stream, suffered at spring-tides the same kind of hysterics..."
Colonel Robert Browne McGregor was an officer of the 88th regiment Connaught Rangers and stationed at Chester Castle in 1825 when he penned the following elegy for the declining fortunes of the River Dee and once-great Port of Chester:


How oft in my youth with a pleasing emotion,
When gladness was o'er me and pleasures increased,
Have I gaz'd on thy tide as it flowed from the ocean,
And bore on its bosom the wealth of the east.
Majestic and gay were the vessels adorning
Thy banks, lovely Dee! as I wandered along;
Where I loved to inhale the pure breath of the morning,
And listen with glee to the mariner's song.
How proudly I gaz'd on thy port that was crowded
With barks that were freighted from India's shore;
Nor thought of the time when thy hopes would be clouded,
And commerce and industry bless thee no more!
How changed are thy prospects, thou once lovely river!
The course of thy tide is perverted with sand;
Farewell to thy fame and thy glory- for never
Again shall a vessell be moor'd on thy strand?
Sweet stream- which the Druids in proud veneration
Have worshipp'd in ages, long vanished away,
Thou, theme of their story and deep adoration;
Deserted, neglected, art left to decay!
I stand on thy banks, in their beauty degraded,
And gaze on thy stream as it still murmurs on,
And sorrow to think that thy commerce is faded,
Thy splendour is tarnish'd- thy glory is gone!
This somewhat disparaging description of Chester appeared in the London press- and was later reprinted in the local- in October 1825. Its writer is unknown.

"Chester is a town which is full of tit-bits for an antiquarian palate, but exceedingly ill-provided with the agreeabilities of the present day. Its character of virtue it can never lose, but many of the outward signs are fast going into decay, and what between the pulling down of old houses and the blocking up of the Rows, none but the antiquarian of the true Church will soon be able to recognise it. So ably is the hand of time seconded by the work of man, that the Board of Ordnance have now cased in fine cut stone Caesar's Tower, as it was called, one of the most perfect and prominent objects in the town".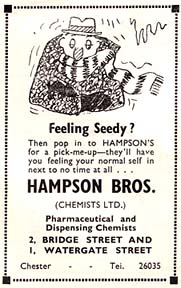 (This presumably refers to the refacing of the medieval Agricola Tower during Thomas Harrison's rebuilding of the Castle).

"The country in the neighbourhood, almost to the very walls, is beautiful in the extreme, but the first step within the gates gives the appearance of a doleful contrast which increases with every turn. The only place which appears to have been intended to unite the agreeable with the useful is the common jail. The inhabitants of that security are well clad, clean and comfortable, with well-flagged yards, while the streets are rudely paved with pointed stones and every ward has a snug flower garden before it.

There is no place of public amusement, but there is a capital bridge, and a rapid stream under it.

The great body of the people are strangely mixed up, of native English, stray Welsh, and imported Irish, and their voices, persons and language bear evidences of the ill-assorted compound. The Welsh is the most decided caste but Paddy has not been deficient, and, if one may judge by that distinctive attribute, a heavy heel, the fair sex are stamped with the marks of Milesian manufacture".

(After Milesius, legendary ancestor of the Irish people.)

"Jaunting cars, those most Irish and most convenient of one-horse vehicles, are numerous and very genteel moreover. But the most Irish concerns in Chester are the low, common public houses- the windows stuck full of red bills, the doors wide open to the street, and a crowd of ragged fellows, dram-drinking at the counters. When Chester was a garrison town, it was a gay and lively place, but politics have completely upset it.

The coach proprietors of Chester, aware of the disagreeabilities, afford strangers every every facility for quitting it. A steam boat goes to the mouth of the Dee and lands you on the Welsh coast for 9d; a coach from Liverpool to Oswestry through Chester takes you the whole way, 46 miles, for 3s 6d; and coaches from Chester to Liverpool, including the steam boat passage, 2s. Beware of the inns. Tea for one, "nothing with it", 2s; breakfast, a chop and one egg, 2s 6d."
The German Prince Herman Von Pückler-Muskau (1785-1871) visited Chester in late January 1827 as part of his tour of England. His collected letters to his ex-wife back in Germany were later turned into a book, Tour of a German Prince which made him into a minor celebrity in both countries.
In addition to being a soldier, explorer, travel writer and noted womaniser, the prince was Germany's leading park designer and his main reason for spending the years 1826-8 in England was to find a wealthy bride in order to fund his grand landscaping projects. Whether he was successful in this I am unsure but the English-style Pückler-Muskau Gardens on the German-Polish border was the realisation of his life-long dream and is now a Unesco World Heritage site.
He visited Eaton Hall and was then shown around Chester Castle, of which he wrote,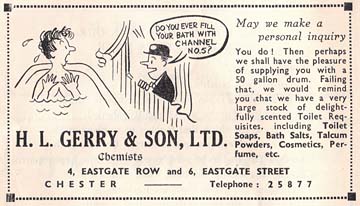 "We visited the royal castle of Chester, which is now converted into an excellent county gaol. The whole arrangement of it seems to me most humane and perfect. The cells are clean and airy; the food varies with the degree of crime, the lowest is bread, potatoes and salt. Today, being New Year's Day, all the prisoners had roast-beef, plum-pudding and ale.
Most of them, especially the women, became very animated and made a horrible noise, with hurrahs to the health of the Mayor who had given them this féte.
The view from the upper terrace, over the gardens, the prison and a noble country, with the river winding below, just behind the cells; on the side, the roofs and towers of the city in picturesque confusion; and in the distance, the mountains of Wales- is magnificent, and á tout prendre (all things considered), our own country councillors of justice are seldom lodged as well as the rogues and thieves here".

Washington Irving (1783-1859), the American short story writer, essayist, poet, travel book writer, biographer, and columnist- best remembered today for his stories The Legend of Sleepy Hollow, in which the schoolmaster Ichabold Crane meets with a headless horseman, and Rip Van Winkle, about a man who falls asleep for 20 years- visited Chester around 1825 and recalled,

"I shall never forget the delight I felt on first seeing a May-pole. It was on the banks of the Dee, close by the picturesque old bridge that stretches across the river from the quaint little city of Chester. I had already been carried back into former days by the antiquities of that venerable place... the May-pole on the margin of that poetic stream completed the illusion. My fancy adorned it with wreaths of flowers and peopled the green bank with all the dancing revelry of May-day. The mere sight of this May-pole gave a glow to my feelings and spread a charm over the country for the rest of the day".
The composer Felix Mendelssohn (1809-47) made his first visit to England in 1829 and in September of that year stayed with the family of Mr John Taylor at Coed Ddu near Mold. Before arriving there, he paid a visit to Chester, which he described in a letter to his father, "A bright scene presented itself; the broad town walls made a promenade round the town and there I saw a girl's school marching along which I followed with my sketch book. The girls looked very pretty, the distance very blue, the houses and towers in the foreground dark grey".
The American poetess, Lydia Sigourney (1791-1865) visited Europe in 1840 and in the same year published in America her Pleasant Memories of Pleasant Lands, which was reprinted in England in 1843. From it, here is her graceful tribute to rare old Chester:
Queer, quaint, old Chester,—I had heard of thee
From one who, in his boyhood, knew thee well;
And therefore did I scan with earnest eye
The castled turret where he used to dwell,
And the fair walnut tree, whose branches bent
Their broad, embracing arms around the battlement.
His graphic words were like the painter's touch,
So true to life, that I could scarce persuade
Myself I had not seen thy face before,
Or round thine ancient walls and ramparts stray'd;
And often, as thy varied haunts I kenn'd
Stretched out my hand to thee, as a familiar friend.
Grotesque and honest-hearted art thou, sure,
And so behind this very changeful day,—
So fond of antique fashions, it would seem
Thou must have slept an age or two away.
Thy very streets are galleries and, I trow,
Thy people all were born some-hundred years ago!
Old Rome was once thy guest, beyond a doubt,
And many a keepsake to thy hand she gave,—
Trinket, and rusted coin, and letter'd stone,
Ere with her legions she recross'd the wave;
And thou dost hoard her gifts with pride and care
As erst the Gracchian dame display'd her jewels rare.
There, 'neath thy dim cathedral, let us pause
And list the echo of that sacred chime,
That,when the heathen darkness fled away,
Went up at Easter and at Christmas time,—
Chants of His birth who woke the angel train,
And of that bursting tomb, where Death himself was slain.
Yes, in my simple garden,—far away,—
Beyond the ocean waves that toss and roll,—
Your gentle kindred drink the healthful ray,
Heaven's holy voice within their secret soul;
And the name words they speak, so pure and free,
Unto my loved ones there, that here ye say to me!"
George Borrow (1803-1881), linguist, traveller and writer was born in Norfolk. His father was a soldier and moved throughout the British Isles taking his young son with him. His early apprenticeship to a solicitor suggested that a career in law was likely but Borrow took to literature and moved to London, notably editing Celebrated Trials and Remarkable Cases of Criminal Jurisprudence (1825).

Suffering not for the first or last time from manic depression, Borrow left London after about a year and began a lifelong pilgrimage around first England and then the continent (France, Germany, Spain, Russia and further east). Along the way, he made every effort to study the languages he came across and while in Spain and Russia he acted as an agent for the British and Foreign Bible Society.

Settling down in Oulton Broad, Suffolk and marrying a moneyed widow, Borrow began to write, documenting his experiences upon his travels. The Zincali, or an Account of the Gypsies in Spain (1841) and The Bible in Spain (1843) gave the author instantaneous success. His novel Lavengro (1851) is considered to be his masterwork, but The Romany Rye (1857) is also well regarded.

Here is an extract from chapter 68 of Lavengro, in which his characters discuss Chester Castle:

"Would you have me go to Chester and work there now? I don't like the thoughts of it. If I go to Chester and work there, I can't be my own man; I must work under a master, and perhaps he and I should quarrel, and when I quarrel I am apt to hit folks, and those that hit folks are sometimes sent to prison; I don't like the thought either of going to Chester or to Chester prison. What do you think I could earn at Chester?"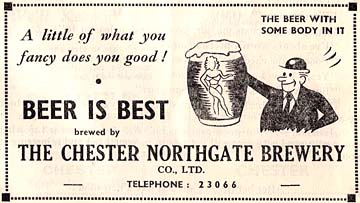 Tinker:"A matter of eleven shillings a week, if anybody would employ you, which I don't think they would with those hands of yours. But whether they would or not, if you are of a quarrelsome nature you must not go to Chester; you would be in the castle in no time".

In 1854, Borrow embarked upon a walking tour of Wales- in whose language he had, remarkably, become fluent as a young man. He recorded his experiences in his book Wild Wales (1862). Here he describes the commencement of his journey in Chester...

"On arriving at Chester at which place we intended to spend two or three days, we put up at an old-fashioned inn in Northgate Street, ( probably the Pied Bull) to which we had been recommended; my wife and daughter ordered tea and its accompaniments, and I ordered ale, and that which always should accompany it, cheese. "The ale I shall find bad". said I; Chester ale had a villainous character in the time of old Sion Tudor, who made a first-rate englyn upon it, and it has scarcely improved since; "but I shall have a treat in the cheese, Cheshire cheese has always been reckoned excellent, and now that I am in the capital of the cheese country, of course I shall have some of the very prime." Well, the tea, loaf and butter made their appearance, and with them my cheese and ale. To my horror the cheese had much the appearance of soap of the commonest kind, which indeed I found it much resembled in taste, on putting a small portion into my mouth. "Ah," said I, after I had opened the window and ejected the half masticated morsel into the street, "those who wish to regale on good Cheshire cheese must not come to Chester, no more than those who wish to drink first rate coffee must go to Mocha. 1'll now see whether he ale is drinkable," so I took a little of the ale into my mouth, and instantly going to the window, spirted it out after the cheese. "Of a surety," said I, "Chester ale must be of much the same quality as it was in the time of Sion Tudor, who spoke of it to the following effect:

"Chester ale, Chester ale! I could ne'er get it down,
'Tis made of ground-ivy, of dirt, and of bran,
'Tis as thick as a river below a huge town !
'Tis not lap for a dog, far less drink for a man..."
"Upon the whole we found ourselves very comfortable in the old-fashioned inn, which was kept by a nice old-fashioned gentlewoman, with the assistance of three servants, namely, a "boots" and two strapping chamber maids, one of which was a Welsh girl, with whom I soon scraped acquaintance, not, I assure the reader, for the sake of the pretty Welsh eyes she carried in her head, but for the sake of the pretty Welsh tongue which she carried in her mouth, from which I confess occasionally proceeded sounds which, however pretty, I was quite unable to understand...

On the morning after our arrival we went out together, and walked up and down several streets; my wife and daughter, however, soon leaving me to go into a shop, I strolled about by myself. Chester is an ancient town with walls and gates, a prison called a castle, built on the site of an ancient keep, an unpretending-looking red sandstone cathedral, two or three handsome churches, several good streets, and certain curious places called rows. The Chester row is a broad arched stone gallery running parallel with the street within the facades of the houses; it is partly open on the side of the street, and just one story above it. Within the rows, of which there are three or four, are shops, every shop being on that side which is farthest from the street. All the best shops in Chester are to be found in the rows. These rows, to which you ascend by stairs up narrow passages, were originally built for the security of the wares of the principal merchants against the Welsh. Should the mountaineers break into the town, as they frequently did, they might rifle some of the common shops, where their booty would be slight, but those which contained the more costly articles would be beyond their reach; for at the first alarm the doors of the passages, up which the stairs led, would be closed, and all access to the upper streets cut off, from the open arches of which missiles of all kinds, kept ready for such occasions, could be discharged upon the intruders, who would be soon glad to beat a retreat. These rows and the walls are certainly the most remarkable memorials of old times which Chester has to boast of."


"Upon the walls it is possible to make the whole compass of the city, there being a good but narrow walk upon them. The northern wall abuts upon a frightful ravine, at the bottom which there is a canal. From the western one there is a noble view of the Welsh hills."

( You may read Borrow's conversation with a local regarding the name of one of those hills by going here)

One final Borrow quote, upon a subject close to his heart, that of Cwru Da- good ale:

"Oh, genial and gladdening is the power of good ale, the true and proper drink of Englishmen! He is not deserving of the name of Englishman who speaketh against ale, that is good ale... and yet there are beings, calling themselves Englishmen, who say that it is a sin to drink a cup of ale... and exclaim, 'The man is evidently a bad man, for behold, by his own confession, he is not only fond of ale himself, but is in the habit of tempting other people with it.' Alas! alas! what a number of silly individuals there are in this world". (Lavengro: chapter 68)
• The entire text of Wild Wales is freely available to read and download here. Highly recommended.
Thomas Hughes (1826-1890) was a man after our own hearts as he was the author, in 1856, of the Stranger's Handbook to Chester, a guide to our city which set the style for numerous later publications and to which we have frequently resorted during the research for our own Chester Virtual Stroll.

Born in Chester, he attended the King's School, which was then housed in the old monk's refectory in the Cathedral. Later in life, he became a governor of the school and founder of its old boys' association. He was a fellow of the Society of Antiquaries, served as Sheriff of Chester and also as warden of the venerable St. John's Church, which was hisplace of worship for 30 years. His home was The Mount, a picturesque old house raised upon an embankment which formerly stood in St. Werburgh Street opposite the Cathedral and Music Hall. Just before it was demolished, he commissioned a picture of it from eminent local landscape artist Louise Raynor. (The site is today occupied by St. Werburgh's Row, built in 1935 and designed by Maxwell Ayerton, who was also the architect of the now-demolished Wembley Stadium, with its world-famous twin towers). His humble grave may, with some difficulty, be found in thick undergrowth in Chester's remarkable Overleigh Cemetery.
Perhaps better known outside Chester is another Thomas Hughes (1822-1896) who, a year after his namesake had pubished his Stranger's Guide, issued a novel which remains familiar today (or, perhaps, the classic film later made of it)- Tom Brown's Schooldays, written when he was 35.

Born in Berkshire, he attended Rugby School under its famous Head, Dr. Arnold, and later became a barrister, a Liberal MP and then, in 1882 he came to Chester at the age of 60 as a circuit judge. He had a grand turretted house built at 20 Dee Hills Park, overlooking the river, where he lived from 1885 until his death in 1896. His fine house (illustrated above left) remains with us today, a familiar sight to boaters on the River Dee and walkers on the Meadows.
In 1847, John Spence, "young physician", wrote Ship & Shore: or Pencil Sketches on a Recent Voyage. This excerpt describes his visit to Chester:

"Distant from Liverpool fifteen miles, is an ancient town called Chester, deserving the notice of the passing traveller. My young friend from Harvard and myself, on one occasion, turned our faces towards this venerable and antique town. You cross the river Mersey, by ferry, with a police-man at your elbow, scanning the motley throng of men, women, and children on board. Some of these police look intelligent; others are dull, corpulent, and sleepy fellows. As the boat touches the landing, the police is the first to step on shore, and stands at the toll-gate, to see if all deposit pennies for ferriage.

Procuring a ticket, and being seated in a rail-road carriage, or car, away we whirled. The country around was rich and well cultivated, vast quantities of bending and golden grain meeting the eye. Now and then we would pass a park, with its beautiful domains; and timid rooks would start on trembling wings, and then alight, dotting the green grass, or the trees, with dark and coal-black forms. The distance was soon traversed, and we were guests at the Albion Inn.

The plan of the city of Chester is simple. It is bounded by a wall which is said to have been built by the Romans. The walls are in the form of a parallelogram. The two main streets of the city intersecting each other at right angles, divide it into four equal portions. Other streets run into the main streets. The early history of the town of Chester dates far back. The ancient and time-worn appearance of the various buildings, as seen in the churches and cathedrals, indicates a very remote origin. Chester was the usual station of the twentieth Roman legion, and there are few cities in England, where, if the Roman soldiers were to return, they would find themselves more at home; for it belongs to the small and continually lessening number of those that have preserved an appearance of antiquity. Chester, like many English towns, seems to be in its dotage, while others given to manufactures resemble young giants. There is a College within the limits of the town, as is evident, by meeting now and then students winding through the streets. These were dressed in square caps and black flowing robes, and some of these latter were torn. They are rather more simple, primitive, and verdant students than one would meet with at Oxford and Cambridge Colleges- the alma; moires of some of England's master minds in days gone by, yet to produce minds their equals or superiors.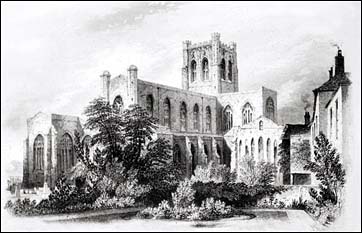 To what shall I liken the old city? It is not unlike old men. Old men, who wear their ages with a stoop, turtleshaped men- not mailed with horn to be sure, with lines encircling their shell, and golden dots drawn here and there- but men whose forms are thick-set; men whose hair is fleecy, while that which grows about the temples is of a silvery white; whose foreheads are traversed by ploughed lines, and harrowed all over; men who peer and leer through 'helps to read,' that are split purposely through the longest diameter; men who adjust these glasses on the lowest bridge of the nose, who, as they read, in actions say- standoff; paper keep your distance; men that wear silver knee-buckles, and buskins, and broad-brimmed hats, and cues that dangle down their backs; men that take snuff, first knocking for admittance with the knuckle on the pictured or highly chased silver lid; men that have fussy ways, and cough, and sneeze, and hem; men that forget the incidents of yesterday, and often call to mind those connected with boyhood and younger days. Not unlike such men, in some respects, is old Chester. It is not like the sanguine youth advancing to manhood, but akin to the aged veteran- the day of its pristine vigor having long since departed. Now and then, one meets a dilapidated lobided building, that looks cozy, and as though it were "nid nid nodding", its frame pinched and withered, and hoary age settled on it, its very windows seeming dimmed by age; it sustains the same relation to the surrounding houses, that a veteran in years, with shattered frame and wrinkled brow, and eyes that borrow glass to peer through, does to the wellknit frame of the buoyant youth. There are many of these aged buildings set down in different portions of the city; and they are like nothing else more, than like old men. Aged women and old men, one would think, should still move in antiquated homesteads. And it would seem as though the youth would "catch the living manners as they rise" and mould their characters and actions in the "glass of age", as seen in the peculiarities and antiquities of the town.

There are two or three features in this town worthy of special remark. The side-walks are sheltered or enclosed in wooden frames, and form a part and portion of the buildings. They are elevated above the streets by an ascent arranged at intervals. A railing bounds the walks, and the stores are on a line with them. A person can walk these avenues completely sheltered from the storm and rain. Possibly, were walks like these in cities, the ladies would be gratified, and tradesmen pleased, especially in stormy weather. They are in technical language called "Rows." These alleys or walks are in keeping with the character of the whole town.

The walls are another interesting feature. They entirely surround the former limits of the town, extending a long distance. The stone or material is in blocks of a reddish sand color, and is much worn. A walk extends the whole length of the walls. Upon the outer limits rises a breastwork, and thus the walk is guarded, and might serve as a tower of observation. The distance from the inside of the walls to the ground varies in different places.

A stroll along these walls at the close of day is quite pleasant. Here the river Dee rolls along a smooth and silvery flood; farther on is seen a mill, and the hum and foaming rush of water that attends it is heard. There, as the last rays of the setting sun glance along and crimson the surface of the river, fishermen are seen dragging their wily nets, here, a bridge of noble architecture springs across and spans the river and farther on, the race-ground is seen. And here, within the circuit of the walls, is a barrack, looking like some old castle- and it is nothing else- where a regiment of England's standing army is quartered. The life led by soldiers, especially an indolent soldiery, is attended by much that is humiliating. They have few aspirations, save those awakened by the sound of the rolling drum, the beat to arms, or the clarion blast of the bugle, while others live and labor to sustain them. They create no capital, but consume and waste it. They guard nothing, but go through their routine performing an imaginary duty, as if forsooth they were effecting something, yet accomplishing nothing. The little time that is profitably occupied, leaves nearly the whole to be spent in idle roving, and the rounds of dissipation.
But to return: here rises to the view from the walls, a tower, where, history states, a king saw an army defeated; and there, is an old time-stained cathedral, that has withstood the brunt of winds, and the washing of fierce storms, years on years. Now like a dim spectre it meets the eye. Again, we stand far above the houses, that are within and beyond the limits of the walls, and now we meet a breach made by a rail-road, which encounters but to surmount every obstacle".
Printed in the US Boston Mirror in June 1848 was an account of a visit to Chester by one C. M. Kirkland. Here are some extracts...

"The aspect presented on entering is simply that of an old, illbuilt, narrow-streeted town, with houses leaning over the pathway; windows of every conceivable irregularity of size, shape and position; people looking quaint enough to be in keeping with these surroundings; and a general air of "the world forgetting by the world forgot" about it, curious enough to one fresh from the bustle of New York.

The wall is not very obvious until one is absolutely upon it, for it is so hemmed in, both inside and out, by houses, that it is only by chance that it appears in its true character. The top is flagged, and kept beautifully clean and accessible by numerous flights of steps, and furnishes one of the most beautiful walks imaginable. The prospect from it is magnificent- on every side stretches England's fairest and richest expanse of hill and dale; old towers, picturesque and overgrown with ivy and wallflower, peep out here and there; in the background, far to the south-west, lie the Welsh mountains, hoary in distance, all about your very feet the crumbling walls of ancient churches, and the great cathedral, which looks almost as old as the mountains. It is not reckoned among the fine ones of England, but to us, fresh from staring new churches, it was very attractive. The outside looked as if time would not spare it much longer; the stones are so worn away by the weather that the outline is not only an undulating one, but scalloped, to borrow a word from the dressmaker... One is apt to suspect a painter of exaggerating in his outlines, but Chester cathedral would lose nothing of romantic interest if represented by the daguerrotype.


It is really strange to see how the vicinity of true and noble antiquity puts to shame all modern erections. We could find no other reason for the almost contempt with which Eaton Hall- much sought after by travellers- inspired us. This show-place, the principal seat of the Marquis of Westminister, looked quite like a gothic toy of cardboard, after Chester... We wondered at the taste which could erect a modern gothic villa almost under the walls of Chester.

As you walk the streets, you see how romance was born in England. Instead of great staring rows of houses, in the plan of whose fronts all shadow is excluded as if it were death, we have upper stories projecting over the street and deep recesses with only a railing in front where the families appear, at their various occupations. It is as if the whole second storey were drawn back some ten or twelve feet, leaving a shaded parlour without a front...

We do not expect to find any portion of England more characteristic and interesting than Chester. It breathes of feudal times, and is enveloped in associations of romance and poetry...
To be sent to West Chester is a proverb quoted in Notes and Queries in 1851: "Passing through a village only six miles from London last week, I heard a mother saying to a child, 'If you are not a good girl I will send you to West Chester.'"

Chester was commonly known as West Chester during the 18th and early 19th centuries. To be sent hence in earlier times was to be sent into banishment i.e. into Ireland.
The following is an extract from A Vist to Europe in 1851 by Benjamin Silliman:

We were soon at Chester, and in the city and its vicinity, being busily employed, we lingered until six in the evening. This town is venerable on account of its high antiquity, as it was coeval with the British, Roman, and Saxon times. It was long a Roman station, and is still inclosed completely by a wall, which is two miles in circuit; it is constructed of hewn stone, to the height of 20 feet, and several of the towers remain. We ascended one of these, the Phoenix, from which Charles I, in September, 1645, was a spectator of a battle, in which his troops were defeated at Marston Moor, or Waverton Heath, by the forces of the Parliament. Chester was loyal; it bravely sustained a siege of five months in the year 1647, and was finally reduced by famine and distress. In two months, more than 2000 of the inhabitants died from the pressure of the siege. It was civil war- brethren fighting against each other.

The walls of Chester are still entire, and our walk upon them gave us fine views of a very beautiful country; the river Dee, on which Chester stands, was at our feet, and the distant mountains of Wales on the northwest rose in misty grandeur. The town contains 25,000 inhabitants, the population being about that of our New Haven, but being inclosed within walls, it covers a much smaller area. It is, in general, well built; there are many modern houses, but most of them are in the old English style, and afford us interesting information as to the accommodations of the people, in centuries long past. The appearance is venerable; it is grotesque, and in general highly unarchitectural. The four gates of the city are on the site of the ancient Roman portals, and we ride into it under arches, that bestride the streets. Five Roman roads come to a centre here, and now five principal railways have their terminus in Chester.

The streets, corresponding to the modern gateways, run at right angles north and south. They were originally sunk by excavation far below the level of the ground, and the people crossed on arches. Although the ancient deep cutting is half filled up, we still, as we walk on the ground, see the people in their houses above the level of the street, although they are on what would usually be called the ground floor. The front of the houses in the lower story recedes, so as to present a continued portico, or piazza- a covered walk, through which the people freely pass, as in the streets of other towns. Still farther in and below are the shops, and the actual fronts of the dwelling houses give an air of freedom and sociability, very much in contrast with the closed doors and latticed and curtained windows of most other cities. It was amusing to us to walk along this covered and elevated thoroughfare, mingling with the people, and to pass from it familiarly into the open doors of the contiguous shops, situated beneath the second story of the houses, which project over them. Thus, in those parts of the town where this ancient arrangement is preserved, the pedestrians are completely protected from the weather. We afterwards saw a similar structure in Berne, and in Bologna.


Chester contains many relics of the Romans. The twentieth legion garrisoned Chester in the year 61 of Christ. Its name, from the Latin castrum (camp), recalls its Roman origin. Roman altars, coins, pottery, tiles with Roman stamps, tesselated pavements, baths and catacombs, attest a long possession of Chester by the Romans. It was evidently regarded by them as an important station.

Roman Bath- Beneath the Feather Inn we entered, as through a cellar, into an excavation in the solid rock; it was supported by short pillars, and the place was so low that we were obliged to stoop in order to enter; the floor is still occupied by water, and there is a sudatory above, into which steam or heated air passed through holes in the vault of the lower room, where the heat was raised. The place which we saw was narrow and low, confined and disagreeable, and strongly contrasted with the luxurious baths, whose splendid ruins we afterwards saw in Rome.
A Crypt, of unknown antiquity, is on the opposite side of the street. We entered it through an underground room, which was occupied as a shop. The Crypt is 45 feet long, 15$ broad, and 11 high. It was a place of worship, as appears from a baptismal font of marble at the remote end of the room. It is in the Gothic style, but with round arches, and is in high preservation. It was a monastic building.

The Ancient Abbey And Cathedral- We visited the ancient Cathedral and Abbey, objects of extreme interest to our party, none of whom, myself excepted, had ever seen such buildings. The Cathedral is 372 feet long on the outside, 350 within; height of the ceiling 73 feet, and of the towei 127. It has a fine organ, and numerous sepulchral monuments ; its cloisters are deservedly celebrated. Among the images, some had lost their heads by violence or wantonness, and an unskilful mason repaired them with so little tact that a King's head was placed upon a queen's shoulder, and the reverse, and a monarch crowned the bust of a virgin. These structures are extremely venerable from age, and association with gone by centuries; and perhaps our veneration is increased by the state of dilapidation in which they now exist. They and other ancient buildings in Chester were constructed of a deep-colored red sandstone, which exists in this part of England; it is the upper red belonging to the salt formation, and exfoliates in the weather, so that most of the ornamental carved work on the Cathedral and in the cloisters, especially that on the exterior, is defaced, or utterly ruined; many of the prominent parts have fallen off.

Miscellaneous- Probably no city in England presents such striking proofs of antiquity as Chester. It is so identified with antiquity, that while there we can easily imagine ourselves cotemporary with the Romans, with the Britons, and the Saxons. Chester was formerly a place of great trade, long before Liverpool had even a name to live; but the filling up of the channel of the Dee with sand, and the rivalry of Liverpool, have caused it to decline. Chester exhibits in its bill of mortality decisive proof of the salubrity of its position. The deaths are annually 1 in 40, while Liverpool loses 1 in 27, Manchester 1 in 28, Edinburgh 1 in 20, London 1 in 20; New Haven, in Connecticut, loses 1 in 55.

The Palace of the Marquess of Westminster- This splendid establishment is four miles from Chester, and our party drove to it in two cabs or flys, as they are often called here ; they were large and heavy, far more so than our light vehicles in America. These English carriages, being well cushioned on all sides, and lighted by large glass windows, are both very agreeable and comfortable. As before remarked, in Liverpool they place four persons in them, and occasionally there is, as was the case to-day, an extra man on the box with the coachman. The carriage took six persons with one horse. They work their horses much harder than we do in America. The climate being more temperate, perhaps the horses are more hardy.


The Castle- We passed out of the city by the castle, the ancient seat of the Earls of Chester. It was originally built by William the Conqueror. The old castle was removed near the close of the last century, and the present grand edifice was erected; it is Grecian, is 103 feet long and 35 broad, and is surrounded by a fosse, 13 feet deep, cased with hewn stone.
Most of the buildings connected with the castle are massy and grand, and are in modern style. A garrison of some hundreds of soldiers is stationed there, and they were on parade to-day, as we drove by, presenting the usual brilliant appearance of British troops.

The Race Ground, Called Roodee- This ground, covering 84 acres of rich meadow land, lies contiguous to the road. It is a beautiful natural amphitheatre, in a deep depression, surrounded by hills, by the city walls, and the river Dee, in the form of a bow arching outward. The exterior circle, in which the horses run, is one mile and a half to two miles in circumference, and is separated from the general area within by a low circular mound of earth. The English gentry are very fond of the turf, and this is said to be second to none in the kingdom. In 1848, 156 horses were entered for the tradesman's cup, and 106 accepted, being the largest number ever known for one race, here or elsewhere. Thirty-four horses started for the rich prize, which was won by a horse called Peep-o'day Boy; he swept the stakes, amounting to 2,500 pounds, more than 12,000 dollars.

Eaton Hall, The Seat Of The Marquis Of Westminster- Passing the race ground, we soon arrived at the portal of the domain of the Marquis of Westminster, two or three miles from the palace. As we drove up to the gate, an elderly man, of very respectable appearance, presented himself, and we asked permission to drive into the park. He civilly replied that it was not, at present, permitted, as the mansion was undergoing repairs. But upon my telling him that we had come from a far distant country, America, that we were in pursuit of knowledge, that this was our occupation at home, and was our sole object in Europe, he added, in a courteous manner, that, as wo had come so far, we should pass.

We drove on, mile after mile, before we reached the magnificent mansion. Through much of the territory every thing, except the road, and some occasional spaces, was in an unsubdued state, as much so as in an American wild, where the first forest had been cleared away, and a new growth of smaller trees had arisen spontaneously. Perhaps this half-wilderness appearance was the result of design, for on both sides, beyond this double row of woods, there was a parallel extent of subdued and cultivated land, smooth with green sward, and on these fields, as well as in other parts of the vast territory, there were innumerable herds of deer grazing quietly, along with flocks of sheep, and they were not, any more than the latter, disturbed by our approach. Arrived at the mansion, we were very civilly conducted through the extensive conservatories and fruit gardens, which we found to be highly interesting and instructive. There were many flowering shrubs and plants, both exotic and native, in the warm glass houses; one was devoted to pine-apples, which were in healthful progress, and some of them were beginning to put forth fruit.

The orchideae were numerous and flourishing. Being parasite plants of many species, they were growing in connection with suspended pieces of trees, and were depending from pots and from bunches of moss and peat. In the conservatories there was a beautiful contrivance for opening and shutting the glass, all at one movement and by a single effort of the hand. There is a very extensive provision for wall fruit. Large areas, which might be called fields, are inclosed by high brick walls, upon which are trained, in the most beautiful manner, peach trees, pears, and I believe apricots, branching out like rays of light from a focus, and extending to a surprising length —so that, in some places, the branches would mount above the wall, were they not bent and made to take another and lower direction. It is thus, that here in England, in more than 53° of north latitude, six degrees north of Quebec, and even as high as Hudson's Bay, tropical fruits are matured in perfection, and those of our American climates are reared to a surprising degreo of excellence. I remember that when I was in this country before, I tasted at a dinner in London, the most delicious pine-apple that I had ever seen, and it was the production of an English hot-house.

Tho territory around the mansion was muddy, as there is in this climate much rain from the condensed vapor of the Atlantic, and our walks through the grounds were on that account rather inconvenient. The 20th of March, too, is rather an early day to expect dry ground in any northern climate, either in Europe or America. Even at the vernal equinox, and in this high latitude, the grass is of a rich green, the shrubs and smaller trees are in leaf, of this season's growth, and many more are in flower in the open air.

And now, what shall I say of this immense and magnificent mansion, built in the style of the modern Gothic, with numerous turrets, pinnacles, and towers. I have no tables of its dimensions, but presume that, with the offices, it cannot be less than 400 feet long. Drawings and pictures are necessary to make the elevation intelligible. This palace, for it well deserves that name, is both grand and beautiful. The main front looks east towards the Dee, which flows through the territory; and the grounds slope downward from the mansion towards the river. They are laid out in ornamental forms, and are in good progress towards perfection, although there is still much to be done. It is obvious that when finished, covered by rich verdure, and decorated with the usual embellishments of English gardening, these grounds will be worthy of the palace which they surround and adorn. Urns, embossed with raised figures, are distributed here and there, and a small temple covers a Roman altar, dug up at Chester. It is a square pillar of red sandstone, about five feet high, 18 or 20 inches in diameter, and the top is scooped out like a dish, probably to contain the things offered in sacrifice. The Latin inscription on the side is perfectly legible. The altar is inscribed to the Nymphs and the Fountains, by the Twentieth Legion. "Nymphis et Fontibus Leg. xx w"- with the modest addition- " the victorious and invincible."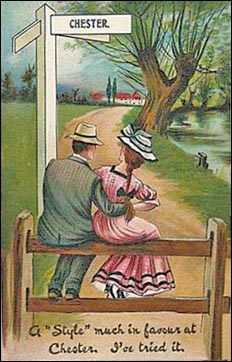 Eaton Hall being now occupied by artists and workmen, who are finishing and fitting up the apartments, we could not be admitted into the interior- but through the magnificent windows, which we were allowed to approach, we could see such apartments as were lighted by them. The furniture is removed, and we could catch only glimpses of grandeur and gorgeous embellishment. The front windows are very lofty, and adorned by painted glass; their cost was enormous. Eaton Hall is warmed uniformly by the circulation of hot water in tubes. At the opposite ends of the vast portico, stand two large marble statues; one is an undraped female, and the other a knight in full armor. This villa is, I believe, not surpassed in magnificence hy any one in England, and its noble master is said to be only the second in opulence- yielding, I presume, in this respect, to the Duke of Northumberland. The late Marquis of Westminster stood godfather to Queen Victoria at her coronation, and her eldest son, the Prince of Wales, is also Earl of Chester. We had to regret that it was impossible to obtain access to the library room, which is the largest and most magnificent apartment in the house, and contains a valuable collection of books and manuscripts.

There is here, beneath a glass case, a Torques- " a collar or chain of gold and silver, given by the Romans to soldiers who had distinguished themselves; they were wreathed with great heauty, and worn around the neck." It is conjectured that this ornament might have belonged to Queen Boadicea, as it was found on the ground between Caerwys and Newmarket in Flintshire, where it is supposed a decisive battle between Agricola and Boadicea took place, in which the latter lost 10,000 men. An unhewn stone is believed to designate the grave of Boadicea".
Nathaniel Hawthorne, author and US consul in Liverpool, visited Chester in 1853 and said "I must go again and again to Chester, for I suppose there is no more curious place in the world."
Celebrated author of Moby Dick, Herman Melville visited while staying with Hawthorne in 1856 and partook of a "very comfortable meal" upstairs in the Rows in "an antique room fronting onto the street... with a good fire" and some "Bass's ale."

Melville's less well known early novel Redburn (1849) vividly recalls his experiences as a boy sailor thirty years earlier during a voyage from New York to Liverpool (a few miles from Chester) and of his wanderings through the town during the weeks his ship, the Highlander, was berthed there. You can read his fascinating description of Prince's Dock Here.

On to more Nineteenth Century traveller's tales of Chester...