| | |
| --- | --- |
| Chester: a Virtual Stroll Around the Walls urgently needs your help! If your enjoy your visit to our site, please consider donating a small sum to help us keep it online and growing for the benefit of all who love Chester. Simply click the button and enter your contribution, no matter how small. It's safe and easy- you don't even need a PayPal account! Consider also publicising your business and helping our work by advertising to our thousands of worldwide visitors. We thank you! | |
• 27th July 2019: Some photographs and history of the recently-closed Talbot Inn in Walter Street, Newtown are here. Your reminiscences of the place are most welcome..

Rail historian John Whittingham has kindly contributed this short history of Chester Railway Station.

A wonderful animated recreation of the old Northgate and its neighbourhood by Martin Moss may be viewed on his channel on YouTube. Click on the 'full screen' icon on the bottom righ-hand corner and enjoy. You will also find the talented Mr Moss's fly-bys of Beeston, Ewloe and Chester Castles among much else..

• Welcome to our new feature: A Postcard From Chester, a century of picture postcards sent by visitors to our lovely city.

• A selection of your guide's original photographs of Chester, Liverpool and other subjects may be seen (and purchased!) at the Black & White Picture Place.

• He also invites you to visit his GoodHiding leather goods shop on Etsy- a great place for original gifts!

• We proudly announce the launch of our brand new Chester & Liverpool Guided Walks website: www.chesterwalks.uk.

• Our expert photographic restoration and repair website has now been joined by its own Facebook page!

• For all of you fascinated by the history of this remarkable city, when you've finished exploring our website (and not before!) we strongly recommend a visit to the exceedingly excellent Chester Wiki.

• A new, mercifully brief, feature (because I knew you were all dying to know) - About the Author

• Whether resident or visitor- real or virtual- if you enjoy this online stroll around our beautiful city, consider joining me on one of my popular, year-round real Chester Guided Walks. Be sure also to visit my other websites: GoodHiding- leather products handmade in Chester and leather repair service and The Black & White Picture Place- expert photographic restoration and picture galleries.
What a few of our visitors have said:
'Chester: A Virtual Stroll Around the Walls' is an excellent and informative site which provides photographs of Chester's famed historic city walls... The site provides varied information on Chester from Roman times, the history of the city, its architecture and topography. There is information here of interest to both the casual tourist and inhabitant of Chester alike. Facts about Chester's long history are presented in a lively and interesting way. The site provides reminiscences and updates about other buildings of historic importance in Chester, as well as a gallery of images of Chester, old Chester and of the famous Mystery Plays. The paintings of Chester by Louise Rayner together with a biography of the artist can be seen on the site".
The Oxford University Arts and Humanities Community Resource


"Our editors have selected your site as one of the best on the Internet when reviewed for quality, accuracy of content, presentation and usability... We know quality is always difficult to accomplish and maintain. Congratulations on being a selected member of the Britannica Internet Guide.
A virtual tour of the Roman and medieval city walls of Chester, England. Offers a detailed history, a description, drawings and photographs of the walls as well as of the buildings and sights of Chester that can be viewed from the walls. Highlights of the tour include the Cathedral, the Castle, the Roman Amphitheatre, and all the wall's gates. Designed for the armchair traveller or for the tourist who is planning a visit to Chester, A Virtual Stroll provides an elegant and engaging history of the city dating from Roman times to the present"
Encyclopaedia Britannica: February 2000



"Congratulations! Your website has been selected and evaluated by a network of subject specialists and included in the Famous Websites resources by FamousWhy.com. It have also been granted with the Famous Website Award, especially for: originality, creativity and vision • fantastic design • excellent structure • user friendliness • professional appearance. More information about the 'Famous Website Award' is available here.
6th March 2010


"Chester: a Virtual Stroll Around the Walls is an informal- but very informative and entertaining- online guided tour of the ancient and beautiful city of Chester which possesses the only complete circuit of Roman/Saxon/medieval city walls in the UK. The author, an independent guide, photographer and author, tells many colourful tales from history and records the impressions from over 800 years of Chester's visitors. In addition, there are many photographs, drawings and maps (both contemporary and historical), news of local environmental and planning developments, links to interesting places, and lots of regularly-updated useful information for the scholar, resident and visitor".
SchoolZone: September 2009
"I often use your website to find out interesting and unusual facts about Chester; I think the site is fantastic. You have my full support."
Stephen Mosley, Member of Parliament for the City of Chester: July 2011
"Dear Sir, as a student of old London and the British Empire, I applaud your website! It far exceeds any I have seen, and I pour over it constantly. If I am not careful, hours will dwindle away until something interrupts me! As an entertainer, I have plenty of time to explore your site, and I wanted to take the time to "Thank You" for all your hard work and let you know how much I enjoy it! BRAVO Sir and keep up the great work!
Dan Rocco, Chicago USA, 8th April 2009
"My very sincere congratulations on the development and presentation of your fantastically outstanding web site. For the last four hours, tears have stung my eyes at the sight of old familiar places that rekindled half forgotten emotions and memories both sad and happy. I have felt anger too at the vandalism of the developers, aided and abetted by councillors apparently, that have destroyed forever irreplaceable history in the name of progress and the accumulation of wealth. But I mustn't get political; I really just wish to thank you for a most memorable afternoon, a time that I will no doubt repeat again and again in the future.
It has been thirty seven years since I said goodbye to Blighty, looking back from thirty thousand feet over the English Channel, and strangely since Christmas I have been tentatively formulating plans to return or a short holiday later this year. Deciding on doing a little research I logged onto Chester City Council and I discovered your truly great web site. Thank you".
Allan J Rimmer, Victoria Australia, 5th March 2006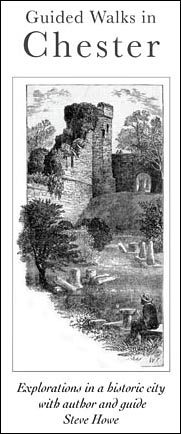 "Hello, I'd just like to congratulate you on being the owner and author of the most wonderful site about Chester which I have encountered. It's bursting with information, images and enthusiasm and is incredibly detailed - fascinating and very useful!
I am a Chester resident myself- in Newton- and have long had an abiding affection for the city. Almost all my holidays have been (voluntarily!) taken within the UK and yet I always return to Chester. Your website reminds me why. It is a valuable resource - I've seen many Chester sites but none have come close.
Kate Fletcher, 29/3/05

"Hello to all who created this page and to those who visit it. Today I was feeling melancholic thinking about the time I spent in Chester, so I decided to find something about it in the web and which was my surprise that I found you. I love Chester even more than my own city, I spent lovely moments there, every winter I was anxiously waiting for summer to come to go to Chester; its roman walls, its fantastic walks all along the river, its roads, its pubs, its parks, its shops, its cinemas where I saw many films, the Cathedral so beautiful, its castle, The Northgate Arena swimming pool, The zoo the best in Europe, its history and architecture, its people…Chester is always busy, many visitors enjoy it during the year. I loved to walk around town and look at everyone while I was waiting for the bus. To those who are going to visit it I assure you l will enjoy it. It is a very beautiful romantic, historic and shopping place.
Thanks for the site, it is a perfect work,
Lola, Madrid, Spain, July 2003.

"Thank you! I studied the Virtual Stroll pages while flying across the Atlantic and you can only imagine how much your information helped me enjoy my first visit to Chester. Walking the wall made a wonderful afternoon primarily because of the history you shared. Really, there were MANY things in your papers that I appreciated. I can't imagine walking the wall without those tips. Thank you again!
Geoff Gould, El Dorado Hills, California USA, June 2002
"I'd like to thank you for your wonderful web site. I discovered it last year while preparing to visit Chester. I actually printed up your guide to the walk around the wall and brought it with me! I am looking forward to revisiting Chester- and spending more time there- with my wife and son at the end of July. Thank you again for your efforts on behalf of your beautiful city and thank you for your wonderful, informative web site!"
John Schulze, San Antonio, Texas USA 6th June 2000
"Your website is wonderful. I have used it to answer various questions and just for interesting facts about the city. I and my colleagues have found it invaluable, very well organised and very easy to find information on it".
Chester Reference Library, Northgate Street Chester, May 2007
"An absolutely brilliant site about Chester and a sterling almost single-handed effort. Well deserving of funding (cos this is the sort of thing that attracts tourists, business etc)"
Review on the Chester Wiki
"This virtual strolling tour around the walls is beautifully photographed, the narration is detailed and interesting, and it doesn't shy away from some of Chester's darker sides. You will be hard pressed to find a more informative, or enjoyable, guide to the city and it's history."
Review on Chester City Council's 'Chester Portal'
"I remember going onto your website a long time ago and being impressed then, but this is quite something else!! WOW!!! Very cool".
An Cronin, Hoole, Chester February 2012
Read what some of our other visitors have had to say..