In January 2012, the Chester Renaissance Board made the following report regarding the future of Dee House:

"Two potential developers are now working on indicative business proposals for delivering a first class visitor experience in Dee House. The Cheshire West and Chester Head of Property has agreed to receive and review the proposals at the end of February 2012.
One proposal is proving to be genuinely quite exciting for the site and at first glance, appears to have (unconfirmed) funding routes identified, thereby potentially reducing the burden of investment required from CWaC. If delivered, this could have a major impact on the tourism and visitor economy of the city".

Sixteen months later than predicted by the above announcement, in June 2013, citizens were invited to attend a 'drop-in' in Chester Town Hall where they were addressed by Ms Rita Waters of the new slimline Chester Renaissance and one Patrick Parsons, of a 'heritage and structural engineering' company bearing the same name. A visit to their website reveals an impressive track record of work on such sites as Durham Cathedral, Saltair and the Frontiers of Roman Empire on Hadrian's Wall.

Upon being asked, Mr Parsons said he was "not the developer but working on behalf of a developer", the name of who is currently unknown, and strongly presented the case for Dee House to be transformed into, to use his phrase, "a world class visitor attraction".

The exact nature of this "world class" attraction was not made clear- it was "early days", we were told, nothing definite had been decided and our views were sincerely sought. What there was of plans on display made mention of possibilities including the usual developer's cocktail of restaurants, bars, 'visitor experience' and conference centre.

Was this, then, just more of the same tired 'business as usual' those of you who have waded thus far through this history of the amphitheatre have become so familiar with- or could there be something decent on the cards at last?

It was repeated like a mantra that English Heritage would never agree to the removal of the rotting 18th/19th century Dee House, it being listed and all, preferring to keep the archaeology beneath safely buried until some future time when it would be somebody else's responsibility. But, then, we were also told by Ms Waters that English Heritage was of the opinion that it was doubtful anything much remained of the amphitheatre's other half anyway. Which is, of course, total nonsense. One of the visitors expressed the opinion that EH "were not fit for purpose" and this seemed to be widely accepted by the room.

"Excavations already carried out in the 1960s to display the northern part strongly suggest that the remaining portion of the amphitheatre can be successfully recovered and displayed." English Heritage's Head of Ancient Monuments, Mrs E J Sharman, 1987.


Thirty years ago, remember, when local entepreneur Tony Barbet proposed to demolish Dee House and excavate and display the amphitheatre, EH were all for it. People who care have been calling for just such a total excavation, and sympathetic display of, the monument for over eighty years, in the face of all manner of philistine threats, right from the time soon after its discovery when Chester Council, caring little, immediately planned to build a road across it.

Alternatively, a retention of Dee House may possibly be desirable to serve as a much-needed extension to the Grosvenor Museum. Chester, after all, possesses umpteen thousands of ancient treasures- discovered both here at the amphitheatre and throughout the city- lying in storage which nobody ever gets to see. Whether the city's museum service would be willing to work in partnership with a private developer to achieve this is another matter however. They were certainly less than keen in the 1980s when Tony Barbet's exciting proposals were being debated.

Excavation of much of the hidden half of the amphitheatre could still go ahead, right up to the walls- and perhaps beneath- Dee House, in whose cellars traces of the monument may already be seen. A quality 'Romans in Chester' interpretation centre be established within it that, if done properly, would surely prove a magnet to visitors and be, at last, something locals could be proud of. There'd likely still be room for that restaurant and bar too..

The letters pages of the Chester Chronicle, June 13th 2013 made it clear, for the umpteenth time, what people really think. With the exception of jokers of the "build a Tescos" and "car park" variety, every comment was exactly as such comments have been for decades: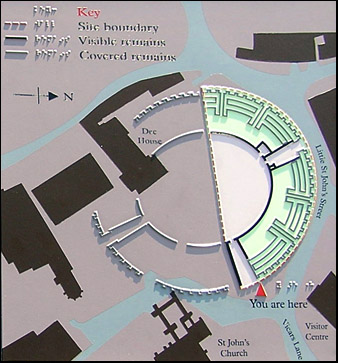 "Demolish it for heaven's sake and make something of the amphitheatre"
"Knock it down. Listed or not, the amphitheatre is of far greater historic and tourist value"
"As much of the amphitheatre opened up as possible with a museum and interpretation centre in Dee House".
"Knock it down. People have asked me if it's a prison! Don't waste any more money on it. As for visitor attractions, what has ever cared about visitors other than race goers and shoppers?"
"..demolish Dee House and open up the space. Maybe even a part-reconstruction of the amphitheatre? Or create an 'amphitheatre gardens'? Why do we always have to build something?"
"The amphitheatre would be an amazing sight if it was complete"
"Perhaps develop it in conjunction with the amphitheatre into a Roman experience museum?"
Quangos, politicians, planners, 'heritage experts' and developers come and go but what people want for the amphitheatre has remained the same through decades. When, oh when will somebody start to listen?
Now let us skip forward a couple of years to August 2014, when, to the surprise of many locals, the Chester Chronicle reported that "Plans to create a must-see visitor attraction overlooking the amphitheatre have fallen through. Earlier this year, plans were revealed to transform the derelict former convent into a 'high-tech international tourist attraction' which Cheshire West and Chester Council (CWaC) hoped 400,000 tourists would pay to enter every year".

This, naturally, was complete news to amphitheatre watchers everywhere. The Chron continued,
"But the plans have been put on hold after structural engineers allegedly pulled out of the deal, saying the building "wasn't safe" and needed "too much investment". Structural Engineers Patrick Parsons, which has ongoing projects at World Heritage status sites including Durham Cathedral, declined to comment on its reasons for withdrawing from the scheme, but Chester Renaissance said the renovations could cost "millions". Eric Langton, chairman of CR, said: "It is really sad that the scheme we were hoping we could go forward with does not look like it is going to happen at this stage. It is the sheer cost, we are talking millions of pounds to do something with it."
Around the same time as this bombshell, we became aware that CWaC is actually now utilising the crumbling, Grade II Dee House (which, you'll be aware by now, sits over an appreciable portion of the ancient monument) as a "storage facility" for building materials for construction workers! A spokesperson for CWaC denied the council was leasing out the land to private building companies, adding: "We use it when we are doing work within the city. These are our schemes, we are not renting it out."
This, remember, is the building CWaC and English Heritage have insisted for years is of too great a historical importance to be demolished for further amphitheatre excavation, yet deem it acceptable that our visitors are presented with the spectacle of a builder's yard there instead. It just gets worse and worse doesn't it?

Having for years disgracefully failed to act upon the matter of Dee House- whether to demolish it or turn it into something of community value- in early February 2015 we learned that Cheshire West and Chester Council have finally tired of pretending to give a damn and have announced their intention to put the building on the market! They claim to have already received "several expressions of interest" from would-be developers.
Here, it seems, we go again. Much has long been made of English Heritage's insistance that, because of its historic status, Dee House could never be demolished to make way for the full excavation of the Roman amphitheatre lying beneath. It is well known that an official 'de-listing' process exists but it now turns out that nobody within CWaC, nor any other body, has ever filled in the simple form to start the process!
Left: Dee House utilised as a council materials dump: April 2016
In 2012, readers will recall (see above), CWaC announced their exciting plans to "transform Dee House into a high-tech international tourist attraction" which, they claimed, 400,000 tourists would pay to enter every year. But, having shamefully prevaricated for years and allowed the place to fall into ruinous decay, all once again came to nought after structural engineers declared the building to be unsafe.
Desperate as they now are to unload this expensive liability, CWaC, we're told, are now planning to provide a "comprehensive information package", including "computer-aided drawings from a new laser survey, internal photographs, and a consultant's report on archaeological and historical significance", to help would-be developers come to a decision whether to invest in the derelict building, before it is put out in a "full open market procurement process" in the spring. An internal steering group, led by- you guessed it- Chester Renaissance, and including archaeologists and planners will, we're told, be overseeing the process. That's reassuring.
Councillor Stuart Parker, CWaC's Executive Member for Culture and Economy, was, as is usual upon these occasions, wheeled out to recite, "The building is in a dangerous state due to the lack of maintenance over recent decades" (and whose fault would that be?) "and will take a considerable amount of money to restore. Despite that I am delighted to say that plans for the regeneration of Chester, including the Northgate Cultural Centre and Business Quarter have attracted interest from developers. We will obviously be looking for development plans that will enhance the city's offer as an international visitor centre and interested developers will be provided with a framework of acceptable uses. Whilst it is true that the condition of Dee House and the building's rather dour architecture pose a doubt in many people's minds about the value of preservation, English Heritage remain adamant it should remain. Consequently we are doing everything we can to find a solution that will achieve that aim and benefit the city."
Having, as we have so painfully learned over the preceding pages, utterly failed to have achieved anything of the sort by their own bungling efforts.
The excellent Rev David Chesters, Rector of the Parish of St. Peter with St. John the Baptist- the wonderful church located in close proximity to Dee House, commented "If I had the money I would turn it into the prime visitor centre in the country." Rev Chesters, who is also an archaeologist and historian- and knows whereof he speaks- pointed out that the historic building is at the heart of the history of Chester, surrounded as it is by the amphitheatre, his church and the City Walls. "When I was last in it some years ago it was full of rat holes and pigeons. You could bring into Dee House the Romans, the Vikings, the Saxons and the rest of us who are keen on preserving the heritage of this city. This is a golden opportunity for Chester."
Right: a view over the Amphitheatre and Dee House: April 2016
25th July 2016: From the BBC News website..

"Campaigners' hopes of excavating the whole of Chester's Roman amphitheatre have been dashed by the city's council.

Cheshire West and Chester Council last week said officials could complete a deal which will see the refurbishment of Dee House, an 18th Century building which sits on top of much of the site.

Councillor Louise Gittins said the site should remain buried so as to be "undisturbed for future generations".

But the decision has been labelled as "short-sighted" by opponents.

Only 80% of the 2,000-year-old site was uncovered in the 1960s, with the remainder lying unexcavated behind a brick wall. Most of the unexcavated portion is covered by Dee House, which has been empty since 1993 and is said to be in a "significant state of disrepair".

Ms Gittins told councillors: "There is a strong preference now for preserving archaeological remains undisturbed for future generations. Further excavation is unlikely to add significantly to the information we have at the present time," she added, before noting that Dee House "is a building of national importance in its own right".

The Labour-led local authority said it had been informed that heritage body Historic England "would not countenance" granting consent for the amphitheatre's remains to be dug up.


Opposition Conservative councillor Jill Houlbrook said: "We have a responsibility to challenge the short-sighted opinions of Historic England. We don't want another building, another hotel- we want the amphitheatre."

The plans for Dee House's future are due to be revealed next month."

29th July 2016: In apparent contradiction to the above, this from the Beeb and Twitter..

"Repairs to Dee House likely to cause more damage to foundations of Chester's Amphitheatre than demolition.
Left: flooding of the amphitheatre: June 2016

The former leader of the Conservative Council, Mike Jones today tweeted that English Heritage (the charitable guardians of the amphitheatre) told him that they would allow the demolition of Dee House if no use could be found for it, noting repairs were likely to cause more damage to the foundations than demolition. Foundations which were described today by a Historic England spokesperson as containing "Nationally important archeological remains" which the spokesperson admitted, remained unearthed on the site."

On the same day, also from the media...

"The owners of well known local Chester businesses are meeting today to write and sign an open letter calling on Samantha Dixon, Leader of Cheshire West and Chester Council, Chris Matheson MP and Kate Mavor, Chief Executive of English Heritage, to halt any further discussions between CWAC and possible developers interested in carrying out works on what could be Chester's number one tourist attraction, the Roman Amphitheatre.
It is thought that the letter from Chester business leaders will say that any further negotiations should be halted pending a full Public Enquiry, the purpose of which should be to find out what the people of Chester want, more development or the possibility of uncovering the Southern half of Britain's Roman Amphitheatre.
Full Letter to follow..."

3rd August 2016: And here it is:

OPEN LETTER FROM 56 LOCAL BUSINESS LEADERS TO THE LEADER OF CHESHIRE WEST & CHESTER COUNCIL SAMANTHA DIXON AND MEMBERS OF CHESHIRE WEST & CHESTER COUNCIL. RE. PROPOSAL TO LEASE LAND ON TOP OF CHESTER AMPHITHEATRE TO DEVELOPER FOR NEXT 150 YEARS.

Dear Samantha Dixon and members of Cheshire West and Chester Council,

We write on behalf of 55 local businesses in the local area, regarding your proposal to grant a 150-year lease to a developer for the land on top of the as yet uncovered part of Chester's Amphitheatre.

As the identity of the proposed developer or developers is currently undisclosed, we fear that they will be looking to use the site purely for profit, creating residential units or student accommodation or some other inappropriate commercial use not in keeping with, and not enhancing, this important historical site.

It is essential to realise that there are only a handful of Roman Amphitheaters in the world and none in the UK are as historically important or as large as Chester Amphitheatre. It has the potential to make the city an international must-see destination and, combined with the city's rich Roman history, it represents a unique opportunity for Chester's economy.

Development of the land will ruin this opportunity. At the same time, of grave concern to us is the fact that there is a high risk that repair work to the foundations of Dee House will in fact damage the nationally important archaeological remains beneath. If this occurs, who will be held responsible?

Given the huge level of public support from around the World, this could become Chester's number 1 tourist attraction in the not too distant future; benefitting local businesses, creating local jobs and attracting new businesses to the City and wider area.

We recognize that English Heritage's current view is that the site should remain covered for future generations to uncover with new techniques, however, we feel this is not only short-sighted but it will negatively impact upon our generation today, and if correct, this suggests that English Heritage has little value in today's archaeological discoveries. We feel that this policy will in fact change decades before the site will become available in 150 years (the year 2166!) if the Council's proposal is actioned.

It is apparent that the Council have not properly taken into account the overwhelming amount of public support for delisting and demolishing, or even the moving of Dee House, which will allow for the unearthing of the remainder of the amphitheatre, given the huge number of signatures obtained over the past five days on a recent petition; currently standing at well over 6000 signatures, a figure which continues to grow by approximately 100 per hour.

It is our belief that a period of public consultation is now essential and should be carried out prior to any deal being entered into by the Council with a developer, after which we implore the Council to act in such a way to respect the wishes of the electorate whom they represent.

We are certain that with hindsight, you wouldn't have wished your legacy to be that of the leader who oversaw the sale of what will in effect be part of Chester's Roman Amphitheatre to private developers, for their financial gain, for the next two generations and in doing so, preventing potentially millions of tourists from visiting the city which you were elected to represent.

Yours sincerely,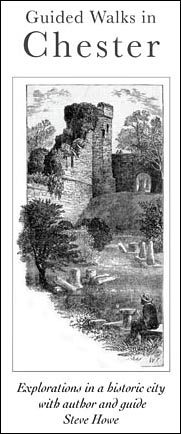 Adam Dandy of Dandy's (Chester) Limited
Simon John Williams of Jolliffe & Co.
Nick Harding of Cruise Nightclub
Brendan McLoughlin of Gin Rickeys & Luke's Eating House
Peter Hughes of Devaprint (Chester) Ltd
Izzy Grey of We Love Cheshire
Les Owens of Trustland Group owners of Coach House Inn
Owain Clegg of Essell Cleaning & Bar Supplies
John Brookshaw of Plassey Holiday Park, Retail Village and Golf Course
Craig Gabriel of FMS Investments Chester
Martin Jones of Hako Machines Limited
Jane Harrad-Roberts FCIM, DipM, of Marketing Projects
Peter Goddard of Daulby Read Limited
Nick Hilton of SnapStudies
Mike Garvey of Prodo Digital
James Cadwaladr of Invive Resourcing
Victoria Roskams of Enbar Enterprises Limited
Gareth Lloyd-Wilson of Skills for Rail Limited
Charles Robertson of Winter Service Solutions Limited
Amanda Arnold of Arnold's Art
Stuart Whittaker of G Whittaker and Sons Limited
Dave Harrington Wright of Red Line Credit Control
Brian Gelling of G3 Insure
Debbie Rush from JSW Chester
Damian Sansome of Power Solutions UK
Craig Swire of Help Me Rent(.co.uk)
Lynne Wood of Direct Line Communications Limited
Lianne Wilkinson of Engage Web
Paul Murray of BNI Chester
Andrew Munro, Local Architect and Photographer
Ian Williams of Ian Williams Photography
Gill Taylor of Electrical Excellence
Katie deWinton of Dandys Properties Ltd
Steven Batty of Steve Batty Joinery
Penny Macpherson of Travel Councillors

Brian Wright of Wright Tiling Limited
Jonathan Davies of Jonathan Davies Photographic
Marc Halstead of IT Support Worx
Denise Durband of Speedwell Roofing & Contracting Ltd
Katie Shield of Katie Shield Garden Design
Robert Harrison of ASC Finance
Dave Skeels of Complete ECO Ltd
Kennan Michael Wyatt of Spot on Plastering
Dave Graham of Dave Graham Developments Limited
Gary Wright of Wright Rentals
Richard Barr of Parragon Chauffeurs
Stuart Banks WT Banks & Co. Ltd.
Dave Ledward of North Wales Tweets
Adam Butler of Easy Online Recruitment
Nic While of WFS Ltd
Steve Howe Black & White Picture Place
Richard J Smith of Wine School of Cheshire
Jerry Greenhalgh of JMAK Garden Services
Helen Mansutti of FB Sports and Clothing
Terry Golding of 1st for Creative Ltd
Steven Walker of F.G. Walker Ltd

Historic England's response? "The demolition of Dee House would be contrary to Government policy and would not, in our opinion, be justified by the desire to uncover further remains of the amphitheatre. Dee House is rightly listed Grade II as a building of national importance and it is an integral part of Chester's history."

The story was covered on BBC North West Tonight, 3rd August 2016..
New text on the change.org petition..
4th August 2016: One of the main arguments for not unearthing the southern side of Chester's Amphitheatre has today been quashed.
Last week an English Heritage spokesperson was quoted by the BBC as saying: "with regard to further excavation of the amphitheatre, our view is that the remaining unexcavated, nationally important archeological remains, should be retained in situ", with a spokesperson from Cheshire West and Chester Council stating on BBC Northwest Tonight, the main reason being to allow future generations to uncover the ruins using presumed improved technology.

Today though, it has been revealed that English Heritage are in fact presently funding an archaeological dig in King Arthur's Tintagel birthplace, and are not leaving the site in situ to wait for future technologies to help uncover what lies beneath..

This is happening now, whilst Chester's Amphitheatre, widely reported as being the possible King Arthur's famous Round Table itself, remains buried behind a wall in situ.

We feel this proves without doubt that English Heritage's real reasons for leaving the Amphitheatre covered have more to do with them publicly supporting the de-listing of the abandoned and derelict, yet listed, Dee House which sits over part of Chester's Amphitheatre. We feel that English Heritage would support the unearthing of the Amphitheatre without question were Dee House to be de-listed and moved or even demolished."


On to the latest chapter in the long and sorry story of the Chester Amphitheatre...